一项由非赢利组织"美国健康信托"公布的研究表明,由于营养不良和缺乏运动,美国的肥胖人数创下历史新高。去年,美国有31个州的成年人肥胖率上升,密西西比州的肥胖率超过了30%。为了改善这种状况,该组织呼吁美国人民与肥胖斗争到底。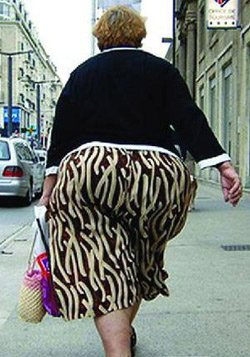 Americans fatter than ever.
Americans are fatter than ever, with obesity rates up in most states and fewer people exercising, according to a study released on Monday.
Only a concerted effort by state and federal government, schools and individuals will make a dent in the growing epidemic, the Trust for Americas Health reported.
Obesity rates ranged from more than 17 percent in Colorado to more than 30 percent in Mississippi.
"No state is doing well. We have seen a dramatic increase throughout the country," Jeff Levi, executive director of the nonprofit Trust, told reporters in a telephone briefing.
"Poor nutrition and physical inactivity are robbing America of our health and productivity."
Adult obesity rates rose in 31 states last year and obesity rates did not fall in any states, the report said.
"Rates of adult obesity now exceed 25 percent in 19 states, an increase from 14 states last year and 9 in 2005. In 1991, none of the states exceeded 20 percent," the Trust said in a statement.
The group advocates a concerted effort to fight obesity in the United States, where more than 60 percent of adults are either obese or overweight.
This would include changes in laws, including mandates on school lunches, requiring insurers to pay for weight loss programs and restoring physical education programs to schools.
Children are especially at risk, the group said.
"The rate of childhood obesity more than tripled from 1980 to 2004. Approximately 25 million children are now either obese or overweight," the report said.