安吉丽娜·茱丽:总统难"买"自由福
[ 2007-08-09 17:46 ]
有人说她很狂妄,有人说她很个性…… 狂妄也好,个性也罢,安吉丽娜·茱丽自有她个性和狂妄的资本。
日前,这位美国女总统"三号人选"又发出了"惊"世新语:我有孩子,有慈善使命,有演艺事业,享受这些充实的生活远比竞选美国总统来劲儿!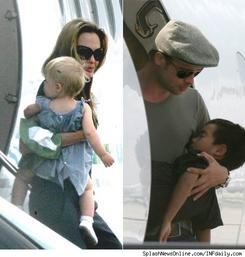 Angelina Jolie insists that enjoys her freedom too much to even consider running for the Oval Office.
The Oscar winning star is adamant that with her kids, her work with the UN and her acting career, her life is just too full for her to campaign to become the first female U.S. president.
Jolie also insists that though she's extremely interested in politics, she can help people better if she stays out of the field.
"I'm not interested.I feel like you can get so much more done if you stay out of politics," Contactmusic quoted her, as saying.
Another reason she isn't interested, is because as the President of the United States, she wouldn't be free to visit all the countries she now travels to.
"I've many things to do. So many kids! I'm able to go to Washington and meet with politicians on all different issues and get involved with different things and have the freedom to go around the world and do different things," she adds.
Jolie has in the meanwhile, just finished shooting for her new film 'Wanted' in which she plays an assassin, as well as the voice-over work for 'Beowulf'.

(Agencies)
Vocabulary:  run for:竞选

voice-over:画外音

(英语点津陈蓓编辑)