China vows to clinch fencing gold at Beijing Olympics
[ 2007-08-16 15:32 ]
自1984年洛杉矶奥运会上中国选手栾菊杰获得女子花剑冠军后,中国击剑运动员屡次与奥运金牌失之交臂。国家击剑队负责人目前表示他们已积极备战并誓在明年北京奥运会上夺回盼望已久的金牌。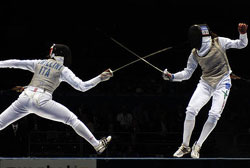 China vows to clinch fencing gold at Beijing Olympics
China, who took only one fencing gold in Olympic history through Luan Jvjie in women's foil in Los Angeles in 1984, vowed to clinch the second Olympic title in Beijing next year, said a senior fencing official here Wednesday.
Wang Jian, the leader of both the Chinese national fencing team and the Universiade squad here, told Xinhua, "Our aim is to win at least a gold medal at the Beijing Olympics and we have that strength."

After Luan Jvjie, China grabbed a string of silver medals in several Olympic Games.

Wang noted, "We must study on new drilling methods and let our fencers compete in world high-level competitions as many as possible to accumulate experience."

"Chinese top fencers did not come to Bangkok for the Universiade. Instead, they will compete in the Asian Championships to be held this month in China and the World Championships in Russia in September," Wang said.

"The Asian and the world championships are so crucial for ace fencers to collect enough points to qualify for the Beijing Olympics," Wang noted.

"The age of many world-class fencers exceeds the 28-year-old ceiling set by the Universiade. That is another reason for their absence," he added.

Vocabulary:
fencing:击剑,剑术
Universiade:the World University Games 世界大学生运动会
Asian Championships:亚洲锦标赛


(实习生 张举良 英语点津boeybb编辑)