影片对白
Donna: Unfortunately, there was a mix-up at Daddy's work. And we just need to bring the bikes back for now.
Ben: But I already told Kevin O'Doyle I got a new bike.
Donna: Well, we can paint my old bike and make it look new.
Ben: That's a girl's bike. All the kids make fun of me. No!
Michael: I can't take this anymore. Fast-forward me to my promotion.
Ammer: So here's to Michael Newman, the greatest partner I could ever dream of.
All: Hear!
Michael: Thank you. Thank you, guys. My family thanks you. I'm gonna do the best I can and I won't let you down, I promise.
All: Yeah!
Woman: Congratulations, Mr. Newman.
Michael: This is great. Thank you.
Ammer: How's it feel, killer?
Michael: Feels incredible, sir.
Ammer: Well, you earned it. I'm telling you. Not just because of that Watsuhita project either. But for helping me pick up the slack, now I'm spending time with my special lady.
Janine: Hey, Dinkie.
Michael: Are you kidding me? You guys have been dating a couple of months now? That's pretty huge for this one.
Janine: No, the first few months were easy. It was the one-year hump that was the tough part.
Ammer: Her inappropriate weekend with my brother in Cabo... well, that was a potential speed bump. But, well, Dr. Bergman helped us work through it, didn't he, honey? How's he doing for you and Donna?
Michael: Dr. Bergman. What do you mean?
Michael: "Good one, Donna"?
Bergman: Michael, relax.
Michael: Who is this big mouth? Why can't you and I just talk?
Donna: Why? Because there is no talking to you. You're never home to talk to. When you are, you're just sitting there staring off into space.
Michael: Donna, I'm on autopilot. Donna, what do you want from me?
Donna: This is what happens. He's gonna answer his phone.
Michael: What the heck happened? I didn't even touch the remote.
Donna: Great, you wanna start watching TV at dinner now?
Samantha: Oh, can we?
Michael: Samantha. My little angel. Look at you. Look how long your hair's getting. When did you grow up? What… Ben, get over here. Don't you worry. I'm not gonna work tonight. We're gonna watch Dragon Tales together. What do you say?
Samantha: Dragon Tales is for babies, Dad. I wanna watch CSI.
Ben: Yeah, CSI. It's the episode when they find the lady's arm.
Michael: What happened? I missed the whole Dragon Tales era?
Michael: I wanna be with you every minute of my life, that's why I gotta leave right now. Have a great day!
James Earl Jones: Once again, Michael left Donna in bed confused and unsatisfied.
Michael: Shut up, James Earl Jones!
James Earl Jones: No, you shut up, big mouth!
Ammer: Michael!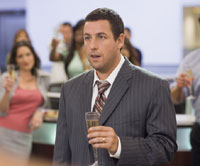 Michael: Vow… Mr. Ammer is here.
Ammer: Your first day as a partner, you come to work in a fricking bathrobe?
Michael: I… I did. I did. I, John, I just feel we should stop wasting our energy on corporate brown-nosing and worrying who's got the better suit. Armani, Calvin Klein, who cares? Let's concentrate on what really matters, the work.
Ammer: That's the craziest thing I've ever heard. But goddamn it, you're right. Life-changing. I feel freer.
Michael: Yeah... Keep the pants on.
Ammer: Oh. Sexual harassment, eh? Speaking of life-changing, there's something, or actually someone, I'd like to talk to you about. Janine.
Michael: Everything okay?
Ammer: Michael, Janine and I've decided to drop out of the rat race, slow down and move to Morocco.
Michael: Morocco?
Ammer: Morocco.
Michael: Okay.
Ammer: Eric Lamensoff will assume my day-to-day responsibilities and I'd like you to take his job.
Michael: But Eric Lamensoff is the head of the whole international division. I, I've been your partner one day.
Ammer: So? Every account you worked on turned into gold. You know, I wouldn't be surprised if one day you ended up being our CEO.
Michael: Hey, I would love for that to happen, but-- No! No, no, no! I don't want a promotion!
妙语佳句,活学活用
1. Hear!
这里是表示赞同的喊声,意思是"好哇!说得对!"
2. Pick / take up the slack
这个片语的意思是"To do the work which someone else has stopped doing, but which still needs to be done",例如:When Sue starts going out to work each day, Bob and the kids will have to take up the slack and help more at home.
3. Speed bump
指的是"缓速块":交错分布于街道、停车场或车道的路面上的人工突起部,用来使机动车驾驶者减低速。这里是个比喻用法。