Roger Federer admitted that it is impossible to stay at the top of the world for long time, but said he needs to find what works best for him to get the world number one spot back again.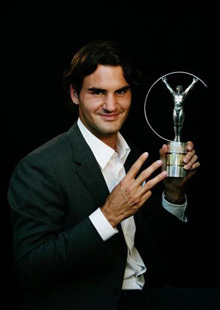 "At the top doesn't mean No. 1 in the world. It can mean deep into Grand Slams, being in the top five, top 10 for, whatever, 10 years, 15 years, just be up there and having a shot at Grand Slams," said Federer, who will lose the world number one ranking officially after the Olympic tennis event.
"You can't keep your ranking forever. If ever that were to happen, I think you have to have a different approach to what's the next step. Is it come down to the majors? Is it do you want to chase it again? I mean, I know myself, I'm sure my goal is to try to get No. 1 ranking back, I need to play well again. I need to win big matches.
"I think once sort of 2004 and '05 came around, I always tried to look for new ways to improve. Had a coach. You know, didn't have a coach in '04. I always to improve physically, because mentally, it wasn't a problem any more. I always think you have to question yourself, no matter if it's good or bad."
After being thrashed by Rafael Nadal in the French Open final, the Swiss maestro lost again at Wimbledon to the Spaniard who won a five-set epic on Federer's Centre Court fortress.
The world number one turns 27 on the day of the Beijing opening ceremony and he will have to rediscover his A-game in the Olympics after also suffering early exit from the Masters events in Toronto and Cincinnati last month.
Federer, who keeps hold on the world number one spot for more than 250 weeks since early 2004, said that all these losses should partly be blamed on the calendar and the ATP rules.
"It is not a secret that I base my schedule around trying to get the best preparation for the Grand Slams, but this year has been difficult for everybody, having a proper schedule, because we've been forced to play certain tournaments in some ways.
"I'm not criticizing. It's just a fact. With the Olympics, everything shifted. It made it really hard for us to have proper preparations. That's maybe one of the reasons some players play better, some players play worse.
"And I think next year you can control your schedule much more again yourself, which I think is going to be key for next year."
Federer did not arouse media hype in Beijing by exiting early like he did in the previous two tournaments last month. He eased past Dmitry Tursunov of Russia 6-4, 6-2 in the opening round on Monday despiting committing some unforced errors which he seldom made before this season.
The Olympics have always been labelled one of his dreams and Beijing might be his last chance to fulfiling it.
"I agree (that the Olympics won't bring you prize money or ranking), but in some way it's such a nice change to the regular tour we play in, first of all.
"But then also, being part of the biggest sort of sports event in the world. Now that tennis is finally accepted by the Olympic Committee, it's something I wish to move it forward.
"I guess when I speak to some players now, who didn't used to play the Olympics back in '96 and 2000, you name it, I know that some of them have regrets that they didn't play it, seeing how big the Olympics has become and how important tennis has become to the Olympics.
"I hope that with my presence, and also, Rafa's presence, Roddick's presence, Hewitt's presence in the past years, I think that's only gonna make it more important for the future generation.
"But also having the chance to represent my country is one of the reasons, just living the dream, being part of the Olympic Village, the Olympic spirit. Just being here is something that is quite unique."
The highlights of Federer's two previous Olympic Games amount to meeting his long-standing girlfriend Mirka Vavrinec in Sydney and carrying the Swiss flag at the opening ceremony in Athens four years ago.
In 2000 he lost a semifinal to Tommy Haas and then let a bronze medal slip through his fingers against Frenchman Arnaud Di Pasquale. Four years later he lost in the second round to Tomas Berdych.
(来源:Xinhua   实习生  屈上 英语点津编辑)