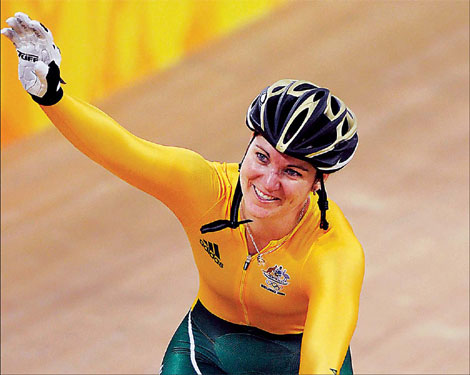 Australian Anna Meares should not be in Beijing at all. She should have been bedridden for the rest of her life, never again to ride on her bicycle.
But seven months after a shocking track fall that broke her neck and almost killed her, the Queenslander claimed an Olympic silver medal in the women's sprint final yesterday.
Although Meares was unable to overcome Britain's Victoria Pendleton, losing 2-0, her silver medal is one of the most inspirational stories to come out of the Laoshan Olympic Velodrome.
"This silver medal means gold for me," said an emotional Meares, who beat Jiang Yonghua to win the 500m time trial at the 2004 Athens Games. "I couldn't tell you what that means to me. It's really, really tough for me to compete here in Beijing. I had a lot of daunting days.
"It was an up-and-down journey to even qualify for the Olympics. I can't tell you how much positive energy has been surrounding me these seven months and it's rubbed off.
"I want to say 'thank you' to everyone who has been supporting me after the crash and push me to believe in myself. I'm really proud of that silver."
Meares made it into the final after her semifinal rival, home favorite Guo Shuang, was disqualified for an illegal maneuver.
Britain's Chris Hoy won his third Olympic gold medal after beating his teammate Jason Kenny in the final of the men's sprint event.
Mickael Bourgain of France took bronze after beating Germany's Maximilian Levy in a tie-break race in the best-of-three format.
The mighty British cyclists have won seven gold medals in the Velodrome at the Games.
Hoy, dubbed the "Flying Scot", caught up to Kenny about halfway through the last lap and pushed his way across the finish line, pumping his arm in victory even before his front tire crossed the line.
"It's time for all to come out," said Hoy. "All the emotion and tension built up, and now it all sinks in. I just want all the kids back Britain to know it's hard work. You can have the talent, but you have to be prepared to work for it.
Hoy won gold medals in the other two events he entered - the keirin and the team sprint.
The men's madison race yesterday saw a huge upset, with unfancied Argentina's Juan Esteban Curuchet and Walter Fernando Perez winning their country's first cycling gold. Spain's Joan Llaneras and Antonio Tauler won the silver and Russia's Mikhail Ignatyev and Alexei Markov the bronze.
(来源:China Daily   实习生  吴昭文 英语点津编辑)