Extreme heat causing vehicle fires
中国日报网 2013-07-17 10:28
分享到微信 High summer temperatures have caused 20 to 30 percent more vehicle fires than in other seasons, experts said.
Yu Genling, an official from Wenzhou Fire Station, was commenting on a series of recent vehicle fires across the country.
To decrease the possibility of accidental fires, Yu reminded the general public that lighters, especially disposable lighters, should never be left in a vehicle.
"My lighter exploded earlier last week as it was forgotten in my leather bag, which was left in the sun inside my car, but luckily, it didn't cause a fire," he said.
In Shanghai, an ambulance caught fire near Yan'an road and Loushanguan road at about 10am on July 9.
It was the second vehicle to burst into flames in the city within two days.
On July 8, a double-decker sightseeing bus caught fire around 7 pm in the Lujiazui area of Shanghai's Pudong district. The fire started in the vehicle's engine bay, and firefighters extinguished the blaze after 30 minutes.
No casualties were reported in either accident.
Zhou Meiliang, spokesman for the Shanghai firefighting authority, said high temperatures in the city contributed to the vehicles catching fire.
"Accidents where vehicles catch fire happen throughout the year with summer the high incidence season," he said.
Zhou said the results of investigations into the causes of the recent vehicle fires haven't come out yet but that oil leaks, electrical short-circuits or storing combustible goods in the car are three common fire starters.
A taxi caught fire while being driven and burnt the driver slightly in Shanghai on June 19. A privately owned Passat car also caught fire while being driven on June 26, causing widespread congestion at the city's South-North Viaduct.
Zhang Xingliang, a salesman at a Shanghai car dealership, said insufficient car maintenance can contribute to the aging of auto parts and lead to spills of engine oil and brake fluid, sparking a fire.
"Electrical short-circuits may also ignite the car in other cases," he said, adding that's why it is important to have cars serviced every 5,000 kilometers and change the oil on a regular basis.
"Plastic parts or decorations inside the car may also melt and become a potential safety loophole as they expand with heat," Zhang added.
To avoid similar accidents, Ying Haifeng, who is in charge of vehicle management for one of Shanghai's oldest sightseeing bus operators Big Bus Tour, said two brand-new buses with modern safety protection system to prevent spontaneous combustion would be put into use by the end of the month.
"Unlike a fire extinguisher, the spherical-shaped prevention device is installed in the rear engine so that when the engine reaches a certain temperature, it will automatically work to prevent a potential fire," Ying said.
Questions:
1. What item has Yu Genling has warned people to not leave in a vehicle?
2. Zhou Meiliang is a spokesman for whom?
3. According to Zhang Xingliang, how often should a car undergo service?
Answers:
1. Ligthers.
2. Shanghai firefighting authority.
3. Every 5,000 kilometers.
(中国日报网英语点津 Helen 编辑)
About the broadcaster: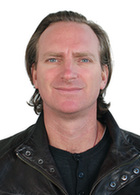 Lance Crayon is a videographer and editor with China Daily. Since living in Beijing he has worked for China Radio International (CRI) and Global Times. Before moving to China he worked in the film industry in Los Angeles as a talent agent and producer. He has a B.A. in English from the University of Texas at Arlington.
中国日报网英语点津版权说明:凡注明来源为"中国日报网英语点津:XXX(署名)"的原创作品,除与中国日报网签署英语点津内容授权协议的网站外,其他任何网站或单位未经允许不得非法盗链、转载和使用,违者必究。如需使用,请与010-84883561联系;凡本网注明"来源:XXX(非英语点津)"的作品,均转载自其它媒体,目的在于传播更多信息,其他媒体如需转载,请与稿件来源方联系,如产生任何问题与本网无关;本网所发布的歌曲、电影片段,版权归原作者所有,仅供学习与研究,如果侵权,请提供版权证明,以便尽快删除。