《乌镇展望2018》双语全文
世界互联网大会官网 2018-11-09 14:56
分享到微信 2018年11月6日,世界互联网大会组委会第二届高级别专家咨询委员会2018年度会议在浙江乌镇召开。经与会高咨委委员讨论,通过了《乌镇展望2018》。现予以正式发布。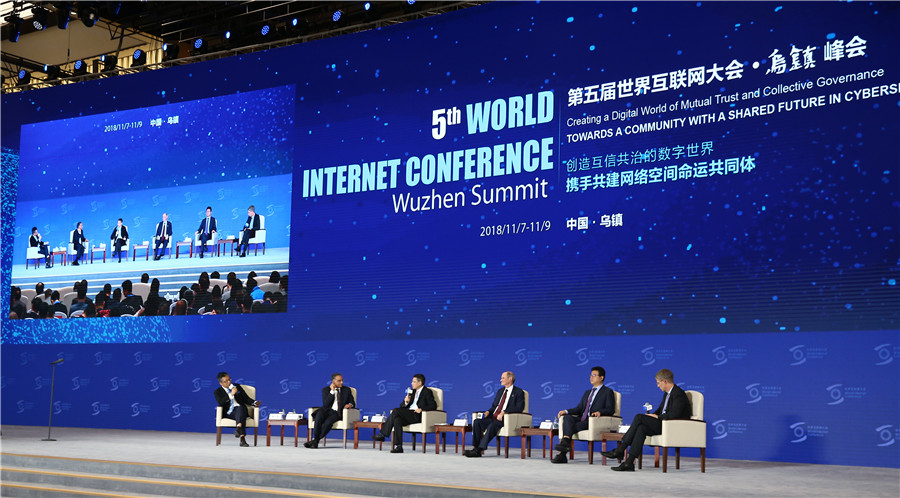 乌镇展望2018
Wuzhen Outlook 2018
2018年11月7日至9日,第五届世界互联网大会在中国浙江乌镇召开,来自全球76个国家和地区的政府代表、国际组织负责人、互联网企业领军人物、专家学者等约1500名嘉宾出席大会,围绕"创造互信共治的数字世界——携手共建网络空间命运共同体"的主题,从创新发展、网络安全、文化交流、民生福祉、国际合作等方面,深入交流研讨,贡献思想智慧,分享实践经验。
The 5th World Internet Conference(WIC) was held in Wuzhen, Zhejiang province, China, from Nov 7 to 9, 2018. The number of WIC participants was about 1,500, including government delegates from 76 countries and regions, international organizations' representatives, industry leaders, and renowned experts and scholars. The conference's overarching theme was "Creating a Digital World for Mutual Trust and Collective Governance — Towards a Community with a Shared Future in Cyberspace". The participants engaged in in-depth exchange of ideas and discussions, and shared their practical experience of promoting innovation-driven development, cybersecurity, cultural exchange, people's well-being, and international cooperation.
分析现状,展望未来,世界互联网大会组委会高级别专家咨询委员会对全球互联网发展治理进程形成如下共识:
Based on an analysis of the current situation and the Internet's future, the High-level Advisory Council of the World Internet Conference Organizing Committee has reached the following rough consensus on the current trends in, and the outlook for, the global Internet's development and governance:
一、信息技术加速创新,数字鸿沟亟待缩小
1. The pace of IT innovation accelerated and narrowing the digital divide is an urgent task.
先进网络、超级计算、高端存储、智能感知等网络信息技术步入升级换代新阶段。新技术、新应用、新业态不断涌现,商业模式探索不断成熟,推动全要素生产率向着更高水平增长。网络信息技术与实体经济深度融合发展,智能制造、自动驾驶等应用日趋成熟。第五代移动通信(5G)、互联网协议第六版(IPv6)、高通量卫星均进入快速发展阶段,高速率、大容量、泛在普及、天地一体化、智能感知的新一代宽带网络基础设施初步形成,全球基础性电信业加速回暖。截至2018年6月底,全球互联网普及率达到54.4%,普及率最高的大洲已经达到95%,而最低的大洲只有36.1%。
Internet and information technologies, such as advanced network, supercomputing, high-end storage, and intelligent perception, are entering a new stage of transformation. Cutting-edge technologies, innovative applications, and new industry formats keep emerging in large numbers and business models get more mature, thereby accounting for a greater fraction of the higher total factor productivity. ICT's integration with the brick and mortar economy has been on the rise, with intelligent manufacturing, automatic driving and other applications no longer being a nascent technology. IPv6, 5G and high-throughput satellites are all developing rapidly. The framework of a next generation broadband network has been shaped, featuring high rate, high capacity, ubiquity, space-ground integration, and intelligent perception. The accelerated expansion of the basic telecommunications has taken place worldwide. By the end of June 2018, the global Internet penetration rate reached 54.4 percent, with the respective figures varying between 95 percent and 36.1 percent across different parts of the world.
面对信息革命快速发展的形势,国际社会应当采取更为积极的政策缩小不同国家、不同地区、不同人群间的数字鸿沟,推动互联网用于教育、医疗、扶贫等公共服务事业;进一步加强网络基础设施互联互通建设领域合作,通过国际和区域性等多渠道、多领域合作,提高数字技术和服务水平,促进经济社会协调发展;加强全球创新交流合作,瞄准前沿技术,协同研发攻关,共同推进信息技术加速突破,推动人类社会共同进步。
Facing the rapid expansion of the information revolution, the international community should adopt more proactive policies to narrow the digital divide among countries, regions, and strata. We should promote the application of the Internet in core public service areas, such as education, medical care, and should further employ the Internet to alleviate poverty. We should strengthen cooperation in promoting global inter-connectivity at the network infrastructure level. We should bolster global and regional cooperation in multiple areas through various channels and improve digital technology and services while promoting balanced economic and social development. We should strengthen the global exchange and cooperation on the innovation front, focus on cutting-edge technology, and more closely collaborate in the R&D sphere to enable new breakthroughs in information technology for the benefit of the mankind.
二、网络文化交流加深,创新创造依赖责任信任
2. Cultural exchanges through the Internet deepen and innovation and creativity rest on a high level of responsibility and trust.
互联网日益成为传播人类优秀文化、弘扬正能量的重要渠道。网络文化内容创作更加活跃,人工智能、虚拟现实、下一代互联网等技术发展运用,推动新型文化业态不断涌现。知识产权保护力度显著提升,为网络内容创作生产提供了更为可持续的支撑。互联网为各国公共文化服务持续赋能,全球用户对优质网络文化产品与服务的需求显著增强,参与感和获得感不断提升。语音识别、翻译软件等应用加快运用,推动跨国网上文化交流互鉴蓬勃开展。传统文化与现代文化、民族文化与世界文化借助互联网加速交流融合,网络空间日益成为全人类的共同精神家园。
The Internet is an important medium to nurture and spread mankind's fine cultures, and to promote positive energy. The process of the creation of digital cultural content in cyberspace has gained traction, while the advent of artificial intelligence, virtual reality, the next-generation Internet, and other technologies has given rise to the emergence of large numbers of new cultural business models. The enhanced protection of intellectual property rights provides a more sustainable source of support for the creation and production of cultural content in cyberspace. The Internet empowers cultural services in all countries, while global Internet users increasingly demand high-quality cultural products and services, and constantly improve their end-user experience. An accelerated employment of voice recognition and translation software should engender a more vigorous online cultural exchange among countries. The intense use of the Internet has given a new impulse to the exchanges and integration between the traditional culture and the modern one, and between the national cultural and international culture. Thus, the cyberspace is fulfilling the long-standing dream of a single home for the mankind.
网络文化与数字内容发展将进入快速增长期,网络文学、网络视频、网络剧、网络动漫、网络音乐等将进一步繁荣发展。同时,互联网的"颠覆式创新"也在思想观念、伦理道德、文化多样性等方面给人类文明带来更多挑战,对于青少年及其他弱势群体的网络保护日益成为全球性话题。国际社会应当携起手来,推动网络文化创新创造,促进科技与人文交汇交融,推出更多健康优质的网络文化产品,为广大网民特别是青少年营造良好网络文化环境。
Cultural and digital content in cyberspace will enter a period of rapid growth. Inspired and promoted by the Internet and virtual reality, literature, video, drama, animation, and music are now preparing to enter their acme. Meanwhile, the disruptive innovation on the Internet challenges the global civilization in terms of thoughts, ethics, and cultural diversity. The protection of youth and other vulnerable population groups' interests online has increasingly become a global concern. The international community should work together to encourage cybercultural innovation, promote a further convergence of science and technology with culture, produce healthier and higher-quality cultural products, and generate a positive cultural environment in cyberspace for Internet users, and the young generation in the first place.
三、数字经济蓬勃发展,数字红利潜能巨大
3. The digital economy is flourishing and there is a great potential for digital dividends.
全球数字经济加速发展,世界正在进入以信息技术为主导的经济发展时期。2017年全球数字经济规模达到12.9万亿美元。电子商务市场继续保持快速增长,全球网络零售交易额达2.3万亿美元。新产业、新业态、新模式不断涌现,大数据、云计算、物联网、人工智能等快速发展,2017年全球半导体、云计算服务市场规模分别达到4122亿、2602亿美元。传统产业数字化转型持续深入,全球制造业加速迈向智能化时代,生产方式变革加速,数字技术与服务业深度融合,推动共享经济、互联网医疗、工业互联网等新业态新模式蓬勃发展。
The global digital economy is developing fast, and the world is entering a period of economic development led by information technology. The global digital economy's value hit $12.9 trillion in 2017. The e-commerce market has continued to sustain a rapid growth, with retail sales worldwide having amounted to a stunning $2.3 trillion. New industries, businesses, and business models kept emerging in large numbers. Big data, cloud computing, Internet of Things, and artificial intelligence have been on a steady rise. In 2017, the global market for semiconductors and cloud computing services reached $412.2 billion and $260.2 billion respectively. Traditional industries undergo rapid digitalization and the global manufacturing quickly marches toward an intelligence era. The service sector sees a precipitous change in production patterns and in the convergence with digital technology. This propels further advancement of new businesses and operational models, such as the sharing economy, digital health, and Industrial Internet.
各经济体正在把发展数字经济作为实现可持续发展的关键措施。数字经济蓬勃发展的大幕正在拉开,对全球经济复苏的新动能和新引擎作用日趋显现,将进一步推动经济发展的质量变革、效率变革和动力变革。基于数字经济创新、合作与共赢的特征,反对贸易保护主义、深入推进数字经济合作将成为国际社会共识。同时,数字经济带来的经济结构调整、就业结构冲击以及治理机制滞后、监管能力不足等问题将更加凸显。国际社会应当主动适应数字化变革趋势,深化数字经济国际合作,打造开放互利共赢的数字市场,加强政策协调,推进法治建设,构建可持续发展的制度环境,使全球经济发展不断焕发新的活力。
Advancement of the digital economy became a key metrics for sustainable development. A new driver and engine for the global economic progress, the booming digital economy should further promote fundamental changes in the quality and efficiency of the economic development process. Inspired by the innovative, cooperative, and mutually beneficial nature of the digital economy, the international community should work the way towards a genuine consensus on eliminating trade protectionism, structural imbalances, and adverse effects on employment; and also on economic cooperation, and governance and regulatory mechanisms in the digital sphere. The international community should vigorously adapt to the digital revolution, promote international cooperation in expanding the digital economy, foster an open and mutually beneficial digital market, strengthen policy coordination, promote the rule of law, and create an institutional environment conducive to sustainable development in order to ensure the global socio-economic development.
四、网络安全风险加剧,互信合作仍待加强
4. Trust and cooperation must be strengthened in response to increasing cybersecurity risks.
网络空间安全对国家安全与世界和平的影响加深。世界范围内网络安全威胁扩大,网络攻击、勒索软件、数据泄露等问题频发,重大网络安全事件数量、规模持续上升,针对关键信息基础设施的网络攻击日益加剧。网络诈骗、网络盗窃、侵犯个人隐私等违法犯罪活动层出不穷。大数据安全问题更加突出,仅2018年上半年就有2300多起数据泄露事件被公开披露,约26亿条用户记录被曝光,大型互联网企业数据安全事件引发国际担忧。国家间网络安全竞争和冲突升温,网络空间和平面临严重威胁。国际社会在推动网络安全立法、提高数据保护水平、携手打击网络犯罪等方面,为应对网络安全威胁作出了多种努力。
Cybersecurity has had an increasing impact on international peace and security. Cybersecurity challenges have been on the rise globally, with cyberattacks, data breaches, the use of malware and ransomware, and other problems cropping up. The number and scale of cybersecurity incidents tend to grow, and cyberattacks on the critical information infrastructure have become more intense. Illegal activities, such as cyber fraud and theft, and privacy infringement have become routine worldwide. Security of big data is becoming a grave challenge. In the first half of 2018 alone, over 2,300 instances of data breaches were reported and approximately 2.6 billion user records were illegally disclosed, and large Internet companies'data security incidents became an international concern. Cybersecurity competition and controversies between countries have intensified, which further jeopardizes peace and stability in the cyberspace. The international community has made multiple moves to promote cybersecurity legislation, upgrade data protection capabilities, and work together to combat cybercrime in order to respond to the threats.
未来一个时期,全球网络安全形势将更加错综复杂,新技术"双刃剑"效应将诱发新的网络攻击方法手段,网络安全风险与政治、经济、社会、文化、军事等各方面风险交织发酵。国际社会应当树立正确的网络安全理念,发挥联合国重要作用,发挥政府、国际组织(包括国际性和区域性标准化组织)、互联网企业、技术社群、民间机构、公民个人等各个主体作用,建立相互信任、协调有效的合作,加强关键信息基础设施保护国际合作,依法打击各种形式的网络恐怖主义活动和各类网络违法犯罪行为,提高网民网络安全知识素养和防护能力,探索构建各方共同参与的网络安全新秩序。
It can be ascertained that in the short to medium run, the global cybersecurity situation would remain increasingly complex, for as a double-edged sword, new technology is poised to give rise to new cyber incidents that would add to an adverse impact of political, economic, social, cultural, and military risks. The international community should work on a concept of collaborative cybersecurity, let the United Nations continue to play an important role, and encourage all the legitimately interested parties, including governments, international organizations (and, inter alia, international and regional standards development organizations), Internet companies, the technical community, nongovernmental institutions, and individuals to contribute thereto. The global community should establish a coordinated and effective cooperation to promote trust, strengthen international cooperation to protect critical information infrastructures, crack down on cyberterrorism and cybercrime in accordance with the national and international law, raise Internet users' awareness of cybersecurity and upgrade their ability to protect themselves, and explore the establishment of a new and collaborative cybersecurity mechanisms and frameworks in an evolving cybersecurity environment.
五、网络空间治理继续推进,共治进程体系仍待完善
5. The cyberspace governance framework will continue to evolve and the shared governance system must be improved.
网络空间国际治理逐渐步入深水区。互联网新技术新应用加快推广落地,对全球互联网治理不断提出新需求、新挑战,确保安全与稳定成为当前网络空间治理的阶段性重心。网络空间治理逐渐由技术议题发展演变成为综合性议题,各国均从国内治理与国际合作等方面探索应对之策,在维护网络主权的探索中推动形成全球规则。但国家间关系的起伏与各国发展阶段的差异使得网络空间治理的整体进程并非一帆风顺。世界互联网大会与信息社会世界峰会论坛、互联网治理论坛等为弥合分歧、凝聚智慧、促进互信、完善共享共治的互联网治理体系提供了沟通交流的重要平台,有助于促进全球社群共同打造网络空间命运共同体。
With the advent of new technologies and applications that keep engendering new demands and challenges, the international cyberspace governance which has gradually developed from a merely technical issue into a holistic one, is destined to further evolution. Having put security and stability on top of their current cyberspace governance agenda, countries are seeking countermeasures via the practice of national management and international cooperation, and exploring prospects for new global rules and norms for cyberspace while respecting nations' sovereignty in cyberspace. However, the evolution of the global cyberspace governance has not been a linearly even process as it was responding to the changes of international relations and the development differences among variant countries. Carrying forward the spirit of the World Summit on Information Society(WSIS) Forum and the Internet Governance Forum(IGF), the World Internet Conference, like other international fora, constitutes an important global platform for communication on bridging divides, pooling wisdom, promoting mutual trust, and improving the Internet governance system shared and governed by all. The World Internet Conference should benefit the world on its way towards the building of a community with a shared future in cyberspace.
当前全球互联网治理正处关键十字路口,推进全球互联网治理体系变革是大势所趋、人心所向。但反全球化做法和单边主义行动,已使网络空间国际治理合作前景和制度面临更多不确定性。制度不完善和效力不足使网络空间国际治理制度创新问题愈加突出,对网络空间可持续发展形成制约。国际社会应当共同努力,发扬伙伴精神、深化战略互信,完善治理机制、推动规则落实,促进全球互联网治理体系建设再上新台阶。
At this crucial junction, it's the common aspiration of the international community to improve the global Internet governance mechanisms. However, anti-globalization trends and unilateral practices have tended to undermine the credibility of the concept and institutions of collaborative cyberspace governance. At the same time faulty institutions and lack of efficacy make it increasingly urgent to promote innovation in the international cyberspace governance domain. All of these are depriving the cyberspace's development of the much-needed momentum. The international community should work far more closely to deepen strategic mutual trust, improve the governance mechanisms and promote the implementation of rules in order to improve the global Internet governance process to reach a new stage.
互信推动合作,共治引领未来。网络空间未知远远大于已知,创新和进步将继续改变世界,需要我们以人类共同福祉为根本,以构建网络空间命运共同体为愿景,深化国际交流合作,推动网络空间实现平等尊重、创新发展、开放共享、安全有序的目标。
Mutual trust fuels cooperation, and a genuinely collaborative governance is a pillar of a brighter future. As Internet-driven innovation and progress should continue to change the world, cyberspace calls for further exploration, with the focus on the mankind's well-being in the first place and building a community with shared future in cyberspace being the ultimate objective. Underlying the process should remain equality and respect, innovation and development, openness and sharing, security and orderliness, as well as a deepened international exchange and cooperation in cyberspace.
我们高兴地看到世界互联网大会迎来了第五个年头,并在推进全球互联网发展治理进程,求同存异、凝聚共识方面发挥着越来越重要的作用,期待大会和其他国际平台一道,在促进互联网创新创造、扩大网络交流合作、应对网络安全挑战、深化网络空间国际治理等方面开展更多卓有成效的工作。我们期盼全球携手共建互信共治的数字世界,共同创造人类社会文明进步的美好未来!
We are pleased to see the World Internet Conference enter its fifth year and play an increasingly important role in promoting global Internet development and governance, seeking common ground while appreciating diversity, and striving to build consensus around the fundamental values and principles. We hope that the Conference will, along with other international platforms, keep promoting innovation and creativity fueled by the Internet, increasing online exchange and cooperation, responding to cybersecurity challenges, and intensifying international cyberspace governance. We look forward to the whole international community's collaborative governance efforts to build a digital world based on mutual trust and a splendid future of human civilization.
中国日报网英语点津版权说明:凡注明来源为"中国日报网英语点津:XXX(署名)"的原创作品,除与中国日报网签署英语点津内容授权协议的网站外,其他任何网站或单位未经允许不得非法盗链、转载和使用,违者必究。如需使用,请与010-84883561联系;凡本网注明"来源:XXX(非英语点津)"的作品,均转载自其它媒体,目的在于传播更多信息,其他媒体如需转载,请与稿件来源方联系,如产生任何问题与本网无关;本网所发布的歌曲、电影片段,版权归原作者所有,仅供学习与研究,如果侵权,请提供版权证明,以便尽快删除。