李克强总理记者会全程文字实录(双语)
新华网 2019-03-19 10:10
分享到微信 十三届全国人大二次会议15日上午在人民大会堂举行记者会,国务院总理李克强应大会发言人张业遂的邀请会见中外记者,并回答记者提问。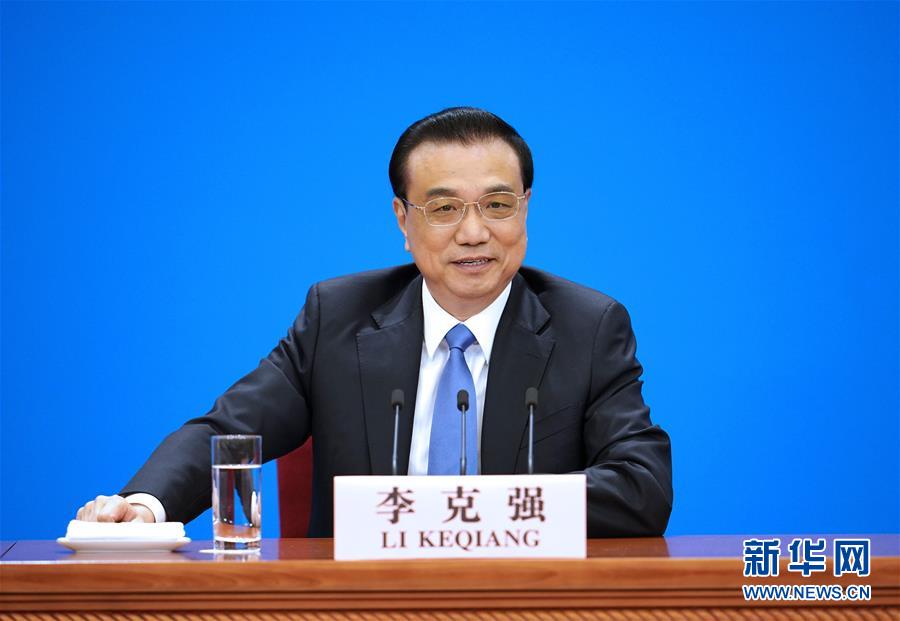 路透社记者:去年中国采取了一系列措施放松货币条件,还加大了减税降费力度,今年中国表示将进一步放宽货币条件,进一步减税降费,还要加大基础设施投资。请问,中国经济面临的问题是否比之前预想得更为严重?如果经济放缓继续持续下去,中国是否会考虑采取更加有力的举措,包括取消房地产限制和降低基准利率等?
Reuters: Last year China took a number of measures to ease monetary conditions. China also cut taxes and fees. This year China is promising more monetary easing, more tax cuts and more infrastructure spending. Are China's economic problems bigger than previously thought? And if the economic slowdown doesn't stop, would China consider taking more aggressive measures such as lifting property curbs and cutting benchmark interest rates?

李克强:这位记者朋友喜欢单刀直入,那我也开诚布公。中国经济确实遇到了新的下行压力,现在世界经济都在放缓,就在这一个多月期间,几大国际权威机构都在调低世界经济增长的预期。中国适度调低经济增长预期目标,用的是区间调控的方式,既和去年经济增速相衔接,也表明我们不会让经济运行滑出合理区间,可以说给市场发出的是稳定的信号。
Premier Li: You went straight to the point in your question and I will not beat about the bush. It is true that China's economy has encountered new downward pressure against a larger backdrop of slower global economic growth. In the past month or so, several major international organizations have adjusted downward their forecast for global growth this year. We have adjusted downward, as appropriate, our projected economic growth target for 2019, and set it at a target range. This is compatible with the GDP growth rate we achieved last year. It is also consistent with our determination to prevent major economic indicators from sliding out of the proper range. By this way, we have sent a message of stability to the market.

去年,在以习近平同志为核心的党中央坚强领导下,以习近平新时代中国特色社会主义思想为指导,全国上下奋力拼搏,在推进供给侧结构性改革的进程中,面对国际贸易保护主义抬头的背景,中国经济实现6.6%的增速,的确是来之不易。国内生产总值总量达到90万亿元,在这个基础上,今年预计经济增长6%至6.5%,这是高基数、大总量上的增长,可以说本身就是进。
Last year, under the strong leadership of the CPC Central Committee with Comrade Xi Jinping at its core and guided by Xi Jinping Thought on Socialism with Chinese Characteristics for a New Era, people across China made united efforts to advance the supply-side structural reforms, and we achieved a 6.6 percent GDP growth, which was no mean feat. Against the backdrop of growing trade protectionism in the international environment, China's GDP aggregate reached 90 trillion RMB yuan. Our projected target for GDP growth this year is 6-6.5 percent. It will be a growth on top of a very large base figure. Keeping steady growth of China's economy in itself is important progress.

当然,面对新的下行压力,要有有力举措。一种办法是搞量化宽松,超发货币、大幅度提高赤字率,搞所谓"大水漫灌",一时可能有效,但萝卜快了不洗泥,会带来后遗症,所以不可取。我们还是要坚持通过激发市场活力,来顶住下行压力。前些年,我们也遇到下行压力,采取的就是激发市场活力的措施,因为市场活力增强了,发展的动力必然增强。
We must take strong measures to cope with the current downward economic pressure. One possible option is to resort to quantitative easing, including excessive money supply and a much higher deficit-to-GDP ratio, flooding the economy with liquidity. Such an indiscriminate and expedient approach might work in the short run, but may also lead to future problems. Hence, it is not a viable option. Our choice is to energize market players to counter the downward pressure. We encountered economic downturn in the past several years, and the measures we took were aimed at boosting the vitality of the market, which generated stronger dynamism for development.

现在中国市场主体已经超过1亿户,把他们的活力激发出来,这个力量是难以估量的。我们还是要政贵有恒,继续推进减税降费、简政、培育新动能、放宽市场准入、营造公平竞争环境等一系列措施,为市场松绑,为企业腾位,为百姓解忧。把他们的创造力释放出来,我们一定能够保持经济运行在合理区间,而且推动高质量发展。
China now has over 100 million market entities. When their vitality is fully unleashed, the energies that could be created would be incalculable. We must keep our policies stable and ensure their continuity. We will continue to cut taxes and fees, streamline administration, foster new drivers of growth, broaden market access and level the playing field for all market players. In this way, we will be able to lift the curbs on the market, free up space for companies and resolve concerns for our people. We will generate tremendous creativity in this process. And this will also put us in a strong position to keep major economic indicators within a proper range and achieve high-quality development.

当然,今年不确定因素不少,我们还要有更多的应对准备,留有政策空间。比如我们今年提高赤字率0.2个百分点,达到2.8%,没有超过国际上所谓3%的警戒线。我们还可以运用像存款准备金率、利率等数量型或价格型工具,这不是放松银根,而是让实体经济更有效地得到支持。不管发生什么样的新情况,我们都会立足当前、着眼长远,保持中国经济稳定,保持中国经济长期向好趋势不变,这都是很重要的。中国经济会始终成为世界经济的一个重要"稳定之锚"。
We also need to take strong measures to cope with growing uncertainties that we face this year. We have policies in reserve for that purpose. For example, we raised the deficit ratio for this year by 0.2 percentage point to 2.8 percent, which is below the international warning line of 3 percent. In addition, we can also resort to quantitative or pricing tools like required reserve ratios and interest rates. We are not going for monetary easing, but trying to provide effective support to the real economy. Facing new circumstances, we will stay firmly grounded in China's realities and take a long-term view. We will do our best to keep China's economic growth stable and maintain the sound momentum of the economic development for the long run. China's economy will remain an anchor of stability for the global economy.

《财新周刊》记者:中国政府出台了一系列关于减税降费的举措,不少企业家反映企业税收依然很重,今年政府出台了更大规模的减税降费,请问您认为企业能得到实惠吗?财政可持续吗?
Cai Xin: The Chinese government took a series of steps to reduce taxes and fees. However, some business people still feel that the tax burden on companies is quite heavy. This year the government plans to implement deeper tax and fee cuts. I would like to ask if you think real benefits can be truly delivered to companies, and is our country's public finance sustainable?

李克强:近几年我们利用营改增等,平均每年给企业减税降费一万亿元,三年三万亿元。应该说,我们减税的规模是比较大的。今年下决心要进行更大规模的减税降费,把增值税和基本养老保险单位缴费率降下来,减税降费红利近两万亿元。这可以说是应对当前经济下行压力的一个十分重要的关键性举措。
Premier Li: In the past several years, we worked to replace business tax with value-added tax. For the past three years, we cut taxes by three trillion yuan, or one trillion on an average annual basis. This is fairly large-scale tax reduction. This year we will implement larger-scale tax and fee cuts. We will make reductions in the VAT and employers' contributions to the basic pension insurance scheme. This will deliver a dividend of as much as two trillion yuan to companies. It is an important measure for countering the downward pressure.

这样做有利于公平,因为按照规则,各类所有制企业普遍能从减税降费中受惠,而且政策效率很高,一竿子插到底,直达市场主体。4月1日就要减增值税,5月1日就要降社保费率,全面推开。我看还没有其他办法比这种办法给企业带来的感受更公平、更有效。
This is also a fair and efficient policy option. The same rules will be enforced and companies under all types of ownership will stand to benefit as equals. The policy will reach all market players directly. The plan is to cut VAT rates starting from 1 April, and the social insurance contribution rate from 1 May. No other way may work as fairly and efficiently as this one for companies.

今年更大规模的减税降费是一项重大改革和重要抉择。之前我们反复测算,有多种方案,一种就是今后几年每年把增值税率降一个百分点,但在当前情况下企业可能感受不深。所以我们下决心把占增值税总量近60%的制造业等行业的增值税率降低3个百分点,把建筑业等部分行业降1个百分点,其他所有行业也确保只减不增。由于税制的原因,可能在推进过程当中有些行业抵扣少了,税收会有增加,我们也做了认真的准备,对他们加大抵扣的力度,用打补丁的办法,并对所有的中小微企业实行普惠性减税,以此确保所有行业税负只减不增。对基本养老保险单位缴费率,我们还明确,可以从原规定的20%降到16%。
Our larger-scale tax and fee cuts are a very important reform measure and a crucial decision. Before we took this decision, we did thorough calculations. In the past, there were several different plans under consideration. For example, one of the plans was to cut the VAT rates by just one percentage point each year in the following several years. But that may not bring as many benefits to companies as the current plan. Under the current plan, the VAT rate for the manufacturing sector will be cut by three percentage points. The manufacturing sector accounts for close to 60 percent of all VAT. For construction and related sectors, the VAT rate will be cut by one percent point. For other industries, we will also work to ensure that the tax burden on companies will only go down, not up. Due to the setup of the tax code, with fewer deductions, the tax payments of some sectors may somewhat increase. To address this problem, we will make further tax deductions. In this process, the tax burden on all micro, small and medium-sized companies will be significantly eased. All in all, as I said before, taxes levied on companies will only come down instead of going up. Moreover, employers' contributions to the basic pension insurance scheme will be cut from 20 percent to 16 percent.

减税是要减收的。我们今年安排财政支出和GDP增长同步,确保民生重点领域、三大攻坚战支出只增不减。那么人们会问钱从哪里来?赤字只提高了0.2个百分点,填不上这个窟窿怎么办?我们的办法是,政府要过紧日子,不仅要压缩政府一般性支出,而且增加特定国有金融机构和央企上缴利润、进入国库,并把长期沉淀的财政资金收回。通过这些举措,我们筹集了1万亿元资金。我们还要求地方政府也要挖潜,把自己的功课做足。对中西部地区,我们将给予适当的转移支付支持。大规模减税降费,是要动政府的存量利益,要割自己的肉。所以我说这是一项刀刃向内、壮士断腕的改革。
Cutting taxes means smaller fiscal revenues. This year, our fiscal spending will grow in tandem with the GDP growth rate. We also need to ensure that government spending in key areas related to people's lives and in fighting the three critical battles will increase. Then it begs the question: where does the money come from? Only increasing the budget deficit ratio by 0.2 percent point is not enough to make up for the shortfall. The answer is: the government will tighten its belt and cut back on its general expenditures. At the same time, certain state-owned financial institutions and enterprises directly under the central government will be asked to turn in a larger share of their profits to the state coffers. The central government will also take back those fiscal funds that have long stayed unused. Through these means, we have put together one trillion yuan. Local governments also need to do their homework and contribute, but for localities in the central and western regions, transfer payments from the central government will be made. Digging into the government's own revenue stock for slashing taxes and fees would be like the government turning the blade of a knife to itself, which requires significant self-sacrifice. That is why I said this is a key reform that requires exceptional courage and determination.

刚才记者问,这样做财政可持续吗?我们也是认真算过账的。我们是给制造业等基础行业、给带动就业面最大的中小企业明显减税,这实际上是"放水养鱼"、培育财源。我们前几年在营改增过程中起先也是财政减收的,但后来税基扩大了,财政收入增长了。现在看,我们还要调整国民收入分配结构,这也是一项改革。从趋势看,应该给实体经济、给企业让利,让他们在国民收入分配蛋糕中的比例更大,这样能更多带动就业,让就业人群增加收入。为此,政府就要过紧日子,就要让利,政府的存量利益也要动,得罪人也要动,让利于企业,让利于民,这样财政才更可持续,反过来讲可能就要打问号了。我们这样做,不是在预支未来,恰恰是在培育未来。
You asked if our public finance is sustainable. Let me tell you that the government has done its due diligence. We are going to cut VAT rates for the manufacturing and other basic sectors. And we are going to make things much easier for small and medium-sized companies, the largest providers of jobs in our country. They will see their taxes meaningfully reduced. This will create a more enabling environment for companies, and also help to expand our tax sources. When we started with the VAT reform several years ago, government revenue also declined. However, it didn't take long for it to increase again, as the tax base expanded. This is also a reform that will make adjustments to the structure of our national income distribution. By expanding the share of companies therein, we will create more jobs and put more money in our people's pockets. To do this, the government must live on a tight budget, and let companies benefit more. We must dig into the government's own pockets, even if this involves offending people. This is actually helpful for keeping our public finance sustainable. As a matter of fact, our ability to keep China's public finance sustainable may be called into question if the above measures are not taken. Such measures are not taking an overdraft on our future, but nurturing a better tomorrow.

现在可以说是真金白银已经备好了,有关部门和各级政府都要去落实,决不能让政策"打白条",更不允许变换花样乱收费来冲击减税降费的成效,要让企业、让市场主体切实感受到更大规模减税降费的实实在在效果。
So, these heavyweight policies and measures are all set, relevant departments and governments at all levels must fully deliver those policies and measures. There must be no lip service. We will let market players test their actual effects and there must be no arbitrary charges levied in disguised forms. Our end goal is to deliver concrete benefits to companies and market entities.

韩国《东亚日报》记者:朝美领导人河内会晤谈崩之后,外界认为朝鲜有可能正在准备恢复发射火箭,朝鲜半岛局势下一步发展还是存在不确定性,中方对此如何看?中方作为和朝鲜保持战略性沟通和高层来往的邻邦,为了劝和促谈,化解朝美之间的分歧,目前在发挥什么样的建设性作用?
The Dong-A Ilbo: The Hanoi summit between the DPRK and the United States broke down and after that there are analyses arguing that there is a possibility for the DPRK preparing for resuming rocket launch. And there are still uncertainties on the Korean Peninsula situation. How does the Chinese side see the kind of situation on the Peninsula? Another question is, China has stayed in strategic communication and exchanged high-level visits with the DPRK and has been promoting dialogue between the DPRK and the United States and working to ease differences between the two parties. What constructive role is China playing in this respect?

李克强:半岛问题可以说是错综复杂、由来已久,解决起来不可能一蹴而就。一段时间以来,大家都比较关注朝美领导人河内会晤。会晤后,双方都表示要继续接触。我认为,接触总比不接触好。我们还是要保持耐心,要抓住机遇,特别是当前显现出的积极因素,推动对话,特别是朝美对话,实现大家都希望得到的成果。中国始终坚持半岛无核化,希望保持半岛的和平稳定,这个立场从来没有改变过。解决好半岛问题,不仅对北南双方,对地区、对世界都有利。
Premier Li: The Korean Peninsula issue is a long-standing and complicated one. It cannot be resolved overnight. Much attention has been paid to the Hanoi summit between the DPRK and the United States. Following the summit, both sides expressed readiness to stay engaged with each other, and having such kind of engagement is better than no contact at all. I believe it is important for all parties concerned to stay patient, seize opportunities and the positive factors that have emerged, and promote dialogue, especially dialogue between the DPRK and the United States, to move toward outcomes that we all would like to see. China is committed to a denuclearized Korean Peninsula. We hope there will be peace and stability there. And this has been our consistent position. A proper settlement of the Peninsula issue is in the interest of both the North and the South. It is also in the regional and global interest.

中国新闻社记者:我们注意到近几年中国政府一直在着力改善民生,但是在民生领域也会听到一些抱怨。明年就要全面建成小康社会了,除了脱贫之外,民生领域我们能有哪些实实在在的期待?政府对解决民生问题究竟是怎么考虑的?
China News Service: The Chinese government has been taking measures to improve living standards over the years. However, there are still complaints about some issues concerning quality of life. Next year we will complete the building of a moderately prosperous society in all respects. So in addition to poverty alleviation, what concrete progress can we look forward to in all these livelihood areas and what plan does the government have to improve people's well-being?

李克强:你问的问题很大,因为民生本身就是天大的事情,要做的事情很多。我们要在发展经济的过程中持续改善民生,抓住民生的一些重点、难点问题,一件一件去做。现在大数据显示,"一老一小"的问题,就是养老服务、托幼服务有困难。这个确实应该引起我们高度重视。
Premier Li: You asked a fairly big question. Any issue related to people's lives is of paramount importance and there are still a lot of things in this respect the government must do. We will continue to improve people's well-being in the process of developing the Chinese economy. We must put our focus on these key areas and major difficulties faced by our people. A big data survey suggests that issues related to aged and child care are still commonly felt difficulties for our people and this must draw closer attention from the government.

现在中国老龄人口,如果按60岁以上算,近2.5亿人,65岁以上有1.7亿人,6岁以下儿童有上亿人,他们的服务问题涉及到绝大多数家庭,但是我们这方面的服务供给是不足的。全面实施"两孩"政策以后,托幼难更突出了。养老机构现在能提供的服务,每百人只有3个床位。有的大城市统计,可能要到90岁以后才能等到养老床位。我说这句话的意思是,现在我们即便继续加大养老机构、多功能幼儿园发展的力度,也还是跟不上需求增长的速度。
The number of senior citizens at the age of 60 or above in China has reached 250 million, the number of those at or above 65, 170 million, and there are up to 100 million children in China below six years old. Services targeting these populations are still lacking, and they affect most of the Chinese families. The difficulty of insufficient child care services is particularly acute after the implementation of the two-child policy. When it comes to aged care facilities, on average, there are only three beds for every 100 senior citizens. Some surveys suggest that in big cities, one would have to wait until 90 years old before he or she can get a place in a nursing home. The increase of such facilities is lagging behind the growing needs for them.

怎么办?我到一些地方去调研,发现已经有好的经验,就是重点发展社区养老托幼服务,这样可以做到就近可及、普惠公平,只要安全可靠,大家是欢迎的。所以,我想还是要创新机制,对接群众需求,发挥社会力量作用,加大政府扶持力度。比如说,提供公租房,让那些从事助餐助行、日间照料、康复、老年大学等的社会力量免费使用,还可以给予水电气的费用减免,可以减税免税,因为他们实际上也是帮政府共同解决民生之难。社区工作人员、政府的有关部门要保障公平准入,把主要精力放在公正监管上,确保这些服务是安全可靠的,对那些违规的要坚决逐出市场,让老人、孩子、家庭都放心安心。老年人能安度晚年,孩子们有幸福的童年,那就有千家万户幸福愉悦的家庭,也可以让青年人或者中青年人有更多的精力去就业创业。当然,民生方面的问题还很多,我们会抓住重点难点,尽力而为、量力而行去解决。
How does the government plan to address this acute problem? In my local inspection trips, I have seen that some good experience has been gained in this respect, that is, to vigorously develop community-based providers of such services. If there can be accessible, quality services that are safe, reliable, and beneficial to all, they will certainly be very popular among the targeted populations. In this respect, the government needs to develop innovative mechanisms to better match market supply with our people's demand. The government also needs to provide policy support. For example, we may provide public rental housing units for free to private operators as venues of facilities for providing assisted meal, assisted mobility, day care, rehabilitation, and even open senior colleges. The government may also provide tax exemption or tax-free treatment for these service providers in terms of their expenses on water, electricity and natural gas. These entities are all working together with the government to address our people's actual needs. The main job of community-level officials and competent departments is to ensure fair market access and enhance oversight so that these services will be both safe and reliable, and those who break the rules will be driven out of the market. In this way, we will be able to keep our senior citizens, our children and all families reassured. When our senior citizens have a decent life in their retirement and our children a carefree childhood, all families will lead a happier life and our young and middle-aged people will have greater energy to tap into their entrepreneurship. I do recognize that there are still a great deal of things the government should do in areas related to people's lives. We will do our level best within the realms of possibility to tackle the key concerns and difficulties that our people face.

彭博新闻社记者:中美建交40年以来,现在两国关系猜疑和竞争似乎比以往任何时候都严重。您如何看待现在的中美关系,您对中美关系未来的走向持何看法?您能否简单谈及目前中美面临的一些具体的冲突点?比如贸易问题,什么样的贸易协议中方可以接受,什么样的不能接受?在技术问题上,中国政府是否会迫使中国的有关企业帮助其监视他国?
Bloomberg News: There's probably not been as much suspicion and competition in the relationship since ties began some 40 years ago. How would you describe the current state of US-China ties? What's your outlook for the relationship? And also if you could address some specific issues on trade, what kind of deal would China accept, and what kind would China not accept? And on technology, would China force Chinese technology companies to help spy?
李克强:我认为,中美建交40年来,两国关系可以说是一直向前,取得了丰硕成果。在这个过程中曲折不断、风云变幻,但是向前走的大趋势没有改变,因为中美两国之间有着广泛的共同利益,我们的共同利益是远大于分歧的。中美之间保持稳定的双边关系,不仅有利于双方,也有利于世界。我认为,在曲折中前行、继续前行这个大趋势是不会、也不应该改变的。
Premier Li: I would like to say that China-US relationship has been forging ahead in the past four decades. And a great deal has been accomplished in the growth of this relationship. At the same time, it is true that the relationship has also gone through some twists and turns. But the underlying trend is for the relationship to go forward, and this has not changed. This is because there are broad common interests between China and the US. And the shared interests far outweigh the differences. Steady growth of China-US relationship is in the interest of both countries. It's also something good for the whole world. So I expect this relationship to continue forging ahead despite twists and turns. And that should be the underlying trend going forward.

当然,中美关系保持总体稳定的同时,一些矛盾纠纷也经常突出地表现出来。一段时间以来,表现比较突出的是中美经贸摩擦。中美双方磋商一直没有停。在去年二十国集团领导人峰会期间,两国元首达成了重要共识,现在双方的磋商还在继续进行。我们希望磋商能有成果,能够实现互利双赢。我相信,这也是世界的期待。
While maintaining the overall stability of China-US relations, we have also seen problems and difficulties appear from time to time. In the past weeks and months, one prominent difficulty in China-US relationship lies in their economic and trade friction. The two countries have been in consultation the whole time. Last year, during the G20 Summit, the presidents of the two countries reached important common understandings. Consultations between the two sides are still ongoing. We hope that good outcomes will be delivered out of those consultations, outcomes that work for both sides and are a win-win. I believe that such a result is also what the whole world would like to see.

中美作为两大经济体,经过几十年来的发展、合作,可以说已是你中有我、我中有你,想人为地把这两大经济体隔开,那是不现实的,也是不可能的。我们还是应该本着合作比对抗好、相互尊重、平等互利这个原则去推动中美关系,包括经贸关系的发展,这样可以使两国人民从中受惠。对于矛盾和分歧,我们相信,中美两国人民是有智慧、有能力来进行化解管控的,推动符合世界潮流的中美关系保持稳定并且向着健康的方向发展。
China and the US, as two large economies, have become closely entwined through years of development and cooperation. It is neither realistic nor possible to decouple these two economies. I believe we need to follow the principles of cooperation instead of confrontation, mutual respect, equality, and mutual benefit, to continue to grow China-US relationship, including economic and trade ties, and to deliver concrete benefits to people of both countries. As for the differences and disagreements, we have the confidence that people of the two countries have the wisdom and capability to defuse and manage them properly, and to pursue steady and sound growth of China-US relationship in keeping with the trend of our time.

你问中国政府有没有要求自己的企业去监视他国,我可以明确地回答你,这样做不符合中国法律,也不是中国行事的方法,现在没有,将来也决不会有。
You asked whether the Chinese government will ask Chinese companies to "spy" on other countries. Let me tell you explicitly that this is not consistent with Chinese law. This is not how China behaves. China did not and will not do that in the future.
中国日报网英语点津版权说明:凡注明来源为"中国日报网英语点津:XXX(署名)"的原创作品,除与中国日报网签署英语点津内容授权协议的网站外,其他任何网站或单位未经允许不得非法盗链、转载和使用,违者必究。如需使用,请与010-84883561联系;凡本网注明"来源:XXX(非英语点津)"的作品,均转载自其它媒体,目的在于传播更多信息,其他媒体如需转载,请与稿件来源方联系,如产生任何问题与本网无关;本网所发布的歌曲、电影片段,版权归原作者所有,仅供学习与研究,如果侵权,请提供版权证明,以便尽快删除。