《中国的粮食安全》白皮书(双语全文)
新华网 2019-10-15 13:55
分享到微信 国务院新闻办公室10月14日发布《中国的粮食安全》白皮书。全文如下:
中国的粮食安全
Food Security in China
(2019年10月)
中华人民共和国
国务院新闻办公室
State Council Information Office of the People's Republic of China
October 2019
目录
Contents
前言
Preamble
一、中国粮食安全成就
I. China's Achievements in Ensuring Food Security
二、中国特色粮食安全之路
II. Food Security in China
三、对外开放与国际合作
III. Opening Up and International Cooperation
四、未来展望与政策主张
IV. Prospects and Policies
结束语
Conclusion
前言
Preamble

民为国基,谷为民命。粮食事关国运民生,粮食安全是国家安全的重要基础。新中国成立后,中国始终把解决人民吃饭问题作为治国安邦的首要任务。70年来,在中国共产党领导下,经过艰苦奋斗和不懈努力,中国在农业基础十分薄弱、人民生活极端贫困的基础上,依靠自己的力量实现了粮食基本自给,不仅成功解决了近14亿人口的吃饭问题,而且居民生活质量和营养水平显著提升,粮食安全取得了举世瞩目的巨大成就。
The people are the foundation of a country; food is the primary need of the people. As food decides national prosperity and the people's wellbeing, food security is a major prerequisite for national security. Since the founding of the People's Republic of China (PRC) in 1949, China has always prioritized food security in state governance. Despite a weak agricultural foundation and extreme poverty, the Communist Party of China (CPC) has led an unremitting campaign of hard work over the past 70 years that has made China basically self-sufficient in food supply. China now has enough food to feed its nearly 1.4 billion population, and has remarkably improved the people's nutrition and life quality. China's food security is a success of worldwide significance.

党的十八大以来,以习近平同志为核心的党中央把粮食安全作为治国理政的头等大事,提出了"确保谷物基本自给、口粮绝对安全"的新粮食安全观,确立了以我为主、立足国内、确保产能、适度进口、科技支撑的国家粮食安全战略,走出了一条中国特色粮食安全之路。中国坚持立足国内保障粮食基本自给的方针,实行最严格的耕地保护制度,实施"藏粮于地、藏粮于技"战略,持续推进农业供给侧结构性改革和体制机制创新,粮食生产能力不断增强,粮食流通现代化水平明显提升,粮食供给结构不断优化,粮食产业经济稳步发展,更高层次、更高质量、更有效率、更可持续的粮食安全保障体系逐步建立,国家粮食安全保障更加有力,中国特色粮食安全之路越走越稳健、越走越宽广。
Since the CPC's 18th National Congress in 2012, the CPC Central Committee with Xi Jinping as its core has treated food security as a top state issue. The central leadership has introduced a food security policy of "ensuring basic self-sufficiency of grain and absolute security of staple food". The Chinese government has established a national strategy on food security featuring self-sufficiency based on domestic grain production, guaranteed food production capacity, moderate imports, and technological support. Abiding by the principle of basic food self-sufficiency based on domestic grain production, China practices the strictest farmland protection system and a strategy of sustainable farmland use and innovative application of agricultural technology to increase farmland productivity. Through supply-side structural reform and institutional innovation in agriculture, China has raised grain productivity, modernized grain circulation, improved food-supply structure, and achieved steady development in the grain industry. Step by step, China has established a food security guarantee system at a very high level characterized by quality, efficiency and sustainability. China's food security has a stronger guarantee, along a steadier and wider path with Chinese characteristics.

粮食安全是世界和平与发展的重要保障,是构建人类命运共同体的重要基础,关系人类永续发展和前途命运。作为世界上最大的发展中国家和负责任大国,中国始终是维护世界粮食安全的积极力量。中国积极参与世界粮食安全治理,加强国际交流与合作,坚定维护多边贸易体系,落实联合国2030年可持续发展议程,为维护世界粮食安全、促进共同发展作出了积极贡献。
Food security is an essential guarantee for world peace and development, a significant foundation for a global community of shared future, and an influential factor for the development and future of humanity. As the world's largest developing country, and a major country that shoulders its responsibilities, China has always been a positive force in safeguarding world food security. China has been an active part of global food security governance, enhancing international exchanges and cooperation, supporting the multilateral trade system, and implementing the United Nations 2030 Agenda for Sustainable Development. In this sense, China has made a positive contribution to improving global food security and promoting common development.

为全面介绍中国粮食安全成就,增进国际社会对中国粮食安全的了解,特发布本白皮书。
The Chinese government is publishing this white paper to provide a full picture of how food security operates in China, in order to increase the international community's understanding in this important field.

一、中国粮食安全成就
I. China's Achievements in Ensuring Food Security

中国人口占世界的近1/5,粮食产量约占世界的1/4。中国依靠自身力量端牢自己的饭碗,实现了由"吃不饱"到"吃得饱",并且"吃得好"的历史性转变。这既是中国人民自己发展取得的伟大成就,也是为世界粮食安全作出的重大贡献。
With one fifth of the world population, China accounts for a quarter of total global food production. China is self-reliant in securing its own food supply; its people now have not only enough to eat, but also a greater range of choices. Compared to past times when they were underfed, this historical change has been made possible by the Chinese themselves through hard work and development. It is also a key contribution to world food security.

(一)粮食产量稳步增长
1. Steady growth in food output

——人均占有量稳定在世界平均水平以上。目前,中国人均粮食占有量达到470公斤左右,比1996年的414公斤增长了14%,比1949年新中国成立时的209公斤增长了126%,高于世界平均水平。
- Per capita food output remains above the world average. Currently China's per capita food output is around 470 kg, growing by 14 percent from 414 kg since 1996 when China published its first white paper on food - The Grain Issue in China, and by 126 percent from 209 kg in 1949, when the PRC was founded. This is higher than the world average.

——单产显著提高。2010年平均每公顷粮食产量突破5000公斤。2018年达到5621公斤,比1996年的4483公斤增加了1138公斤,增长25%以上。2017年稻谷、小麦、玉米的每公顷产量分别为6916.9公斤、5481.2公斤、6110.3公斤,较1996年分别增长11.3%、46.8%、17.4%,比世界平均水平分别高50.1%、55.2%、6.2%。
- Per unit yield has significantly increased. The average food yield per hectare is as follows:
-more than 5,000 kg in 2010;
-5,621 kg in 2018, an increase of 1,138 kg, or 25 percent, over 1996.
The yields per hectare for rice, wheat and corn in 2017 are as follows:
-6,916.9 kg, up 11.3 percent over 1996, 50.1 percent higher than the world average;
-5,481.2 kg, up 46.8 percent over 1996, 55.2 percent higher than the world average;
-6,110.3 kg, up 17.4 percent over 1996, 6.2 percent higher than the world average.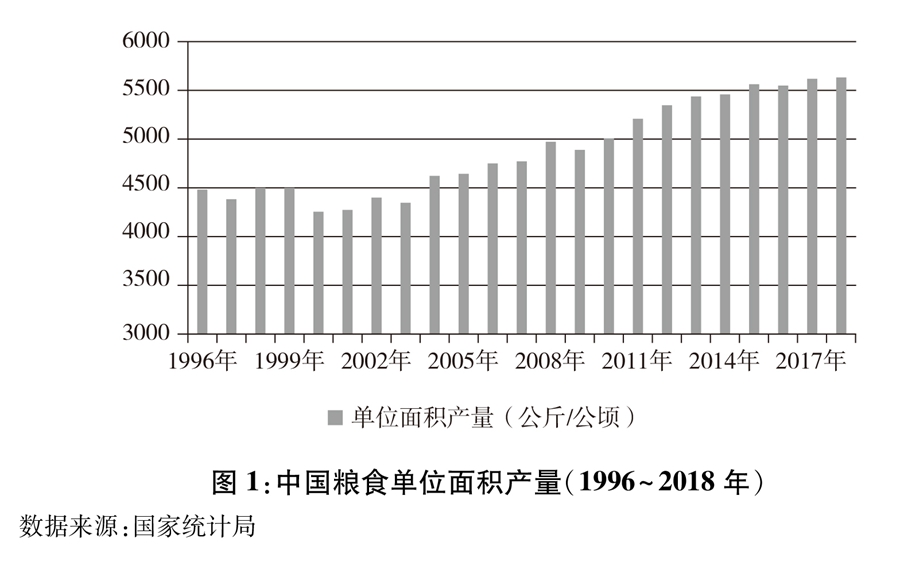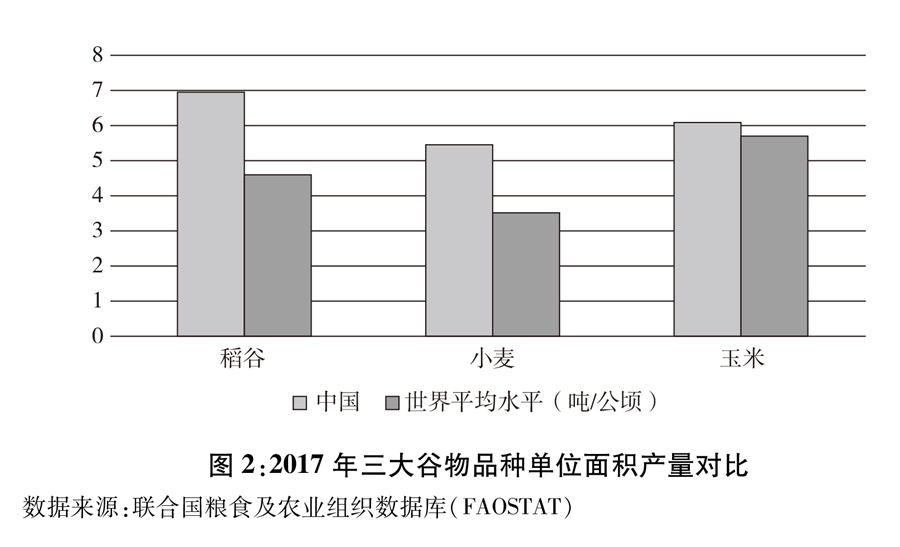 ——总产量连上新台阶。2010年突破5.5亿吨,2012年超过6亿吨,2015年达到6.6亿吨,连续4年稳定在6.5亿吨以上水平。2018年产量近6.6亿吨,比1996年的5亿吨增产30%以上,比1978年的3亿吨增产116%,是1949年1.1亿吨的近6倍。粮食产量波动幅度基本稳定在合理区间,除少数年份外,一般保持在±6%的范围之内。
- Total food output has seen a steady increase. China's total food output surpassed
-550 million tons in 2010,
-600 million tons in 2012,
-660 million tons in 2015,
-650 million tons for four years from 2015.
In 2018 the figure was near 660 million tons, up 30 percent over 1996(500 million tons), the year China published its first white paper on food security, 116 percent over 1978 (300 million tons), the year of the launch of China's reform and opening up, and by nearly 600 percent over 1949 (110 million tons), the year the PRC was founded.
Over the years food output each year has fluctuated within a range of plus or minus 6 percent, with the exception of a few years.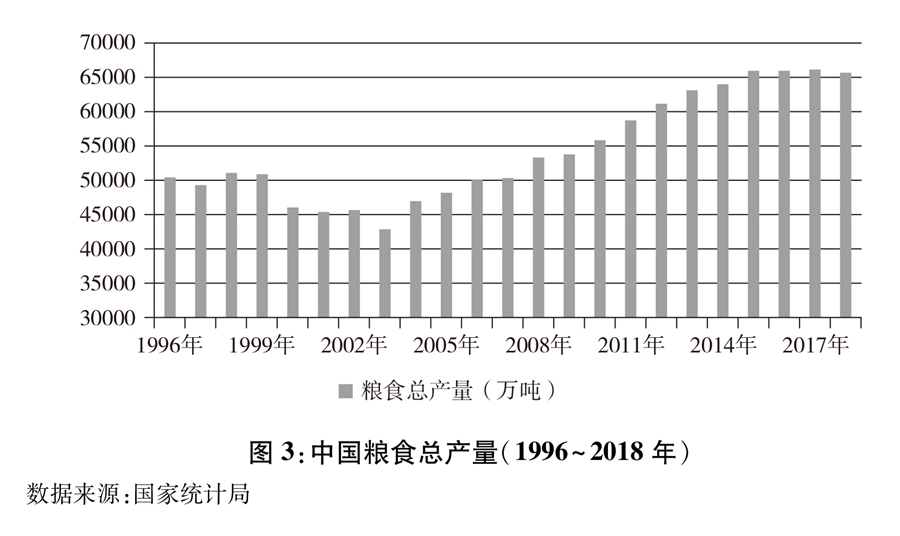 (二)谷物供应基本自给
2. Self-sufficiency in grain supply

——实现谷物基本自给。2018年,谷物产量6.1亿吨,占粮食总产量的90%以上,比1996年的4.5亿吨增加1.6亿吨。目前,我国谷物自给率超过95%,为保障国家粮食安全、促进经济社会发展和国家长治久安奠定了坚实的物质基础。
- China is self-sufficient in grain supply. In 2018 the grain output was 610 million tons, accounting for more than 90 percent of total food output, and growing by 160 million tons over 1996. Currently China supplies 95 percent of its own needs for grain, laying down a solid material foundation for maintaining national food security, promoting socioeconomic development, and safeguarding long-term peace and stability.

——确保口粮绝对安全。近几年,稻谷和小麦产需有余,完全能够自给,进出口主要是品种调剂,将中国人的饭碗牢牢端在自己手上。2001年至2018年年均进口的粮食总量中,大豆占比为75.4%,稻谷和小麦两大口粮品种合计占比不足6%。
- China ensures absolute security of staple grains. In 2001-2018, soybean accounted for 75.4 percent of imported grains, and the two main staple grains of rice and wheat together accounted for less than 6 percent. In recent years, with rice and wheat output meeting domestic needs, China is fully self-sufficient in food supply, and the main driver of food imports and exports is to satisfy the need for variety. China makes sure it relies on itself for food supply.

(三)粮食储备能力显著增强
3. Greater food reserve capacity

——仓储现代化水平明显提高。2018年全国共有标准粮食仓房仓容6.7亿吨,简易仓容2.4亿吨,有效仓容总量比1996年增长31.9%。食用油罐总罐容2800万吨,比1996年增长7倍。规划建设了一批现代化新粮仓,维修改造了一批老粮库,仓容规模进一步增加,设施功能不断完善,安全储粮能力持续增强,总体达到了世界较先进水平。
- Food storage is further modernized. In 2018 the storage capacity of qualified grain warehouses was 670 million tons, and that of simple warehouses was 240 million tons. Total effective warehouse capacity grew by 31.9 percent over 1996. The total tank capacity for edible oils was 28 million tons, a sevenfold increase over 1996. China has built new modern grain storage facilities and renovated old ones, further increasing storage capacity. With the facilities' functions also improved, China has secured a continued increase in its food storage capacity, generally reaching world advanced levels.

——物流能力大幅提升。2017年,全国粮食物流总量达到4.8亿吨,其中跨省物流量2.3亿吨。粮食物流骨干通道全部打通,公路、铁路、水路多式联运格局基本形成,原粮散粮运输、成品粮集装化运输比重大幅提高,粮食物流效率稳步提升。
- Logistics capacity has increased markedly. In 2017, the total volume of food transported reached 480 million tons, including 230 million tons of interprovincial transport. All major channels of food logistics have been integrated to form a multimodal transport network composed of highways, railways and waterways. Food logistics now involves more unprocessed grain, bulk grain, and finished grain products transported by container. The efficiency of food logistics has seen steady improvement.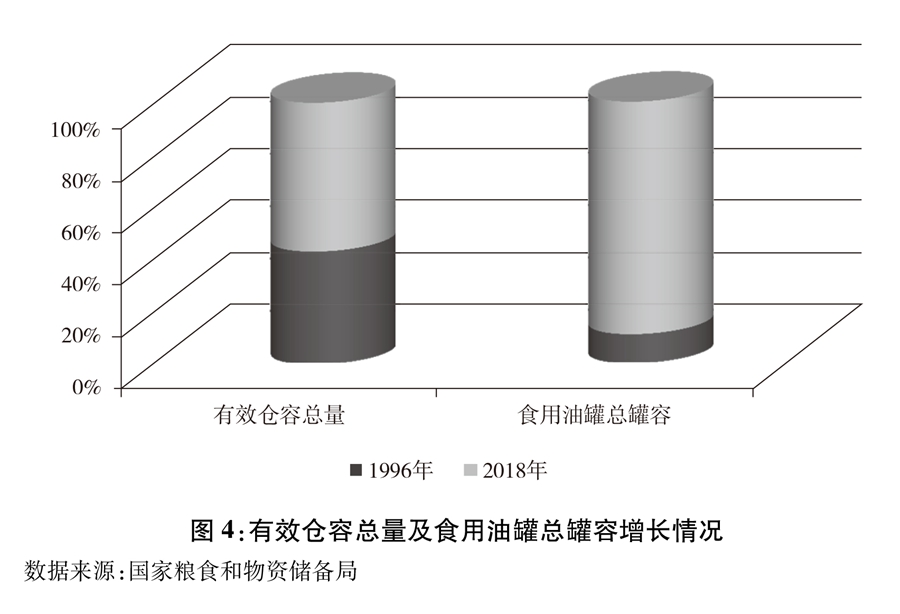 ——粮食储备和应急体系逐步健全。政府粮食储备数量充足,质量良好,储存安全。在大中城市和价格易波动地区,建立了10-15天的应急成品粮储备。应急储备、加工和配送体系基本形成,应急供应网点遍布城乡街道社区,在应对地震、雨雪冰冻、台风等重大自然灾害和公共突发事件等方面发挥了重要作用。
- Grain reserves and emergency response systems are improving. The government has sufficient and quality food reserves, with secured storage. Emergency food reserves for 10-15 days are available in large and medium-sized cities and areas prone to price fluctuation. A network of emergency reserves, processing and distribution is in place, with outlets to supply sub-districts and communities in urban and rural areas. These play an important role in response to natural disasters such as earthquakes, sleet, snowstorms, and typhoons, as well as public emergencies.

(四)居民健康营养状况明显改善
4. Improved nutrition for residents

——膳食品种丰富多样。2018年,油料、猪牛羊肉、水产品、牛奶、蔬菜和水果的人均占有量分别为24.7公斤、46.8公斤、46.4公斤、22.1公斤、505.1公斤和184.4公斤,比1996年分别增加6.5公斤、16.6公斤、19.5公斤、17公斤、257.7公斤和117.7公斤,分别增长35.7%、55%、72.5%、333.3%、104.2%和176.5%。居民人均直接消费口粮减少,动物性食品、木本食物及蔬菜、瓜果等非粮食食物消费增加,食物更加多样,饮食更加健康。
- More choices for meals. Per capita shares of various foods in 2018 and their increase over 1996 are as follows:
-oil, 24.7 kg, growing by 6.5 kg (35.7 percent up);
-pork, beef and mutton, 46.8 kg, growing by 16.6 kg (55 percent up);
-aquatic products, 46.4 kg, growing by 19.5 kg (72.5 percent up);
-milk, 22.1 kg, growing by 17 kg (333.3 percent up);
-vegetables, 505.1 kg, growing by 257.7 kg (104.2 percent up); and
-fruits, 184.4 kg, growing by 117.7 kg (176.5 percent up).
The per capita direct consumption of staple grains has decreased, and the consumption of non-grain foods such as meat and fish, ligneous foods, vegetables, and fruits has increased. The Chinese have more choices in what they eat and have a healthier diet.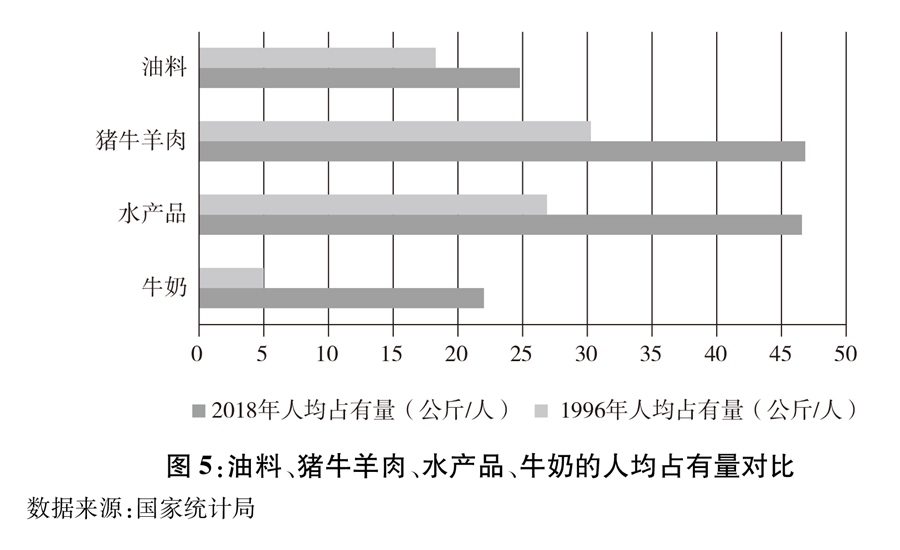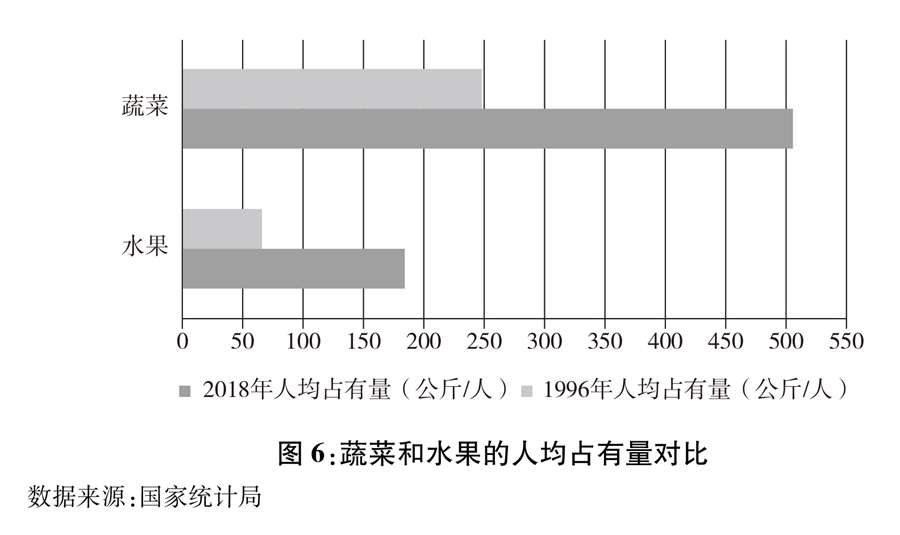 ——营养水平不断改善。据国家卫生健康委监测数据显示,中国居民平均每标准人日能量摄入量2172千卡,蛋白质65克,脂肪80克,碳水化合物301克。城乡居民膳食能量得到充足供给,蛋白质、脂肪、碳水化合物三大营养素供能充足,碳水化合物供能比下降,脂肪供能比上升,优质蛋白质摄入增加。
- Improved nutrition. Data from the National Health Commission shows that the average daily energy intake of a standard person in China is 2,172 kcal, and the intakes of protein, fat and carbohydrate are 65g, 80g and 301g. Chinese citizens have an adequate supply of dietary energy, with sufficient intake of the three major nutrients - proteins, fat and carbohydrates. The proportion of carbohydrate intake has fallen, and those of fat and quality protein intake have risen.

(五)贫困人口吃饭问题有效解决
5. Food for the poor

——中国农村贫困人口基本解决了"不愁吃"问题。中国高度重视消除饥饿和贫困问题,特别是党的十八大以来,探索出了一条发展农村经济、提高农民收入、消除饥饿和贫困的成功道路,精准扶贫、精准脱贫成效卓著。按现行农村贫困标准计算,2018年末,中国农村贫困人口数量1660万人,较2012年末的9899万人减少了8239万人,贫困发生率由10.2%降至1.7%;较1978年末的7.7亿人,累计减贫7.5亿人。按世界银行每人每天1.9美元的国际贫困标准,中国对全球减贫的贡献率超过70%,是世界上减贫人口最多的国家,也是世界上率先完成联合国千年发展目标中减贫目标的国家,贫困人口"不愁吃"的问题已基本解决。
- Poor people in China no longer need to worry about food. The Chinese government has always attached great importance to eliminating hunger and poverty. Since the 18th National Congress of the CPC, in particular, it has explored ways to develop the rural economy, increase farmers' incomes, and eliminate hunger and poverty. Remarkable results have been achieved in targeted poverty alleviation and eradication. According to China's current poverty standards, as of the end of 2018 there remained 16.6 million people living in poverty in China. This represented a reduction of 82.39 million compared to 2012, and the incidence of poverty was down from 10.2 percent to 1.7 percent. The government has helped 750 million people out of poverty since 1978, when a staggering 770 million people were struggling for the means to live. According to the World Bank's poverty line of 1.9 US dollars per person per day, China has contributed more than 70 percent of the global poverty reduction effort. China has lifted more people out of poverty than any other country, and is the first country to reach the poverty reduction goal in the UN's Millennium Development Goals.

——重点贫困群体健康营养状况明显改善。2018年,贫困地区农村居民人均可支配收入达10371元人民币,实际增速高于全国农村1.7个百分点。收入水平的提高,增强了贫困地区的粮食获取能力,贫困人口粮谷类食物摄入量稳定增加。贫困地区青少年学生营养改善计划广泛实施,婴幼儿营养改善及老年营养健康试点项目效果显著,儿童、孕妇和老年人等重点人群营养水平明显提高,健康状况显著改善。
- Nutrition for key groups in poverty has improved markedly. In 2018 the per capita disposable income of residents in impoverished rural areas reached 10,371 yuan, an actual increase of 1.7 percentage points higher than that of rural areas in general. This increase in income has enabled poor areas to acquire more food, and the intake of grains among poor groups has grown steadily. The government has carried out extensive nutrition improvement programs in poor areas for young students, infants, children, pregnant women, and the elderly, as a result of which there have been noticeable improvements in their nutrition and health.
中国日报网英语点津版权说明:凡注明来源为"中国日报网英语点津:XXX(署名)"的原创作品,除与中国日报网签署英语点津内容授权协议的网站外,其他任何网站或单位未经允许不得非法盗链、转载和使用,违者必究。如需使用,请与010-84883561联系;凡本网注明"来源:XXX(非英语点津)"的作品,均转载自其它媒体,目的在于传播更多信息,其他媒体如需转载,请与稿件来源方联系,如产生任何问题与本网无关;本网所发布的歌曲、电影片段,版权归原作者所有,仅供学习与研究,如果侵权,请提供版权证明,以便尽快删除。