Getting his bearings? 找到方向感
中国日报网 2020-06-02 18:11
分享到微信 Reader question:
Please explain this sentence, particularly "get his bearings": It takes him a few weeks to get his bearing at the collegiate level, as all players take some time to get used to college life.

My comments:
Bearings refer to compass bearings. Before GPS and other modern day positioning techniques, people used the compass for direction. Without a compass, of course, they had to rely on the sun or the north star at night for direction. The compass shows the direction of magnetic north and bearings from it.
To get one's bearings, therefore, means to look for and ascertain one's position relative to one's surroundings. In other words, we get our bearings to enable us to orient ourselves. For example, schools have what is called freshman orientation. That's an introduction program to help newcomers to get oriented, i.e. help them get familiar with their surroundings and whereabouts.
The compass may have been a thing of the past, but the phrase "get one's bearings" is still quite in use.
In our example, new college players need a few months to get their bearings, i.e. to get to know about their new environs. Once they get their bearings, they'll then be able to play and live comfortably - and then really take off and flourish.
Before they get their bearings, however, they may be, understandably, a little confused and uneasy.
Okay?
Okay, here are media examples of people getting their bearings:

1. Phil Collins claims to be a weak old man, and at first blush, it's hard to argue with him.
After the lights went down inside uptown Charlotte's Spectrum Center on Sunday night, the 68-year-old maker of ginormous pop hits from half a lifetime ago shuffled out from the wings with the aid of a cane, took a couple of shallow bows, and — once he reached center stage — collapsed in a heap onto a chair, as if he'd just run a marathon.
And before his band struck up their instruments, before he sang a single note, he took the elephant in the room by the trunk.
"I'm gonna be sitting down for a lot of tonight. But don't be alarmed," said Collins, at that moment quite possibly the only person inside the jam-packed arena who wasn't up on his or her feet. Then: "Getting old sucks. You know, back surgery, foot's f----d. It's ugly. ... But hey" — and here he paused for effect — "I'm not dead yet."
...
While his main stool is on a swivel and has arms and a high-ish back, the chair he sits in for the slap-the-box jam session has no arms and a very low back ... and when he plopped himself down into it, he did so with a little too much momentum to the right.
It seemed to happen in slow motion. The chair and his body hung in the air for a couple-few seconds, and though the spotlights weren't on him, fans could clearly enough see that he was about to go over. There were audible gasps as the chair started tipping, and even louder gasps when he crashed to the floor.
As his son and Garcia continued playing, three roadies rushed in, collected him off of the floor and helped him to his feet. Once he got his bearings, you could make out Collins flashing them a thumbs-up before settling safely into his seat.
- Phil Collins falls down, gets up, continues giving Charlotte the best show of 2019, WBTV.com September 30, 2019.

2. If there is one thing we learned from Miss Americana—the Netflix documentary following Taylor Swift's return from her self-imposed exile and the transition from her Reputation period to the Lover era—it's that Swift is not done growing. She's struggled for years to get her bearings after her first great mainstream accomplishment at just 19 years old directly coincided with her most public humiliation, irrevocably changing the course of her career from one of pure talent to constant spectacle.
From that point on, her climb to the top of a male-dominated space was far from smooth and anything but private. For example, if Swift has a new boyfriend (maybe fiancé?), fans came to expect an album of salacious songs in accompaniment. But beyond that, if she reveals in a documentary that she's been fighting an eating disorder for years, there will not only be an outpour of love and thanks from fans but an inevitable slew of public apologies from those in Hollywood and media who've criticized her body in the past.
If the singer jumps headfirst into politics with an Instagram campaign for Tennessee Democratic candidates, including governor Phil Bredesen who ran against sitting Republican senator Marsha Blackburn, there's an unprecedented spike in voter registration coupled with immediate calls for her to shut the hell up. And of course, if Swift fights back against sexual assault by countersuing her abuser for one singular dollar and wins, well, that's not only a personal moment of catharsis for Swift but a victory for all of us.
Ultimately the film, intentionally or not, explores Swift's shaky venture into feminism and how she understands her platform as one of the most famous women on the planet. So it should come as no surprise that director Lana Wilson and her all-female crew can relate to Swift's plight and have similarly learned to manipulate misogyny in their favor.
"When people see an all-female film crew, they assume they're not professionals. That's something I've encountered over and over again in my career, and a lot of other female directors would probably say the same thing," Wilson tells Glamour. "People just come up to you and they're like, 'Is this a school project?'" Even when they're documenting Taylor Swift.
"I do think it's helpful for keeping a low profile," Wilson adds.
- Miss Americana's Director Says Her Female Crew Wasn't Taken Seriously While Filming Taylor Swift, Glamour.com, February 10, 2020.

3. When the terms "social distancing" and "self-quarantine" entered the mainstream consciousness a few weeks ago amid the growing COVID-19 threat, my wife noted how many Twitter users who had always proclaimed themselves introverts were suddenly fretting about not being able to host parties or have friends over.
Wait, "friends over?" "Host parties"? What kind of third-rate introverts were these people? For some of us, social distancing and self quarantining had simply been a way of life for decades. I've lived in places for years where nobody — not even close friends — got past the front door. It had nothing to do with germophobia; people just make me a little uneasy.
I'm lucky enough to work from home as it is, so should we all be told to shelter in place, or the federally mandated order comes down that I need to be quarantined for two weeks or more, well, that's fine. It'll just be business as usual, with the added plus of a CDC seal of approval.
But there's a flip side to this. With social distancing and self-quarantining suddenly becoming the hippest new national pastime, there has been a disconcerting change in my own little world.
Like everyone, I'm obligated to step outside now and again to go to the store, the laundromat, the bank, in short to take care of all those banalities of daily life.
Now, in general, the disabled find themselves ostracized in social settings of any kind. We tend to make normal people uncomfortable, and as a result they keep their distance. That's the standard consensus anyway, and no doubt an accurate one for most in the disabled community. I'm blind, but my own experience has been different, at least until now. Now I'm starting to understand what other disabled people encountered every day in the pre-COVID-19 world.
...
My newfound isolation in grocery stores is more problematic. Time was, I'd step into a store and find myself barraged with people offering help. Now with the threat of disease and death lingering in the air, no one will even walk down the same aisle I'm in. I may not be helping matters, I suppose, given that in order to get my bearings in places like supermarkets, I need to, yes, touch things in my search for the flour, cereal or canned nuts.
- Social distancing for coronavirus and other reasons: A blind man reflects, by Jim Knipfel, NYDailyNews.com, March 19, 2020.
本文仅代表作者本人观点,与本网立场无关。欢迎大家讨论学术问题,尊重他人,禁止人身攻击和发布一切违反国家现行法律法规的内容。
About the author: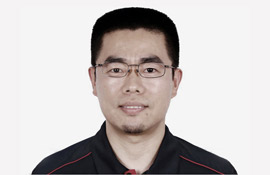 Zhang Xin is Trainer at chinadaily.com.cn. He has been with China Daily since 1988, when he graduated from Beijing Foreign Studies University. Write him at: zhangxin@chinadaily.com.cn, or raise a question for potential use in a future column.
(作者:张欣 编辑:丹妮)
中国日报网英语点津版权说明:凡注明来源为"中国日报网英语点津:XXX(署名)"的原创作品,除与中国日报网签署英语点津内容授权协议的网站外,其他任何网站或单位未经允许不得非法盗链、转载和使用,违者必究。如需使用,请与010-84883561联系;凡本网注明"来源:XXX(非英语点津)"的作品,均转载自其它媒体,目的在于传播更多信息,其他媒体如需转载,请与稿件来源方联系,如产生任何问题与本网无关;本网所发布的歌曲、电影片段,版权归原作者所有,仅供学习与研究,如果侵权,请提供版权证明,以便尽快删除。