Getting under someone's skin 激怒某人
中国日报网 2020-08-14 11:56
分享到微信 Reader question:
Please explain this passage, particularly "gets under his skin:
Mary Trump's best seller, "Too Much and Never Enough: How My Family Created the World's Most Dangerous Man" has sold more copies in its first week than her Uncle Donald's "The Art of the Deal" sold in 29 years - and Mary hopes that gets under his skin.

My comments:
Mary Trump, the niece of US President Donald Trump, wrote a book which has sold more in its first week than her uncle's book has sold in all of the 29 years since that book, The Art of the Deal, was put on the bookshelf.
Wow, maybe the uncle could learn something from the niece about the art of the quick sell.
Seriously, the uncle won't be happy. Donald Trump, among other things, is not someone who is happy for someone else's success, kin or no kin.
To be fair, Mary is not a Trump supporter. She's what's known as a Never Trumper. That's why she said she actually hopes the fact that her book outsells her uncle's eats away at the uncle.
Or, in our example, gets under his skin.
That means it irritates him, gives him persistent pain and annoyance.
If a piece of grass thorn - or a tiny wood splinter, for that matter - gets wedged under our skin, it gives us pain and irritation. Perhaps not so much pain, but the irritation is irksome, especially if we're unable to get the thorn or splinter out easily.
Hence, metaphorically speaking, if Mary's success gets under Donald's skin, we understand that the latter may get angry or annoyed, cross, displeased, enraged, furious, galled, mad, provoked, resentful, vexed, unhappy or what else have you.
Like it is with a thorn or splinter under the skin, which is difficult to remove, Donald's unhappiness will be a long-lasting one - let's hope it lasts until he loses the reelection - because something that gets under one's skin involves something deep, be it an emotion or an obsession.
All right, without further ado, here are media examples of something getting under someone's skin:

1. So there she was on the radio a while back, on The Breakfast Club, and one of the hosts asked Senator Kamala Harris, candidate for president, if she smoked pot.
She giggled. And giggled. And giggled some more. All the giggling got under my skin. As did the phony accent she drifted in and out of during the interview to make herself more "black" for the listeners.
Yes, she smoked pot, she said. Coyly. And she made a point of saying she inhaled.
A long time ago.
She said pot brings people joy. And she remembered how it felt to get high.
- Even Kamala Harris' father hates her pandering behavior, by Bonnie McGrath, ChicagoNow.com, July 1, 2019.

2. Billie Eilish was born in Los Angeles, California, on December 18, 2001. The 18-year-old singer gained popularity at a young age, and at a point, she felt like it was the worst thing in her life. Eilish came from a family of music, although, the Father's Day job is acting and her mother's is screenwriting. At age 8, the singer became a member of the Children Chorus, situated in L.A. When she was 11, she found out that she could write songs by herself and she did.
Eilish was home-schooled, but that did not make things any better for her. At the peak of her career, Eilish disclosed that she was suffering from Tourette syndrome and synesthesia.
Recently, the young singer disclosed to the world that she tried to kill herself when she was 16 years old. Eilish has a difficult time in the spotlight, the same way most youngsters do, but somehow, it got under her skin and made her feel things that no one her age should feel.
Eilish has established a good relationship with millions of her fans as she does not miss the opportunity to tell them how important they are in her life. Eilish often tells her fans that they ought to take good care of themselves more, and feel good about it.
However, these were the same words that the singer needed to hear when she was at her lowest point in life. As she gained popularity, Eilish began to succumb to pressure from the public.
- Billie Eilish Opens Up On Attempted Suicide At Age 16, Yahoo.com, January 25, 2020.

3. No cops or FBI agents were waiting outside with cameras.
No flower cars accompanied the hearse and the three black limousines that pulled up to Our Lady of Mount Carmel Church.

And unless you knew otherwise, you would not have imagined that the bronze coffin borne up the steps contained the mortal remains of New York's last bigtime Mafia boss.
The first hint to someone not in the know only came when the priest, Monsignor David Cassato, offered a joke.
"There's an expression, there's two things in life you're sure of, right?" Cassato said. "Death and…
"Taxes," a number of the roughly 75 mourners joined him in saying.
If you're smart, Sonny told me, you can avoid some of those taxes," Cassato said, drawing laughter even from those who appeared to be feeling the loss most keenly.
John Franzese, known as Sonny, had been the federal prison system's oldest inmate and its only centenarian when he completed his last stint behind bars in 2017. He died in a Queens nursing home at the age of 103, having lived long enough to become known as the Nodfather for dozing off in court.
By one account, Franzese became a full-fledged "made" member of the Mafia at 14, the same year Al Capone went to prison, two years before the end of Prohibition forced organized crime to find primary sources of income other than bootlegging. Franzese is said to have run a craps game and to have gone into loan sharking.
In 1963, Joe Valachi became the first big Mafia informant, testifying before Congress and giving America its first look inside the mob. The made members Valachi named included Franzese, and law enforcement became so determined to build a case against him that agents installed a bug in his kitchen as his new home was being built.
Other recordings were made with the help of informants. He could be heard saying on one tape that he had committed numerous murders, but he was acquitted the only time he was ever charged with homicide. The victim in that case was a one-eyed, hook-nosed hitman known as "the Hawk," whose body was found in Jamaica Bay.
"I never hurt nobody that was innocent," Franzese once told Newsday.
...
On June 23, 2017, he was released, having spent a total of 35 years behind bars. He enjoyed his final years with his grandchildren. Two of them delivered eulogies at Friday's funeral, making it grander by another measure than the mob boss sendoffs of old.
After Frank Uale, aka Frankie Yale, owner of the Harvard House bar in Coney Island, became the first hoodlum in New York killed with a Thompson submachine gun, his funeral procession had 36 flower cars.
But neither Frankie Yale nor any other mob boss is known to have had a granddaughter stand before his coffin and recount how "Sonny Grandpa" gave her wise advice as she became what she termed a "rising young business executive."
"He challenged me to exude confidence… no matter what," she said. "Allowing someone to see that they got under my skin was not an option, as he explained, because they would learn my weakness and exploit it for their own benefit, for their own use to climb ahead."
- New York's Last Bigtime Mafia Boss, Gets Sendoff From His 'Spark Plug', TheDailyBeast.com, February 29, 2020.
本文仅代表作者本人观点,与本网立场无关。欢迎大家讨论学术问题,尊重他人,禁止人身攻击和发布一切违反国家现行法律法规的内容。
About the author: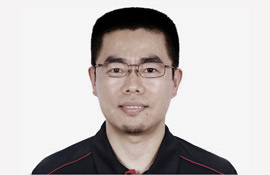 Zhang Xin is Trainer at chinadaily.com.cn. He has been with China Daily since 1988, when he graduated from Beijing Foreign Studies University. Write him at: zhangxin@chinadaily.com.cn, or raise a question for potential use in a future column.
(作者:张欣 编辑:丹妮)
中国日报网英语点津版权说明:凡注明来源为"中国日报网英语点津:XXX(署名)"的原创作品,除与中国日报网签署英语点津内容授权协议的网站外,其他任何网站或单位未经允许不得非法盗链、转载和使用,违者必究。如需使用,请与010-84883561联系;凡本网注明"来源:XXX(非英语点津)"的作品,均转载自其它媒体,目的在于传播更多信息,其他媒体如需转载,请与稿件来源方联系,如产生任何问题与本网无关;本网所发布的歌曲、电影片段,版权归原作者所有,仅供学习与研究,如果侵权,请提供版权证明,以便尽快删除。