Par for the Trump course? 意料之中的事
中国日报网 2021-01-15 12:12
分享到微信 Reader question:
Please explain "Par for the Trump course" in this: Donald Trump has instructed aides not to pay Rudy Giuliani's legal fee. Par for the Trump Course.

My comments:
Donald Trump, President of the United States, has refused to pay legal fees to Rudy Giuliani, his personal lawyer and former Mayor of New York.
Like, really?
Well, I guess we'd be surprised if we were talking about anyone else. But Trump being Trump, no surprise here. It's exactly what you'd expect Trump to do actually.
In other words, it's par for the Trump course, par for the course for Trump.
"Par for the course", which I've written about, is the phrase in question. This is a golf term describing the average shots it takes players to finish 18 holes on the golf course. Professionally, the average score, or par for the course, is 72. Now, in golf, the fewer shots you take, the better. Hence the term "under par" and "over par". A score of 70 is two under par, i.e. two shots better than average. On the other hand, 78 shots represents six over par, meaning you need to shoot six fewer shots to meet the average level.
Anyway, in golf, to reach par for the course means you've done something average, something everyone does, something they usually achieve.
It's no achievement at all, in other words. Nothing extraordinary.
In our example: Par for the Trump course means exactly that: It's something Trump would do most of the time. It's nothing surprising.
In fact, it's expected of him.
Expected of the President of the United States to refuse to pay his lawyer for his legal work?
Yeah, that's what I just said. No surprise there. Trump is that kind of President, you know.
Well, Trump will be gone next week. So I'm not going to keep piling on him.
Now, let's read a few media examples of "par for the course", meaning ordinary, mundane, and nothing unusual or shocking:

1. President Donald Trump is certainly known to bend the truth. The Washington Post has counted nearly a dozen false or misleading claims per day of his presidency, while Politifact scored 70 percent of his statements as Mostly False, False or Pants on Fire.
As it turns out, that propensity to lie also carries over to his longtime love of golf.
There's already been the story of Trump naming himself the winner of a tournament he never played in, but former Sports Illustrated columnist Rick Reilly spells out the extent of the lying and cheating in his new book, "Commander in Cheat: How Golf Explains Trump," which will be available on Tuesday.
"To say 'Donald Trump cheats' is like saying 'Michael Phelps swims,'" Reilly writes. "He cheats at the highest level. He cheats when people are watching and he cheats when they aren't. He cheats whether you like it or not. He cheats because that's how he plays golf … if you're playing golf with him, he's going to cheat."
Mulligans and tampering with balls
Trump's most blatant cheating reportedly comes in the form of not playing his shots — or others' — where they actually land.
When Trump played golf with Tiger Woods, world No. 1 Dustin Johnson and PGA Tour veteran Brad Faxon in February, Trump hit a ball into the lake. But when the other players weren't looking, he got out another ball and hit another try, although that too went into the lake.
"So he drives up," Faxon said, "and drops where he should've dropped the first time and hits it on the green."
The cheating is not just to impress pro golfers. Reilly also details stories with ESPN announcer Mike Tirico, LPGA pro Suzann Pettersen and actor Samuel L. Jackson. In one of the most egregious stories, Tirico remembers hitting one of the best shots of his life squarely onto the green, but when he walked over, the ball was 50 feet away in a bunker.
"Trump's caddy came up to me and said, 'You know that shot you hit on the par 5?'" Tirico says. "'It was about 10 feet from the hole. Trump threw it in the bunker. I watched him do it.'"
Lying is par for the course for Trump
One of the strangest things about Trump's history of lying while golfing is that he's reportedly a very respectable golfer. However, he habitually lies about how good he is, including his self-reported 2.8 handicap, which is less than a stroke away from PGA legend and frequent golfing partner Jack Nicklaus.
Even his courses contain lies, from his Trump National Golf Club wrongly claiming that a Civil War battle took place on site to his Bedminster course falsely attributing praise from famed golf architect Tom Fazio.
Still, none of this is particularly shocking to anyone who has followed Trump. After he repeatedly admonished former President Obama for golfing and said that he would have no time to play himself, Trump has played a round every 4.2 days — twice Obama's rate. And, naturally, he tends to lie and cover up how often he plays while on the job.
- Pro golfers say President Trump 'cheats at the highest level' in new book, Yahoo.com, March 31, 2019.

2. Members of Congress, advocacy groups and a former administration official say Operation Warp Speed should release its vaccine contracts with pharmaceutical companies, following an NPR report that the Trump administration awarded billions of dollars through a third party, bypassing the usual contracting process.
"The administration really just seems to be playing a game of hide and seek," Rep. Lloyd Doggett, D-Texas, told NPR.
When Doggett and his colleagues were working on a bipartisan bill this spring to create a central database to track COVID-19 spending, they didn't know some of Operation Warp Speed's biggest contracts were going through a third party.
Now, Doggett said the legislation will be reworked to make sure the contracts between pharmaceutical companies and third parties are included in the database.
NPR reported Sept. 29 that the Trump administration's crash coronavirus vaccine program awarded more than $6 billion in vaccine contracts through a third party called Advanced Technology International. The contracts executed this way aren't required to include taxpayer protections found in traditional government contracts. They also may not be disclosable under federal public records laws.
"I want to be 100% certain that we include this kind of arrangement" in our database, said Doggett, chairman of the Health Subcommittee of the House Ways and Means Committee. "Taxpayers just have too much at stake here, and we need to be sure that they're not being shortchanged."
Breaking with norms, the Trump administration hasn't responded to House requests for information regarding coronavirus spending, Doggett said. "They hide this information not only from our subcommittee, but from other members and from the select subcommittee on the coronavirus crisis . . . We continue inquiring and they continue ducking and dodging."
...
Eli Zupnick, a spokesman for the advocacy group Accountable Pharma, said his organization has sent several rounds of public records requests to HHS and the Department of Defense, asking for contracts related to Operation Warp Speed.
"There is no indication that the administration has any interest in being transparent, at least with public advocacy groups," he said. "We got literally nothing back. Crickets."
NPR first began looking into the possibility of a third party when HHS responded that it had "no records" in response to a request for the $1.6 billion vaccine contract with Novavax, which the agency announced in July.
Accountable Pharma didn't know about the third party until NPR reported it. Zupnick said he wished he was surprised, but instead he's just "dismayed."
"This is par for the course for Operation Warp Speed," he said. "And par for the course for this administration, which has shrouded this Operation Warp Speed in secrecy right from the start, refused to allow any transparency or accountability, despite the fact that billions and billions of taxpayer dollars are being shoveled into the coffers of the drug companies."
- Call For Administration's COVID-19 Vaccine Contracts To Be Disclosed, NPR.com, October 10, 2020.

3. Steve Nash played in plenty of offensive shootouts during his playing career, especially with the run-and-gun Phoenix Suns, but the vantage point is clearly different from the sidelines as a head coach.
"I definitely need a beer after this one," he told reporters while also calling the Brooklyn Nets' 145-141 victory over the Atlanta Hawks a "gut check."
The Nets improved to 3-2 on the season and handed the 3-1 Hawks their first loss. This was essentially par for the course for Atlanta, which has scored at least 122 points while giving up triple digits in every one of its games.
Brooklyn, on the other hand, held the Golden State Warriors and Boston Celtics under 100 points in its other two wins.
Kevin Durant, who iced the win with two free throws in the final second, was brilliant and finished with 33 points, 11 rebounds and eight assists. Kyrie Irving (25 points, six assists and two steals) and Joe Harris (23 points) provided secondary scoring as two of seven Nets to finish in double figures.
The offense was impressive, but Nash may want some more defense in Friday's rematch with the Hawks.
- Steve Nash Jokes 'I Need a Beer' After Nets' Shootout Win vs. Hawks, BleacherReport.com, December 31, 2020.
本文仅代表作者本人观点,与本网立场无关。欢迎大家讨论学术问题,尊重他人,禁止人身攻击和发布一切违反国家现行法律法规的内容。
About the author: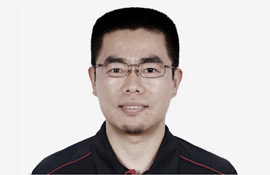 Zhang Xin is Trainer at chinadaily.com.cn. He has been with China Daily since 1988, when he graduated from Beijing Foreign Studies University. Write him at: zhangxin@chinadaily.com.cn, or raise a question for potential use in a future column.
(作者:张欣 编辑:丹妮)
中国日报网英语点津版权说明:凡注明来源为"中国日报网英语点津:XXX(署名)"的原创作品,除与中国日报网签署英语点津内容授权协议的网站外,其他任何网站或单位未经允许不得非法盗链、转载和使用,违者必究。如需使用,请与010-84883561联系;凡本网注明"来源:XXX(非英语点津)"的作品,均转载自其它媒体,目的在于传播更多信息,其他媒体如需转载,请与稿件来源方联系,如产生任何问题与本网无关;本网所发布的歌曲、电影片段,版权归原作者所有,仅供学习与研究,如果侵权,请提供版权证明,以便尽快删除。