Do a number on him? 彻底挫败某人
中国日报网 2021-01-12 13:22
分享到微信 Reader question:
A boxer says: "I'll go in there and do a number on him." What does it mean exactly?

My comments:
Literally, the boxer wants to go into the ring and beat his opponent up, knock him down and watch the referee administer a count to ten.
And hopefully count him out.
The boxing ring, the ringed square of canvas in which the match is played, has given us many colorful expressions. And we've run through a few actually. Let me explain in detail.
In boxing, if a boxer is knocked down onto the floor or canvas, the referee intervenes so that he's not punched again when he's helpless. The referee asks the other boxer to go to his corner before doing a count to eight or ten. Usually, the floored boxer has to come back on his feet before the count of eight, in which case he's allowed to continue. At this stage, he's down, but not out, which is an expression metaphorically used outside the ring as well, meaning one has suffered a setback, but they've not lost everything yet. In other words, they may still come back – and, possibly, win.
If the boxer on the canvas is not able to get back to his feet before the count of eight, or ten as the case may be, the referee waves his hand and the boxer is out, out and gone. Game over.
Hence the expression, down and out, meaning totally defeated, with no chance of a comeback.
Anyways, the "number" in "do a number on someone" refers to the count to eight or ten. There's another theory that says this "number" refers to the number of points awarded to different punches thrown. You know, not all punches are equal in power. A roundhouse punch, for example, is more powerful than a straight jab and is therefore worth two or more points per punch.
Both explanations make sense. All we need to know is to remember that "do a number on someone" literally means for a boxer to beat an opponent up.
Metaphorically, when the expression is used outside the ring, i.e. outside of boxing, it means you want to hurt or harm someone in a bad way, not physically perhaps, but through damaging their reputation or whatever.
And that's it.
Here are media examples of "doing a number on someone", an American expression in origin:

1. President Donald Trump sought to distance himself from the Justice Department official he just named as acting attorney general in the face of mounting criticism about the legality and propriety of his appointment.
"I don't know Matt Whitaker," Trump said of the new acting attorney general, saying he hired him because he had worked for since-dismissed Attorney General Jeff Sessions. "He was always extremely highly thought of, and he still is. But I didn't know Matt Whitaker. He worked for Attorney General Sessions."
The President's comments are at odds with the relationship Trump has forged with Whitaker in recent months, even as his opinion of Sessions continued to sour. Whitaker has been at the White House dozens of times, including in meetings with Trump, and the two have spoken by phone on several occasions, including on the day that Deputy Attorney General Rod Rosenstein was expected to be fired.
And in an October 11 interview on Fox News, Trump made clear he did, in fact, know Whitaker well.
"I can tell you Matt Whitaker's a great guy. I know Matt Whitaker," he said.
…
The President's move to distance himself from Whitaker is a familiar refrain Trump has used when associates of his have become embroiled in controversy.
When federal prosecutors targeted his longtime former attorney Michael Cohen, Trump insisted Cohen handled only a "tiny, tiny fraction" of his legal work. Before that, he claimed that his indicted former campaign chairman Paul Manafort worked for him for "a very short period of time." And shortly before ousting his chief White House strategist Steve Bannon, who also helmed his campaign, Trump maintained Bannon "came on very late."
Still, the President praised Whitaker as "very highly thought of" and said that Whitaker is only taking heat because "anybody that works for me, they do a number on him."
"Matt Whitaker is a very smart man, he is a very respected man in the law enforcement community, top of the line," Trump said. "He's acting, I think he'll do a very good job and we'll see what happens."
- Trump downplays Whitaker ties amid criticism, CNN.com, November 9, 2018.

2. LeBron James may be older, but if he has to get down in a defensive stance to check Bulls' explosive guard Derrick Rose, he's all in.
The two have some history.
When Rose was named the Most Valuable Player during the 2010-11 season, that didn't sit well with James. So when the Bulls and Miami Heat met up in the Eastern Conference Finals that year, James used that platform to show everyone that bypassing him for the award was a huge mistake.
James took on the assignment of slowing down the point guard. Rose scored 117 points in the five games that it took for the Heat to advance to the NBA Finals. That averages out to 23.4 points, which isn't bad at all.
However, he shot more shots than his point total, slinging up 120 attempts. James hounded him. Rose couldn't garner any separation and was incapable of pulling up for quality jump-shots with the length of James.
Iman Shumpert, Kyrie Irving and, partly, Matthew Dellavedova will be primarily responsible for keeping Rose in front of them. Nonetheless, if Rose is getting off, you might see James call for a defensive switch and that goes for anyone else who may catch on fire.
"I think it's a different time. It's a different situation. If need be, will I need to guard Rose at times? I can do it," James said. "I can guard anybody on their team, one through 15 if need be. But the time, the score, the game, the situation will dictate itself."
With the roster makeup composition of the Cavaliers, it's possible James doesn't see extended minutes on Rose. They'll need the majority of his energy for offensive purposes with Kevin Love and JR Smith out of commission.
Rose is slowly returning to form. He's not the same player he was four years ago and the team isn't the same. Back then, if you eliminated Rose's productivity, you had a great chance to win the game.
Rose has picked up some help since then.
"In that particular series the opportunity was there for me to guard him," James said. "That was an MVP season obviously, and in order for us to win, we had to try to do a number on him. I think now, today his supporting cast is a little bit better.
"He added a champion, he added an All-Star in Pau [Gasol], and Jimmy [Butler] has emerged in being an All-Star, and the rest of those guys have continued to get better. He gets a little break as well with Aaron Brooks coming off the bench."
- LeBron James shut down Derrick Rose before, and is willing to do it again if need be, January 11, 2019, Cleveland.com.

3. President Trump was prepared to "do a number" on outgoing Sen. Kelly Loeffler (R-Ga.) last week on stage during the president's final pre-runoff rally in Georgia, a source familiar with the events told The Washington Free Beacon's Eliana Johnson, per Politico.
The implication is that Trump told Loeffler what he said about her on stage was contingent upon whether she backed the Electoral College challenge championed by Sens. Ted Cruz (R-Tex.) and Josh Hawley (R-Mo.), among others.
Scoop in @playbookplus, guest-written today by @elianayjohnson:
Trump "told Kelly Loeffler before he landed in Georgia for a final rally on Monday that if she didn't back the Electoral College challenges, he would 'do a number on her,' from the stage." https://t.co/qdxrdmRB1N
— Ryan Lizza (@RyanLizza) January 10, 2021
Loeffler did plan to object, though it's unclear if the decision was directly related to Trump's alleged threat. Ultimately, the point was moot, since Loeffler lost to her Democratic challenger Raphael Warnock, and wound up voting to certify President-elect Joe Biden's victory afterwards. But the report still carries some significance for analysts, who think it's a microcosm of the larger issues that led to Loeffler's defeat.
In the end, it's a symptom of the broader dynamic of Loeffler's loss, one that was evident from the beginning of the year. She tried to transform herself into something she was not, alienating moderates while never being genuine enough to win over a skeptical Trump base.
— Jacob Rubashkin (@JacobRubashkin) January 10, 2021
Johnson's scoop also further suggests that Trump was willing to let the Republican Party lose control of the Senate for personal gain.
- Trump reportedly told Kelly Loeffler he'd 'do a number on her' if she didn't back Electoral College challenge, Yahoo.com, January 11, 2021.
本文仅代表作者本人观点,与本网立场无关。欢迎大家讨论学术问题,尊重他人,禁止人身攻击和发布一切违反国家现行法律法规的内容。
About the author: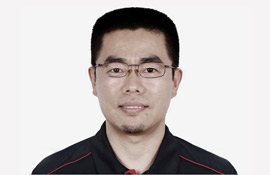 Zhang Xin is Trainer at chinadaily.com.cn. He has been with China Daily since 1988, when he graduated from Beijing Foreign Studies University. Write him at: zhangxin@chinadaily.com.cn, or raise a question for potential use in a future column.
(作者:张欣 编辑:丹妮)
中国日报网英语点津版权说明:凡注明来源为"中国日报网英语点津:XXX(署名)"的原创作品,除与中国日报网签署英语点津内容授权协议的网站外,其他任何网站或单位未经允许不得非法盗链、转载和使用,违者必究。如需使用,请与010-84883561联系;凡本网注明"来源:XXX(非英语点津)"的作品,均转载自其它媒体,目的在于传播更多信息,其他媒体如需转载,请与稿件来源方联系,如产生任何问题与本网无关;本网所发布的歌曲、电影片段,版权归原作者所有,仅供学习与研究,如果侵权,请提供版权证明,以便尽快删除。