Feeling on edge? 紧张不安
中国日报网 2021-06-25 12:38
分享到微信 Reader question:
Please explain this sentence, with "feeling on edge" in particular: Try out our deep breathing exercise if you're always feeling on edge.

My comments:
Here, you're advised to try to take deeper breaths if you're the type of person who always feel nervous or agitated or anxious or hypervigilant.
On edge? What edge?
Edge is the outside limit of an object or surface, the edge of our bed, e.g.
If you are sleeping near or on the edge of the bed, as a matter of fact, you'll get a feeling of, well, feeling on edge. You'd be worried that you may slip off the bed if you fall fast asleep.
So fall fast asleep you don't, or can't because you're literally feeling on edge, that is, nervous.
Now, magnify the situation by trying the edge of a precipice or a tall cliff looking down at an endless abyss.
Try that – use your imagination and try walking on the edge of that cliff.
How'd you feel?
Yeah, right. You'd feel hypervigilant. You'd be worried that any misstep will lead to disaster.
So, by extension and figuratively speaking, if you feel on edge, you're extra careful or agitated or nervous. You kind of feel, for example, that somehow something is going to go wrong.
You're NOT calm, in other words. You're NOT relaxed.
Definitely NOT cool.
In our example, people who constantly feel on edge are advised to take deep breathing exercises as deep breaths can help us relax.
All right, here are recent media examples of people who feel on edge, for one reason or another.
1. Two days from the inauguration, President-elect Joe Biden and Vice President-elect Kamala Harris pitched in on Martin Luther King Jr. Day service projects as a militarized and jittery Washington prepared for a swearing-in that will play out under extraordinary security.
Biden and his wife, Jill, joined an assembly line in the parking lot of Philabundance, an organization that distributes food to people in need, and helped fill about 150 boxes with fresh fruit and non-perishables.
As Biden and Harris took breaks from their inaugural preparations to honor the civil rights hero Monday, outgoing President Donald Trump remained out of public view at the White House for the sixth straight day. In past years, Trump has marked the holiday with unannounced visits to the King memorial in Washington but no such outing was expected this year.
Such a visit would have been complicated because Washington has become a fortress city of roadblocks and barricades before Wednesday's inauguration as security officials work to avoid more violence following the Jan. 6 riot by a pro-Trump mob at the U.S. Capitol.
In a measure of how nervous the capital city has become, U.S. Capitol Police on Monday briefly locked down the Capitol complex and paused inaugural rehearsals after fire broke out at a nearby homeless encampment. Authorities urged staff working inside the complex to stay away from exterior windows and those outside the building to take cover as they briefly prohibited entry and exit from the grounds as a precaution.
Biden transition officials, including incoming Homeland Security adviser Liz Sherwood-Randall and the deputy attorney general nominee, Lisa Monaco, held a videoconference with acting heads and career staff from national security agencies to discuss the security situation surrounding Inauguration Day.
Harris played down any personal security concerns, saying she's "very much looking forward to being sworn in."
"I will walk there, to that moment, proudly with my head up and my shoulders back," Harris told reporters after volunteering at a food bank.
Still, Washington residents were on high alert and much of the city felt desolate, with large swaths of the area around the Capitol, White House and National Mall sealed off from all but authorized personnel.
Katie Henke, 40, a southwest D.C. resident, said the city felt on edge. She's concerned enough that she packed a "go-bag" with clothes and other personal items in case she feels she must flee her neighborhood.
"This is legitimately scary," she said. "Between the pandemic and Trump, I feel like our country is at a weak and vulnerable point. And we know there are forces inside and outside the country that see that vulnerability as an opportunity to do something."
- Joe Biden, Kamala Harris take break from inaugural prep to mark MLK day, Associated Press, January 18, 2021.
2. Meghan Markle has recently found herself at the centre of a Buckingham Palace investigation, following reports that several members of staff had accused her of being a "bully".
The Duchess of Sussex, 39, strenuously denies all claims made against her, with a spokesperson saying: "The Duchess is saddened by this latest attack on her character."
Following the bombshell claims, royal author Omid Scoobie has said that during his time writing about Meghan and Prince Harry, 36, he had never heard of such allegations made against the former actress.
Scoobie, who penned the controversial biography Finding Freedom has however said that he often heard that working for The Royal Household could be "unpleasant".
Speaking to The Mirror, he said: "I have my own personal experience of working alongside and getting to know many of the people the couple worked with.
"I heard stories about people being stressed and on edge and completely frazzled by the work environment because this was a time when staff often felt caught between the Sussexes and the institution of the monarchy."
He went on to add: "But at the same time that doesn't feed into a bullying narrative, and it's certainly not one that was ever expressed to me –and I've seen different iterations of those teams around them over the years."
- Meghan Markle's staff 'felt on edge and frazzled' but pal says she's not a bully, NewsNeedNews.com, March 7, 2021.
3. You could send me a text message with only one or two words and I will still overthink what your sentence meant. You could smile at me from across a crowded room and I will overthink what the look meant. I wish I knew what other people were thinking because I spend so much of my time trying to read their minds.
I'm sorry if my overthinking makes me difficult to love. I'm not trying to cause drama where none exists. I'm only trying to protect my heart.
I don't want to be the person who gets blindsided when their partner cheats. I don't want to overlook the red flags. I don't want to be caught off guard. I would rather see the betrayal coming. I would rather know what is waiting for me down the road.
Since I'm so worried about the what ifs, I pay too much attention to detail. I will notice the slight change in your tone and instead of assuming that you must be tired or had a stressful day at work, I will assume that you are mad at me. That you are hiding something from me. That you want nothing to do with me.
I come across as sensitive because I make a big deal out of things that shouldn't have been given a second thought. You will make a bad joke, and instead of brushing it off, I will overthink what the words meant. The tiniest problem will snowball into me wondering whether you secretly can't stand me.
I'm always ready for things to go wrong. I'm always on edge, observing the people around me to prepare for what happens next.
Even if a relationship is going perfectly well, I will make a list in my head of all the ways it could fall apart. I could get ghosted. I could get cheated on. I could get dumped. I could have my heart shattered and spend years trying to jam the broken pieces back into place.
- I'm Sorry If My Overthinking Makes Me Difficult To Love, by Holly Riordan, ThoughtCatalog.com, May 15, 2021.
本文仅代表作者本人观点,与本网立场无关。欢迎大家讨论学术问题,尊重他人,禁止人身攻击和发布一切违反国家现行法律法规的内容。
About the author: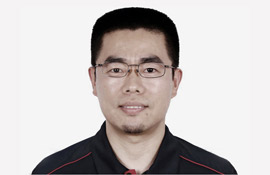 Zhang Xin is Trainer at chinadaily.com.cn. He has been with China Daily since 1988, when he graduated from Beijing Foreign Studies University. Write him at: zhangxin@chinadaily.com.cn, or raise a question for potential use in a future column.
(作者:张欣 编辑:丹妮)
中国日报网英语点津版权说明:凡注明来源为"中国日报网英语点津:XXX(署名)"的原创作品,除与中国日报网签署英语点津内容授权协议的网站外,其他任何网站或单位未经允许不得非法盗链、转载和使用,违者必究。如需使用,请与010-84883561联系;凡本网注明"来源:XXX(非英语点津)"的作品,均转载自其它媒体,目的在于传播更多信息,其他媒体如需转载,请与稿件来源方联系,如产生任何问题与本网无关;本网所发布的歌曲、电影片段,版权归原作者所有,仅供学习与研究,如果侵权,请提供版权证明,以便尽快删除。