In kind? 以同样的方式
中国日报网 2021-08-24 14:01
分享到微信 Reader question:
Please explain "in kind" in the following:
LeBron stood up for Steph Curry. Steph returned in kind.

My comments:
LeBron James, that is, currently of the Los Angeles Lakers. Stephen Curry, on the other hand, is a member of the Golden State Warriors.
LeBron stood up for Steph Curry. Steph returned in kind.
That's two great basketball players showing love and support for each other.
Obviously, Steph said something on social media, probably something controversial and LeBron made a statement defending Steph and demonstrating solidarity with the latter. Later on, LeBron said something controversial and Steph did the same, voicing support and defending LeBron.
Without having to know all the details, it's safe to say that this is basically what transpired because this is what we can infer from "Steph returned in kind".
In kind, you see, means in the same kind, kind as in category. Literally, if someone lent you five dollars yesterday and you lend five dollars to them today, you have repaid their good favor in kind, literally.
As an idiom, if someone does you a favor and you return the compliment, you return their favor in kind, i.e. in a similar manner.
A good turn deserves another, as they say. And if someone does you a good turn and you do them a good turn, you are returning their good will in kind.
All right? All right, let's read a few media examples to bring the point firmly home:

1. Congresswoman Alexandria Ocasio-Cortez is firing back at the "completely disgusting behavior" of the conservative news outlet The Daily Caller for publishing a fake nude photo of her with a misleading headline that did not make clear the photo was a hoax.
Ocasio-Cortez, who recently joined Congress as a representative from New York City, linked the coverage to the broader right-wing animosity that she has faced.
"GOP have been losing their mind + frothing at the mouth all week, so this was just a matter of time," she wrote on Twitter Wednesday.
She noted that a reporter from the Daily Mail, a British tabloid, had been reaching out to her boyfriend's family for potential stories.
"Women in leadership face more scrutiny. Period," she continued.
In a followup message, Ocasio-Cortez explained to her followers: "The @DailyCaller reposted [the photo] and refused to indicate it was fake in the title as well."
"Completely disgusting behavior from Conservative outlets. No wonder they defended Kavanaugh so fiercely," Ocasio-Cortez added in reference Supreme Court Justice Brett Kavanaugh who was accused by professor Christine Blasey Ford of sexual assault in high school. Kavanaugh has denied the allegation.
The Daily Caller, which was co-founded by Fox News host Tucker Carlson, was quick to express regret for its headline on Wednesday night. But it contended its article was "otherwise no different" than similar stories published by the Huffington Post and Vice.
In a statement to PEOPLE, a Fox News spokesperson said — referencing an Ocasio-Cortez tweet contending that Carlson financially supported the site — that Carlson "does not finance The Daily Caller in any way, nor does he have any role whatsoever in its editorial operations. She would have known that if she'd bothered to check."
On Thursday morning, The Daily Caller re-titled its article to make clear the image is not of Ocasio-Cortez and appended a correction at the bottom: "An earlier version of the headline for this story made an inaccurate implication. The story has since been updated for accuracy."
...
Ocasio-Cortez has rocketed to national prominence in less than a year after upending political expectations when she won her primary last summer against a veteran lawmaker.
At 29, she is the youngest woman to serve in Congress.
As an unabashed democratic socialist pushing for, among others, tuition-free public college and policies that fight climate change, she has attracted intense scrutiny from conservatives.
After an old video of her dancing in college was recirculated last week online, she playfully responded in kind, filming a new clip of her outside her Congressional office.
"I hear the GOP thinks women dancing are scandalous," she tweeted. "Wait till they find out Congresswomen dance too!"
- Alexandria Ocasio-Cortez Slams 'Disgusting' Site for Misleadingly Publishing a Fake Nude Photo of Her, People.com, January 10, 2019.

2. In 2016, in the city of Griffin, Georgia, a city roughly thirty minutes south of Atlanta, a woman named Jessica Boynton allegedly tried to take her own life. However, her husband, Matthew Boynton, a local police officer and the grandson of county sheriff, has long been thought to have played a bigger part in Jessica's shooting than police have let on.
Jessica and Matthew Boynton got married at an extremely young age. Family and friends believe, in fact, they were married far too young. They'd met in high school when Jessica was 15 and Matthew was 16. By the time Jessica was twenty, she'd had enough of Matthew, and their crumbling marriage had driven her to a dark place. She was seeking a divorce and wanted to start a new life with her two young children.
Matthew, however, did not want a divorce. He has been described by sources close to the pair as "controlling," keeping the keys to the couple's truck with him even when he was working. Matthew, who worked as a police officer for Griffin PD, drove a squad car for work, making his decision to keep the keys with him peculiar to Jessica's family.
Jessica's second child was not Matthew's: she'd had a brief affair, resulting in the pregnancy. Matthew–likely in retaliation, friends say–returned in kind, beginning a relationship with a dispatcher named Courtney Calloway. This was what led to Jessica's desire for a divorce.
By April of 2016, Jessica was ready to take her children and move out. On April 14, 2016, Matthew called the cops to report domestic assault inside his home. He alleged Jessica was poking him in the chest and yelling at him. Matthew texted Jessica and told her they needed to go to the store to get formula. Half an hour after arriving at the store, Jessica is seen leaving, arguing with Matthew, until he calms her down and they leave.
After getting home around 10:45 PM, a neighbor heard a gunshot from the Boynton home. The neighbor saw Matthew leaving the apartment for dinner with a coworker. At 12:54 AM, Matthew's phone received a text from Jessica's phone that read like a suicide note.
Jessica was found with a gunshot wound in the closet of the couple's bedroom. Miraculously, she survived the gunshot wound, and, after treatment, awoke to find she had no memory of the day she was shot. There was no blood splatter on the closet walls. There were bullet holes on two different walls. The neighbor heard the gunshot hours before Matthew reported hearing a gunshot in his home. Matthew's phone was found inside the apartment when police arrived, despite Matthew stating he didn't go in after returning from dinner.
What Happened?
Some have accused Spalding County of covering up what really happened. Matthew was eventually arrested, as Jessica filed a lawsuit that he had many of her items and had refused to turn them over. A new girlfriend of Matthew's found a gym bag full of Jessica's belongings and turned the items over to a private investigator who had taken an interest in the case.
The PI, Will Sanders, was linked by the Griffin PD to two burglaries in the area, and the police threatened to release Sanders' personal information. This has led many commentators to speculate that a coverup was indeed ongoing. This incident resulted in Matthew losing his position with the Griffin PD.
Jessica would later get custody of her children back, with one of her boys confiding in her that Matthew "hurt" him when she wasn't around. While there is no official account of what happened on the evening of April 14, 2016, some believe that a dark crime was covered up due to a police officer's connections. The truth, however, may never be brought to light.
- What Happened to Jessica Boynton? Grisly Truth Could Have Been Covered Up, CrimePulse.com, March 24, 2021.

3. Members of the local, county and state police forces will be assisted by the Minnesota National Guard on Monday and going forward in the event that civil unrest escalates the way it did Sunday night after 20-year-old Daunte Wright was fatally shot by a police officer during a traffic stop in Brooklyn Center.
Though unlike Sunday night's unrest that morphed into looting at numerous stores at the Shingle Creek Crossing shopping center, Brooklyn Center Police Chief Tim Gannon says such behaviors will not be tolerated.
Speaking Monday at a news conference to add more details – including body camera video – from Wright's deadly encounter with police, Gannon said he was "front and center" at both the protest outside the city's police department and at what he called a "riot" at the shopping hub.
"I was front and center at the protest, at the riot," Gannon said, then interrupted by members of the community who asked him to avoid calling the looting a riot. "It was," he said adamantly, then warned that any violent behavior will be met with force.
The chief said some protesters threw concrete blocks and frozen cans at officers, so he instructed all the lights at the police department to be turned off to make it harder for protesters to target officers.
Gannon also said protesters had plenty of time to leave the area to avoid physical confrontation with law enforcement. Gannon was behind the dispersal order that was issued around 10 p.m. It gave protesters 10 minutes to clear the area.
"Plenty of time was given to disperse," said Gannon, taking responsibility for the decision to use tear gas and rubber bullets on protesters who refused to leave.
"Once we got pelted, we responded in kind," he said, noting that a deputy with the Hennepin County Sheriff's Office was taken to the hospital after being struck in the head by a brick.
Asked if he would've avoided giving officers the go-ahead to use tear gas, flash bangs and rubber bullets if he had the chance to make the decision again, Gannon said "absolutely not."
"If we hadn't moved people on, I don't know what would've happened and I don't know what would've reformed," he said, adding that he promotes peaceful protest but warned that any violence going forward will be met with a response.
- Brooklyn Center police chief: 'Once we got pelted, we responded in kind', BringMeTheNews.com, April 12, 2021.
本文仅代表作者本人观点,与本网立场无关。欢迎大家讨论学术问题,尊重他人,禁止人身攻击和发布一切违反国家现行法律法规的内容。
About the author: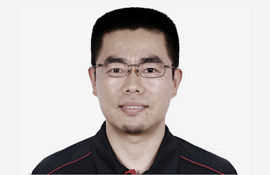 Zhang Xin is Trainer at chinadaily.com.cn. He has been with China Daily since 1988, when he graduated from Beijing Foreign Studies University. Write him at: zhangxin@chinadaily.com.cn, or raise a question for potential use in a future column.
(作者:张欣 编辑:丹妮)
中国日报网英语点津版权说明:凡注明来源为"中国日报网英语点津:XXX(署名)"的原创作品,除与中国日报网签署英语点津内容授权协议的网站外,其他任何网站或单位未经允许不得非法盗链、转载和使用,违者必究。如需使用,请与010-84883561联系;凡本网注明"来源:XXX(非英语点津)"的作品,均转载自其它媒体,目的在于传播更多信息,其他媒体如需转载,请与稿件来源方联系,如产生任何问题与本网无关;本网所发布的歌曲、电影片段,版权归原作者所有,仅供学习与研究,如果侵权,请提供版权证明,以便尽快删除。