Baby steps? 慢慢来
中国日报网 2022-07-19 13:57
分享到微信 Reader question:
Please explain this headline, particularly "baby steps": Baby Steps Taken for Gender Equality.

My comments:
Small progress has been made regarding gender equality, equality between men and women, equal pay for equal work, e.g.
Baby steps means small progress or a series of small progresses, "small" being the chief characteristic here.
Small, because baby steps are invariably that – small.
Tiny as a matter of fact.
Literally, you see, baby steps refer to the first steps a baby takes as he or she learns to walk.
With short and chubby legs, baby steps are, invariably, small.
And tender and gingerly, too.
Careful and cautious, in other words, uncertain and unstable.
Wobbly, that is.
Babies stagger and fall a lot when they first tried to move on their feet.
Metaphorically speaking, hence, when we say somebody has taken baby steps in a certain endeavor, we mean to convey the idea that some initial small progress has been made.
In other words, these are early days. Expect more to come.
And, as it is with babies walking and falling, failure and setback are to be expected as well.
Keep images of a baby walking in your mind when you try to put "baby steps" into use. That is to say, use this expression only in situations where small, initial and tentative progress has been made.
And here are examples culled from the Internet over the years:

1. In an effort to minimize risk buyers are taking smaller steps as they progress towards major buying decisions. Buyers are in effect taking baby steps towards the purchase decision – they have learned that going faster increases the danger of falling over.
In the words of one experienced salesperson buyers are adopting an iterative approach to how buying decisions are being made. "Once the buying process for a major IT system may have involved 6 steps, today it is likely to be broken down into many more", he explained.
"Most I.T. buyers have been burned by the old ways of buying, with a high proportion of projects behind in terms of time and/or budget." The fact that they have adopted a more street-wise approach to buying I.T. is hardly a surprise therefore.
In a trend consistent with the increased popularity of agile software development methods, buyers are adopting an agile approach to buying IT. Buyers are taking incremental steps that edge them ever more cautiously towards major buying decisions:
*They are putting of making a decision as late as possible.
*They are leaving as many options and alternatives open as is possible.
*They are learning as they go, reviewing and testing options and alternatives in tandem with making a decision.
- Buyers Are Taking 'Baby Steps', SellerInsights.com, November 16, 2010.

2. The Hawks faded in the fourth quarter of their second preseason game, losing to the Orlando Magic 97-88 Wednesday at State Farm Arena, though they showed improvement defensively from their loss to the Pelicans Monday. Trae Young led the Hawks in scoring with 18 points.
Defensively, the Hawks took some "baby steps," in coach Lloyd Pierce's words, after allowing the Pelicans 133 points. Atlanta held Orlando to 37.6 percent from the floor (29.4 percent from 3-point range) and showed better all-around effort on defense. The Hawks aim to hold teams below 25 points per quarter, which they achieved in the first (allowing 18) and third (allowing 24). DeAndre' Bembry and Trae Young each had three steals.
Atlanta may have performed better defensively, but committing 27 turnovers prevented it from capitalizing too much (as did shooting just 33.8 percent from the floor, going up against a long Orlando team). After registering 29 turnovers Monday (with Young responsible for eight of those), the problem didn't let up much Wednesday. The Hawks, who led the league in turnovers per game (17) last season, had 27 in the loss (with Young responsible for nine of those). Preseason games are, of course, opportunities to get weaknesses on film and work through them, and this definitely looks like it's still a problem area for Atlanta. Some of those 27 turnovers are a credit to Orlando, but a healthy portion were self-inflicted (for example, the Hawks were called for travelling six times).
- 'Baby steps' taken on defense, but Hawks fall to Magic, AJC.com, October 10, 2019.

3. We're all in a hurry, it seems. The pace of life has increased and rushing through our days – through our lives – has now become the norm. We want everything now; happiness now, success now, health now, love now. Not surprisingly, this is the way we approach our goals and life changes as well. Patience is hard to come by: we expect results now, and if we haven't reached our goal yet, it must be because we're not working hard enough or fast enough or we're lazy and undisciplined.
Hard work and discipline are certainly valuable traits when trying to make changes in our lives or attain important goals, however, even diligence and persistence are often not enough to get the results we're looking for. The lack of an effective strategy is often our greatest obstacle. In our impatience for results, we try to change too much at once, and expect too much of ourselves, and this impatience usually leads to frustration and failure. This is why most people fail to keep their New Year's resolutions.
Sometimes we don't even take the first step because our dreams, goals, and desires seem so overwhelming, so intimidating, and so unachievable that we give up before we even start. Maybe we just need to try a different strategy. I'm reminded of the popular saying, "Life is a marathon, not a sprint." That same philosophy can be applied when we're attempting to make changes in our lives: it's true of career advancement or building a business, educational goals, weight loss or fitness, organization, habits, and certainly when trying to build or change relationships.
Learn to take baby steps
This may be the simplest, yet the most effective strategy we can use, as consistency, and learning to build on small victories are the keys to success. The happiest and most successful people will tell you that they have achieved their level of life and work success by taking small steps, and making one positive choice after another.
- The Number One Secret to Life Success: Baby Steps, LifeHack.org, July 10, 2022.
本文仅代表作者本人观点,与本网立场无关。欢迎大家讨论学术问题,尊重他人,禁止人身攻击和发布一切违反国家现行法律法规的内容。
About the author: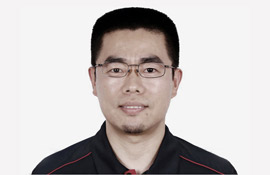 Zhang Xin is Trainer at chinadaily.com.cn. He has been with China Daily since 1988, when he graduated from Beijing Foreign Studies University. Write him at: zhangxin@chinadaily.com.cn, or raise a question for potential use in a future column.
(作者:张欣 编辑:丹妮)
中国日报网英语点津版权说明:凡注明来源为"中国日报网英语点津:XXX(署名)"的原创作品,除与中国日报网签署英语点津内容授权协议的网站外,其他任何网站或单位未经允许不得非法盗链、转载和使用,违者必究。如需使用,请与010-84883561联系;凡本网注明"来源:XXX(非英语点津)"的作品,均转载自其它媒体,目的在于传播更多信息,其他媒体如需转载,请与稿件来源方联系,如产生任何问题与本网无关;本网所发布的歌曲、电影片段,版权归原作者所有,仅供学习与研究,如果侵权,请提供版权证明,以便尽快删除。