Edge of your seat? 兴奋得坐不住
中国日报网 2022-09-06 15:43
分享到微信 Reader question:
Please explain this sentence: The 2024 election will be more edge-of-your-seat than usual.
My comments:
The 2024 election in the United States, apparently.
This means that the next election will be exceptionally exiting as well as perhaps nerve-racking. A lot of election analysts will be gnawing their nails a lot, for example.
That's what edge-of-your-seat implies.
It means that the next election will be so exciting and/or stressful that you'll be kept at the edge of your seat.
Yes, literally, when we are excited or anxious while watching a movie in the cinema, we, unknowingly, move to the edge of our seat, with sweating palms and all.
That is, we're unable to sit back and relax.
Watching horror or detective thrillers will do that, keeping us at the edge of our seats.
Obviously, the next US election is still two years away. It'll be difficult to visualize anyone sitting on the edge of their seat and remain in that position for two straight years, but you get the idea.
But I kind of understand the next US election will be exciting. For one thing, Donald Trump is still around, ready to do more damage. On the other hand, President Joe Biden will be 80 by then, if he decided to run for reelection.
There's no indication to suggest otherwise, so this is also something interesting to find out.
Or something boring, if you've had enough of Trump vs. Biden or have lost interest in US elections altogether.
Well, in that case, you won't be kept on the edge of your seat. You'll be able to sit back, sinking deep into your sofa, and yawn.
Good for you.
All right, here are media examples of "edge of one's seat":

1. For millions of Americans watching last week's political drama in London, the spectacle was welcome entertainment, a respite from the bitter divisions racking the United States and a reassuring reminder that other countries also endure convoluted political theater. But it was also a wistful reminder that even if the US doesn't have a monopoly on edge-of-your-seat political machinations, other democracies seem to handle theirs more successfully.
The cascade of resignations by British officials urging that the ethically-challenged Prime Minister Boris Johnson step down ultimately produced the desired result. After an endless series of scandals, and following stubborn vows that he would not give up, Johnson at last announced his resignation on Thursday.
It looks like democracy prevailed in the United Kingdom. It was a bit of a shambolic circus, to be sure, consistent with Johnson's premiership and much of his life (not to mention his hair). But, in the end, the process worked, and Britain stepped back from the brink.
The man that former President Donald Trump claimed people called "Britain Trump," ultimately resigned in disgrace for lying, for breaking the rules and for trying to get away with it one more time.
It's true that Johnson and Trump had more in common than their chaotic coifs. Johnson's misdeeds had a familiar ring to American ears, but they weren't in the same league as inciting a violent insurrection (which Trump has denied responsibility for) and trying to overturn his country's democracy.
Viewed from the other side of the Atlantic, the British mayhem was simultaneously satisfying and unsettling. Americans, whose democracy barely survived four years of Trump, reflexively drew a comparison between the transgressions that led to Britain's Conservative Party and much of the UK turning its back on Johnson and the far more damning and dangerous actions of the former US president, who remains to this day the most powerful figure in the Republican Party and looks all but certain to seek the presidency again.
- Boris Johnson's political demise offers a lesson for US Republicans, CNN.com, July 12, 2022.

2. Right now there's a 32-story rocket mounted atop a launchpad at NASA's Kennedy Space Center, and it's scheduled to propel a spacecraft to the moon.
The Artemis I lunar mission is inching (albeit slowly) toward liftoff.
Initially, Artemis I's launch was planned for Monday, but an engine issue forced the attempt to be scrubbed – Saturday's try No. 2 was also a no-go, and we're now awaiting word on when (hopefully, lucky) No. 3 will take place. But with space missions, the future is never really quite certain. Nonetheless, after years of delays and wads of extra money, a starry excursion is in view, and when NASA finally sets things in motion, it's going to be a sight for the ages.
Though the vehicle commissioned for this endeavor – formally named the Space Launch System but also known as the most powerful rocket in the world – won't usher astronauts to the moon's surface this time around, it's kind of NASA's golden ticket to untouched reaches of outer space.
Pointed toward the sky and sporting the brilliant orange hue of its insulated spray-on coating, Artemis I's SLS will carry instruments to lunar orbit to gather vital information for the Artemis II mission, which will bring humans along, to orbit the lunar sphere. Then, Artemis II will pave the way for Artemis III, a 2025 mission that may, at last, add more boot prints to the powdery gray soil, alongside those imprinted decades ago by Apollo astronauts.
And that's just an overview of the first three steps of NASA's Artemis odyssey.
Eventually, this program is poised to accomplish thrilling feats like planting the first woman and the first person of color on the moon, building a lunar base camp, constructing a spaceship in lunar orbit, connecting an off-world internet, and even laying the groundwork for a future in which humankind settles Mars.
"When we think about Artemis, we focus a lot on the moon," Reid Wiseman, chief astronaut at NASA's Johnson Space Center, said in an Aug. 5 press conference. "But I just want everybody in the room and everybody watching to remember our sights are not set on the moon. Our sights are set clearly on Mars."
...
OK, I'm on the edge of my seat. But what's next?
Considering how much I write about the moon, I've often wondered what might've happened if NASA continued its Apollo program – uninhibited by Cold War tensions and budget-cut setbacks.
Could there've been an international space station orbiting the moon? Might there have been lunar settlements or perhaps ATVs astronauts could ride from crater to crater? Well, in a way, we might be about to find out. Artemis is sort of picking up where its Greek-namesake twin, Apollo, left off. (Apollo was a god, Artemis a goddess.) "This is now the Artemis generation," Nelson said.
- NASA's Artemis I: What to Know About the Massive Moon Mission, by Monisha Ravisetti, September 3, 2022.

3. Movies and shows have become our comfort zones. We always watch them after a long day with our family and friends to relax. Due to the coming of the Covid-19 pandemic, OTT platforms have become everyone's go-to. It is no more the theatre or the Television; it is either Netflix or Amazon Prime.
Just as Netflix has risen to fame for its mind-bending and original shows and movies, Amazon Prime is nowhere behind. Prime as well is one of the leading OTT platforms available now.
There are too many options to choose from when it comes to watching on Prime, and especially when it comes to mind-bending and thrilling shows, it becomes much more difficult because of the wide variety the platform serves.
But do not worry; we have got it all covered for you as we have listed down the best mind-bending shows on the platform, which you can binge-watch with your friends and family. So let's have a look at them
Doctor Who
British pop culture has played an important role in laying the foundation for mind-bending shows that will drive you to the edge of your seat, and Doctor Who is one among them. It is one of the best thrilling shows available on Amazon Prime.
Though the original show was aired back in the historical times of 1963, there is a relaunch available on Prime, which began in 2005 and has had eleven seasons to date.
The show consists of an ensemble cast and follows the extraterrestrial being called The Doctor, who travels through space and time in different eras and planets to solve issues and wage a fight against injustice.
The show is best known for its extended continuity despite the constant change in the lead cast over the years. The single narrative which has spanned over five decades of the timeline has led the show to become an inspiration for writers and directors alike, thus, making the show a cult in the industry.
The Expanse
When it comes to the best sci-fi mind-bending shows on Prime, how can we forget The Expanse? The show is one of the best available on Prime in the discussed genre. It is a combination of sci-fi, mystery, and thriller, which is set hundred years into the future in a colonized Solar System.
The plot of the show revolves around three protagonists Josephus Miller, James Holden, and Chrisjen Avasarala, all of whom are linked together with a sinister conspiracy among the inter-terrestrial worlds of Earth, Mars, and The Belt.
The show received moderate success after the release of its first season but has got hugely applauded for its second and third seasons, which has led to Amazon renewing the show for two more seasons. The show has 12 episodes per season, so this show can become your go-to when you want something quick but edgy to watch.
- Best Mind Bending shows to binge-watch on Amazon Prime, FactsWow.com, September 5, 2022.
本文仅代表作者本人观点,与本网立场无关。欢迎大家讨论学术问题,尊重他人,禁止人身攻击和发布一切违反国家现行法律法规的内容。
About the author: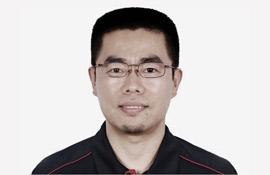 Zhang Xin is Trainer at chinadaily.com.cn. He has been with China Daily since 1988, when he graduated from Beijing Foreign Studies University. Write him at: zhangxin@chinadaily.com.cn, or raise a question for potential use in a future column.
(作者:张欣 编辑:丹妮)
中国日报网英语点津版权说明:凡注明来源为"中国日报网英语点津:XXX(署名)"的原创作品,除与中国日报网签署英语点津内容授权协议的网站外,其他任何网站或单位未经允许不得非法盗链、转载和使用,违者必究。如需使用,请与010-84883561联系;凡本网注明"来源:XXX(非英语点津)"的作品,均转载自其它媒体,目的在于传播更多信息,其他媒体如需转载,请与稿件来源方联系,如产生任何问题与本网无关;本网所发布的歌曲、电影片段,版权归原作者所有,仅供学习与研究,如果侵权,请提供版权证明,以便尽快删除。