Moral failing?
中国日报网 2023-02-17 16:09
分享到微信 Reader question:
Please explain "moral failing", as in: "Untidy is not a moral failing."
My comments:
Being untidy does not mean you're a bad person. So don't feel too bad about it. It's not as if you're someone who can't tell what's right and what's wrong in the moral sense. It's not as if you can't tell good human behavior from bad human conduct according to conscience.
In other words, it's not a moral issue. It's not a character flaw.
In other words, you're not a bad guy.
Moral failing?
A failing is a flaw, a defect, a slight inability. Moral failing, on the other hand, refers to failings in morality. Dishonesty, for example, is a moral failing.
Being untidy is not a moral failing. You have a messy house, perhaps, with clothes thrown all over the sofa and such like. You're a lazy person, perhaps. Or you've just been too busy lately to do house cleaning.
People should not be too judgmental and draw too many conclusions on you based on your untidy house. They shouldn't treat it as if you're morally inadequate.
And you should not feel too bad about it, either.
You shouldn't feel like you're a moral failure.
However, nevertheless, with all of the above said notwithstanding, and be as it may, you should perhaps have mercy and stop asking friends to come to your house – not before you clean it all up.
They don't have to see your mess.
All right, fair enough. Let's read a few media examples of "moral failing":
1 Surgeon General Dr. Vivek Murthy is urging American doctors and citizens alike to transform how they think about addiction and its treatments. Recently, he published a report totaling over 400 pages entitled "Facing Addiction in America." Erin Schumaker, Senior Healthy Living Editor of The Huffington Post, describes its contents as "a cultural call to action".
The report advocates for a metamorphosis in how addicts are perceived and treated. Murthy pushes for addiction to be seen by both physicians and non-physicians as a disease rather than as a moral failingor choice. Indeed, the report is the first of its kind to discuss drug addiction as a medical condition that can be treated. Murthy told The Huffington Post: "Addiction is a chronic disease of the brain and it's one that we have to treat the way we would any other chronic illness: with skill, with compassion and with urgency."
In addition to this shift in attitude, Murthy advocates for the development of more evidence-based treatment programs and their integration into medical facilities and schools. To incorporate such services into new and existing medical clinics rather than offering them in sparsely available, specialized clinics would both increase the availability of help for addicts and, he argues, would help people to understand intuitively that addiction is a medical issue rather than one of poor character. Furthermore, the incorporation of such services into broader institutions help to transform the shame associated with addiction into empathy.
Right now in America, addiction hurts many people. Schumaker describes in The Huffington Post: "There are more than 20 million Americans who have a substance use disorder and 12.5 million who reported misusing prescription painkillers in the last year." In other words, over 6% of Americans are currently victims of substance abuse.
In August, Murthy wrote an open letter to American physicians about helping victims of opioid addiction alone, calling it a crisis and noting that nearly 2 million people are currently affected by it. In the case of opioids, doctors over recent years helped to create the problem. He notes that the road to the current opioid epidemic was paved with good intentions. He reflects on his own experiences and recalls, "I will never forget my own patient whose opioid use disorder began with a course of morphine after a routine procedure." Recently on Last Week Tonight, John Oliver did a segment examining the depth and scope of the misuse opioids, the institutional forces facilitating it, and how entrenched the problem is.
- Addiction Is a Disease Not a Moral Failing, Says U.S. Surgeon General, BigThink.com, November 25, 2016.
2 The song says "It's The Most Wonderful Time of the Year." But for some, the holiday cannot come and go soon enough because with them come the holiday blues – that feeling of anxiety and depression that can surge at the holidays. But what about more persistent mental illness? How do we as a society handle that?
The short answer is: not very well. Despite more education and awareness, misconceptions persist about mental health and mental illness.
One of the biggest myths is that it is not very common. But in fact, according to the National Alliance on Mental Illness Austin, one in five people is impacted by a mental health condition.
"If you think about that number, if it's one in five," says Karen Ranus, Executive Director of NAMI-Austin," that means honestly, every single one of us knows, loves, cares about someone who's living with a mental health issue."
Another common myth is that mental illness only impacts adults. Not true at all. That one in five number is across all ages.
Judy Maggio is Editorial Director at KLRU's "Decibel" news magazine. When doing research for an upcoming episode, she said it was a surprise to her "that it's the same for children, and talk about a group of people who really need input and treatment early so it doesn't become something worse."
Ranus also believes people have difficulty understanding mental illness as a health issue because she says "there's still a part of us that still sees it as some character flaw or some kind of moral failing, a personality flaw." And that can cause people to approach it differently.
"When my daughter was diagnosed with her mental health issue and ended up in a psychiatric hospital, I didn't post about it on Facebook," says Ranus. "But I know 17 months before when my mother was diagnosed with a terminal brain tumor I did."
- What We Don't Get About Mental Illness, KUT.org, December 28, 2018.
3 As a violent mob of his supporters smashed through windows to enter the U.S. Capitol building on Jan. 6, 2021, then-President Donald Trump did nothing.
As members of Congress and his vice president, Mike Pence, were forced to flee for their safety, Trump did nothing.
As members of Pence's security detail were telling colleagues over the radio to tell their families they loved them, Trump did nothing.
In the final summertime hearing from the House Select Committee investigating the Jan. 6 attack, the focus was on Trump's inaction for more than three hours during the violence at the Capitol. After eight hearings detailing everything Trump had done that led to the attack, and framing it as potentially criminal, the committee spent this last hearing focused on what the former president didn't do – and framed it as a moral failing.
It's no secret that the Jan. 6 committee has been using the hearings, in part, to lay out an argument that Trump may be liable for criminal charges. In a court filing in March, the committee suggested it had sufficient evidence to conclude that "the President and members of his Campaign engaged in a criminal conspiracy to defraud the United States." Committee members, including the vice chair, Rep. Liz Cheney, have said the Department of Justice should not shy away from prosecuting Trump if prosecution is warranted. And the hearings have prompted endless speculation over what crimes, if any, the former president could be charged with. Though it's ultimately up to the Department of Justice (which is conducting its own investigation into Jan. 6) to decide whether charges are warranted, the committee has made its case over the past few months.
But it's hard to prove that inaction constitutes a crime. And so on Thursday the committee tried to make a different case. The committee focused on evidence showing that everyone around Trump that day – his staffers, his attorneys and even his children – had urged him to speak out, to condemn the violence and to tell the rioters to go home. The committee shared an assortment of text messages sent to Trump's chief of staff, Mark Meadows, from Republican members of Congress, Fox News hosts and Trump's son Don Jr., all urging him to persuade the president to condemn the violence. Trump eventually did, putting out a public statement asking the rioters to go home peacefully, though he also added: "We love you. You're very special."
The Jan. 6 Committee's Closing Argument Was About Trump's Morality, FiveThirtyEight.com, July 22, 2022.
About the author: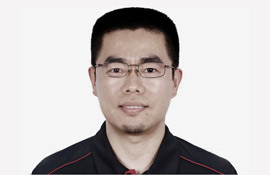 Zhang Xin is Trainer at chinadaily.com.cn. He has been with China Daily since 1988, when he graduated from Beijing Foreign Studies University. Write him at: zhangxin@chinadaily.com.cn, or raise a question for potential use in a future column.
(作者:张欣 编辑:yaning)
中国日报网英语点津版权说明:凡注明来源为"中国日报网英语点津:XXX(署名)"的原创作品,除与中国日报网签署英语点津内容授权协议的网站外,其他任何网站或单位未经允许不得非法盗链、转载和使用,违者必究。如需使用,请与010-84883561联系;凡本网注明"来源:XXX(非英语点津)"的作品,均转载自其它媒体,目的在于传播更多信息,其他媒体如需转载,请与稿件来源方联系,如产生任何问题与本网无关;本网所发布的歌曲、电影片段,版权归原作者所有,仅供学习与研究,如果侵权,请提供版权证明,以便尽快删除。