Tough it out?
中国日报网 2023-01-10 17:38
分享到微信 Reader question:
Please explain this sentence, particularly "tough it out": "In my time, kids were raised to tough it out."
My comments:
In the past, kids were told to work out problems by themselves and weren't allowed to complain so much.
Something like that.
I think the speaker is trying to compare kids today with children of yesteryear. And one of the differences between children then and kids now is that, I speculate, today's kids are soft.
Whereas children in the past were tough, because they were raised that way.
I'm not sure if this is the exact conclusion the speaker is making to attempting to get at, but, luckily, we're only here to address the phrase "tough it out".
"Tough it out", literally, means for us to take a tough attitude during a time of stress or difficulty. This means we should persevere rather than quit. We should grit our teeth and endure the pain and hardship we have to face without, say, complaining all the time.
For example, if we encounter some difficulty in the middle of a task, we should not give up. Instead, we should stay focused and remain determined, and get on with the task at hand till the very end.
If you continue to work while you're sick, you're toughing it out.
If you quit for having a minor cold or any other reason or excuse, you're not.This is all easier said than done, of course.
Of course. And here are recent media examples of people who "tough it out" in various situations:
1 Bengals running back Joe Mixon went to the locker room in the first half of Thursday's win over the Ravens and checked out of the game again in the second half so that the training staff could take care of a knee injury, but he returned to the game to help the Bengals drive for a pair of late field goals.
Mixon said after the game that he probably would have "played it safe" if the Ravens had not cut a 28-7 lead down to five points on a John Brown touchdown catch, but felt the team needed him to close out the win.
"I had to talk myself to going back in," Mixon said, via the team's website. "It's mental toughness. It was real hard … It felt weird. The knee was hurting. The mental side of it is you always want to play 100 percent. When it's bothering you, it's hard mentally. I just had to check back in mentally and tough it out physically."
Mixon ended the game with 21 carries for 84 yards and has run 38 times for 179 yards through the first two weeks of the regular season.
- Joe Mixon: I had to tough it out physically, NBCSports.com, September 14, 2018.
2 Women in Entrepreneurship! Even after 73 summers of independence, this phrase pleasantly raises a few eyebrows. And the 'pleasantly' that I added before the raise doesn't sound as pleasant as it should be. Rather, it is a matter of concern for our country. According to a census, women make only around 14% of the business leadership class in India. No matter how many women's days we celebrate, the reality lies in the fact that we haven't been that successful in having better participation of women.
We asked the people who can answer these better than anyone else. We asked the women themselves and here is everything we got to know. So here is what women founders think about the contribution of women in the startup ecosystem and why it is lagging behind, despite all their effort.
Arushi Bansal, Interior Design Director at AND Studio
If we take into consideration the level of dedication and the amount of stress involved in starting a high-growth company, many women choose not to pursue this industry due to lifestyle choices and other priorities. Also, the natural prejudice that continues to exist in the startup community can be a pitfall for women, especially while networking and obtaining funding. Considering the small percentage of women in venture capitalism, these drawbacks sometimes create more of an obstacle for female entrepreneurs. Another reason that could hamper the involvement of women in this domain is that there are not enough role models for inspiration. Women who have boldly defied the norms are missing from the limelight and lack exposure.
Madhura Moulik, Co-Founder at Skilfinity
Gender diversity in various industries in India is quite low leading to a massive dearth of women leaders who can eventually become part of the startup community. I think the change can happen when parents and even the education system encourage more girl-child to make their own career choices based on their aptitude.
In the current condition, various start-up incubators and government bodies can provide a platform for women entrepreneurs and thus build role-models to inspire the next generation.
...
Shobhana Sriram- Co-Founder and CTO of Quick Ride
Starting your own company, especially in a fast-moving startup world is extremely challenging for anyone as it requires initial funding and being able to breakeven. Even the uncertainty of success sometimes makes the foray into business challenging but this problem is compounded for women, especially married women, who cannot overlook the primary responsibilities of looking after the family and home or have to deal with the lack of access to appropriate networks and safety in public places.
This is more so in the initial stages of business and tends to ease out as the business develops and grows. Women must learn to tough it out, especially in the formative years of the business.
- Natural Prejudice Seems to be Biggest Barrier for Women in Entrepreneurship, StartupTalky.com, February 26, 2021.
3 Bryce Mitchell wasn't at his best going into UFC 282 this past weekend inside T-Mobile Arena in Las Vegas, Nevada.
The event's pay-per-view (PPV) main card opened with a pivotal match up at 145 pounds between two of the division's brightest rising contenders. Indeed, somebody's "O" had to go when Mitchell and Ilia Topuria fought in "Sin City" and, unfortunately for the proud Arkansan, it was his.
Mitchell was originally supposed to face Movsar Evloev in a November 2022 main event until his opponent suffered an injury, leading "Thug Nasty" accepting the seemingly more difficult match up opposite Topuria. Dropping his first professional loss via second round arm-triangle choke submission (watch highlights), Mitchell revealed today that he wasn't 100 percent.
"I just want to let y'all know I'm fine, I'm home and I want to thank y'all for the love and support," Mitchell said in a Twitter video. "I definitely got to let you know that that really wasn't me out there. I had the flu the week before, and I thought I'd just tough it out. I didn't feel good at all in there. That wasn't myself. I trained a lot harder and could've performed a lot better, but I went in there with stuff hurting, not up to 100 percent. Like I said, I had the flu.
"I wish I wouldn't even took the fight, but I didn't know it would mess me up that bad," he concluded. "I thought I would be able to hang in there for all three rounds, because that's what I trained for. I trained for my cardio to be there the whole time. It wasn't even there one bit of the time. I'll come back stronger, I just hate going out on that one like that. But I will be better, I'll be alright."
Directly before Mitchell's 15-fight win streak-snapping loss, he scored his biggest career win, dominating Edson Barboza en route to a unanimous decision. The 28-year-old was unable to find his typical grappling success against Topuria and he'll surely look to sharpen his game ahead of his next time out.
- Bryce Mitchell reveals battle with flu ahead of Ilia Topuria UFC 282 loss: 'I thought I'd just tough it out, MMAMania.com, December 12, 2022.
About the author: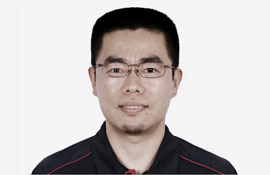 Zhang Xin is Trainer at chinadaily.com.cn. He has been with China Daily since 1988, when he graduated from Beijing Foreign Studies University. Write him at: zhangxin@chinadaily.com.cn, or raise a question for potential use in a future column.
(作者:张欣 编辑:yaning)
中国日报网英语点津版权说明:凡注明来源为"中国日报网英语点津:XXX(署名)"的原创作品,除与中国日报网签署英语点津内容授权协议的网站外,其他任何网站或单位未经允许不得非法盗链、转载和使用,违者必究。如需使用,请与010-84883561联系;凡本网注明"来源:XXX(非英语点津)"的作品,均转载自其它媒体,目的在于传播更多信息,其他媒体如需转载,请与稿件来源方联系,如产生任何问题与本网无关;本网所发布的歌曲、电影片段,版权归原作者所有,仅供学习与研究,如果侵权,请提供版权证明,以便尽快删除。