He's toast? 完蛋了
中国日报网 2023-06-06 14:00
分享到微信 Reader question:
On the next US election, few give Donald Trump a chance. One says, "I think he's toast". What does that mean?

My comments:
Another idiom involving Donald Trump. Why not? He's very much in the news. Here, the speaker means to say that Donald Trump has no chance.
He's likened to toast, or pieces of bread browned by fire. In other words, he's served up to be eaten. He's a goner. He's doomed. He's in such big trouble that you might just consider him as good as dead.
Dead, politically speaking.
Now wait. How can we be so sure?
Well, we can't, actually. Politics being politics, nobody can tell. A lot can happen between now and 2024. After all, a lot of people did not give Donald Trump a chance in 2016, but he won.
So, we'll just wait and see.
Meantime, here's an explanation of the colloquial expression "be toast" (TheFreeDictionary.com):
To be doomed or unworthy of further consideration. This slangy usage dates from the twentieth century. It can be applied to a person, a group, an idea, a project, and so on. It must be distinguished from being the toast of something, such as "the toast of the Academy Awards," which means a person receiving much acclaim. In contrast, "With so many injured players, our team is toast this year" means the team cannot win. According to Bob Woodward's book Plan of Attack (2004), Vice President Dick Cheney said, before the invasion of Iraq, "Prince Bandar, once we start, Saddam is toast."
And here are media examples of people who are considered toast:

1. Just over a month since pledging to "deliver, deliver, deliver!" on the steps of Downing Street, today Liz Truss's political career came to a screeching end.
She did deliver: a premiership characterised by chaotic U-turns and infighting, and what is likely the shortest tenure as PM in British history.
Critics believe she was never cut out for the job, even as they praised the steely determination and political skill that led her to Number 10. But her meteoric rise through the party ended almost as quickly as it started.
She entered parliament in 2010, as the Conservatives returned to government for the first time in 13 years, and quickly rose through the Tory ranks.
She was education minister, environment secretary, then justice secretary, before being demoted under Theresa May to chief secretary to the Treasury.
Sonia Khan, who was the adviser to former chancellor Sajid Javid, said Ms Truss's role in the Treasury "was the making of her".
She said: "She began to wear bright colours and use social media in a way her colleagues weren't at the time, it gave her a platform to project herself and she used that to her advantage."
However, Ms Truss was also becoming known for her awkward public appearances and was haunted by the now notorious "pork markets speech" at the Conservative Party conference in 2014.
As one MP who backed Ms Truss for the leadership put it: "Her biggest failure has been her inability to communicate her vision coherently."
...
Many see Ms Truss's sacking of the former chancellor Kwasi Kwarteng as the moment her fate was sealed. The pair were long-time allies, bound together by a shared vision for the economy; but sacking him, before delivering a lacklustre speech, did nothing to appease her now mutinous Tory MPs.
After Mr Kwarteng's sacking, one MP told me "that was ruthless" adding "she's toast". Another said: "Her sacking him shows just how weak she is". Former chancellor Kenneth Clarke said Mr Kwarteng was a "scapegoat" blamed for carrying out Liz Truss's instructions.
- The rise and fall of Liz Truss - from pork markets to a car crash, SkyNews.com, October 20, 2022.

2. Bank of England recently bought £19.3 billion of U.K. government bonds to prevent a collapse in the country's pension industry.
In the eyes of Rich Dad, Poor Dad author Robert Kiyosaki, that's a sign to acquire three specific alternative assets.
What assets does Robert Kiyosaki buy?
"Bank of England pivot means buy more GSBC," he says in a recent tweet, referring to gold, silver and bitcoin.
"When pensions nearly collapsed it exposed Central Banks cannot fix…INFLATION. Pension have always invested in G&S. Pension funds now investing in Bitcoin. They know Fake $, stocks & bonds are toast."
Of course, gold, silver and bitcoin aren't exactly perfect investments.
- Robert Kiyosaki likes these 3 real assets right now, MoneyWise.com, November 18, 2022.

3. Reports that the federal grand jury hearing evidence in special counsel Jack Smith's investigation of former President Donald Trump's handling of classified documents will reconvene this week sparked speculation that Trump may soon be indicted.
The grand jury's activity has "slowed" in recent weeks after months of evidence and witness testimony but the panel is set to reconvene this coming week, according to NBC News.
It's unclear whether prosecutors will seek an indictment at this point, according to the report. Trump would be the first former president charged with a federal crime if he is indicted. He already became the first former president charged with a state crime related to his hush-money case in New York.
Trump's legal team could meet with Justice Department officials this week in connection to the classified documents case as well, according to CBS News, which is often the last move before an indictment.
"The obvious inference-not the only one but the most obvious – is they're reconvening to vote out an indictment. Fasten your seat belts," tweeted former U.S. Attorney Harry Litman.
"What can we expect?" tweeted CNN legal analyst Norm Eisen. "Charges! (If not this week, soon)."
But former federal prosecutor Renato Mariotti cautioned that the report "doesn't tell us much about the timing of a potential indictment."
"The grand jury could be considering a proposed indictment, but prosecutors could just be presenting evidence to the grand jury," he wrote.
Trump on Truth Social fumed over reports, repeating his false claim that the FBI spied on his campaign and accusing President Joe Biden of mishandling documents, even though Biden's were immediately turned over when they were found while Trump did not comply with a grand jury subpoena, leading to a court-authorized FBI raid on his residence. Biden's handling of documents remains under investigation by the DOJ, though it dropped a similar probe last week into former Vice President Mike Pence's handling of documents.
The news comes after reports that prosecutors obtained a recording of Trump admitting he had a classified document about Iran that he was not allowed to show to others and damaging notes from his attorney that were turned over after a judge sided with prosecutors' argument that Trump likely used his services in furtherance of a crime.
"The case is so strong. You cannot imagine his getting away with this," former Watergate prosecutor Jill Wine-Banks told MSNBC on Sunday. "I'm wearing a toast pin today because I think he's toast."
- "Fasten your seat belts": Experts on Trump "indictment watch" as Jack Smith grand jury reconvenes, Salon.com, June 5, 2023.
本文仅代表作者本人观点,与本网立场无关。欢迎大家讨论学术问题,尊重他人,禁止人身攻击和发布一切违反国家现行法律法规的内容。
About the author: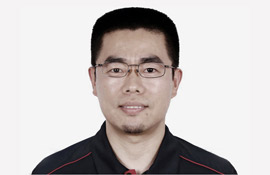 Zhang Xin is Trainer at chinadaily.com.cn. He has been with China Daily since 1988, when he graduated from Beijing Foreign Studies University. Write him at: zhangxin@chinadaily.com.cn, or raise a question for potential use in a future column.
(作者:张欣 编辑:丹妮)
中国日报网英语点津版权说明:凡注明来源为"中国日报网英语点津:XXX(署名)"的原创作品,除与中国日报网签署英语点津内容授权协议的网站外,其他任何网站或单位未经允许不得非法盗链、转载和使用,违者必究。如需使用,请与010-84883561联系;凡本网注明"来源:XXX(非英语点津)"的作品,均转载自其它媒体,目的在于传播更多信息,其他媒体如需转载,请与稿件来源方联系,如产生任何问题与本网无关;本网所发布的歌曲、电影片段,版权归原作者所有,仅供学习与研究,如果侵权,请提供版权证明,以便尽快删除。