Campaign attacks are intensifying among the Democratic and Republican presidential contenders as the first test in the 2008 U.S. election season draws near in early January. VOA National Correspondent Jim Malone reports from Washington.
The process that selects the party nominees for president begins January 3 in Iowa and the nomination battles in both parties are heating up.
On the Democratic side, there is a three-way fight in Iowa among Senator Hillary Clinton of New York, Senator Barack Obama of Illinois, and former Senator John Edwards of North Carolina.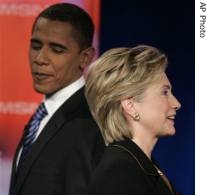 The three contenders are stepping up their criticisms of each other as the voting draws near.
This is Edwards during a campaign event in New Hampshire, which holds its primary five days after the Iowa caucuses.
"Hell yeah, I am confrontational. And I am not ashamed of it. We need a fighter in the White House," he said.
Hillary Clinton told CBS News that she is willing to fire back at her Democratic rivals.
"But after you have been attacked as often as I have from several of my opponents, you cannot just absorb it. You have to respond," she said.
Clinton leads Democrats in the national polls, but Obama led in the latest Iowa survey and the race remains close in other early contest states, including New Hampshire and South Carolina.
Longtime political reporter Tom DeFrank of the New York Daily News says a Clinton defeat early in the primaries could make the Democratic race much more competitive.
DeFrank was a guest on VOA's Issues in the News program.
"It would give her opponents openings to resurrect and resurface all the things that the Clinton haters [focus on] and even Democrats who admire her but fear that she is not electable, that would just bring all of that back to the fore," he said.
There is plenty of tough campaigning in the battle for the Republican Party's presidential nomination as well.
Former New York City Mayor Rudy Giuliani leads the Republican field in national public opinion polls. But former Massachusetts Governor Mitt Romney continues to do well in the early contest states of Iowa and New Hampshire.
The attacks between the two are growing more intense. Romney recently went after Giuliani's economic record as mayor of New York City.
"When he left, he left a budget gap twice as big as the one he inherited," he said.
Giuliani fired back and criticized Romney's crime-fighting record in Massachusetts.
"Everything he attacks somebody else for, he usually has a much worse record," he said.
The wrangling between Romney and Giuliani could provide an opening for some of the other Republican contenders looking to gain traction in the early primary states. They include Arizona Senator John McCain, former Arkansas Governor Mike Huckabee, and former Senator Fred Thompson, of Tennessee.
University of Virginia political analyst Larry Sabato says one thing the Republican contenders agree on is a desire to be tough on Hillary Clinton if she emerges as the Democratic Party nominee.
"Most Republicans find the prospect of a Hillary Clinton presidency to be repugnant, and as such, they are even willing in many case to support a liberal on social issues for the nomination, specifically Rudy Giuliani, if that is what it takes to beat Hillary Clinton," said Sabato, who was a recent guest on VOA's Talk to America webchat.
A recent Zogby poll suggested Clinton is losing ground to the Republicans. The latest survey showed Clinton trailing the five major Republican contenders in head-to-head match-ups.
Iowa and New Hampshire kick off a compressed primary schedule in early January that will hit a peak on February 5 when more than 20 states hold primaries or caucuses.
electable:有候选资格的
repugnant: 不一致的
(Source: VOA 英语点津姗姗编辑)