U.S., British and Afghan officials opened this year's World Economic Forum in Davos, Switzerland, Wednesday with calls for greater effort to fight global terror and find peace in the Middle East. VOA's Barry Wood reports from Davos.
Afghanistan's president Hamid Karzai told over 2,000 forum participants that more needs to be done to combat terrorism. Terrorists, he said, have become bolder in recent months, as evidenced by the assassination of former Pakistani Prime Minister Benazir Bhutto. He said terrorism in Pakistan and Afghanistan has no legitimate ideology.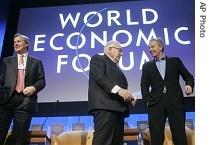 "The terrorism we are fighting is a political mutant, a Frankenstein created through the folly of short-sighted policy for the reckless pursuit of misperceived interests," he said.
U.S. Secretary of State Condoleezza Rice said the U.S. and NATO-led campaign against terrorism in Afghanistan is more difficult and challenging than initially thought. She appealed for strengthened resolve in the fight against terrorism.
"And our publics need to be told honestly that we are engaged in a real war in Afghanistan, that there will be sacrifices, that this is not just a peace-keeping operation, and that the stakes could not be higher for the Afghan people, for our alliance and for international security," she noted.
Former British prime minister Tony Blair, now a Middle East peace envoy, said it is imperative that the decades long conflict between Palestinians and Israelis be resolved. He said peace would be a powerful force for democracy and modernization in the Arab world.
"In my view there is nothing more important to empower the modern and moderate voices and to disable the extremes than if we get peace between Israel and Palestine based on justice and fairness and democracy," he said.
Former U.S. secretary of state, Henry Kissinger, told the forum Iran must not be permitted to obtain nuclear weapons. If it did, he said, this would almost inevitably lead to further proliferation and a nuclear catastrophe.
(Source: VOA 英语点津姗姗编辑)