President Bush and Congressional leaders from both political parties have reached agreement on $150 billion in tax relief in an effort to help stimulate the U.S. economy. VOA White House Correspondent Scott Stearns has the story.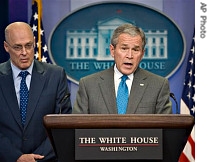 The agreement includes provision to give up to $600 in tax rebates to millions of wage earners and an additional $300 refund for each child. It allows businesses to immediately write off 50 percent of capital equipment purchases.
President Bush says it is an effective, robust and temporary set of incentives that will boost the economy and create new jobs.
"This package has the right set of policies and is the right size," he said. "The incentives in this package will lead to higher consumer spending and increased business investment this year."
The president says he knows Americans are concerned about their economic future, with the challenges of higher energy prices and a falling housing market slowing growth.
Mr. Bush is urging the House and Senate to pass the agreement as soon as possible.
"We have an opportunity to come together and take the swift, decisive action our economy urgently needs," he added.
Stock markets around the world dipped sharply early this week amid widespread fears of a U.S. recession and its potential to drag down foreign markets as well.
The stimulus deal was an unusual display of bipartisanship in Washington, with Democrats and Republicans in the House making concessions to get the deal done quickly.
Republicans dropped a provision that would have allowed businesses to reclaim taxes previously paid. Democrats dropped their demands for increases in food stamps and unemployment benefits.
House Speaker Democrat Nancy Pelosi says she is not totally pleased with the package, but knows it will help stimulate the economy.
"This bipartisan package should be acted upon rapidly and can help alleviate the economic pain felt by millions of Americans," she said.
John Boehner is the leader of Republicans in the House of Representatives. He says it was not easy for Republicans and Democrats to agree on a plan, but he is confident it is in the best interests of the nation.
"This agreement is a big win for the American people," he said. "It will stimulate our economy in the most direct and effective way possible by putting money in the hands of middle income American families and by giving businesses incentives to create and build new jobs in our country."
Treasury Secretary Henry Paulson was the president's lead negotiator with Congress.
"I know the work isn't done yet," he noted. "As the Speaker said, we've got more to do. And I am looking forward to working with the Senate and working with the House to get a package as soon as possible, because, again, speed is of the essence."
Senate Majority Leader Democrat Harry Reid says he wants to get the plan to the president for signature by February 15. But changes in the Senate may slow passage of the package, as Reid says senators may consider restoring provisions to extend unemployment benefits.
tax rebate:退税
(Source: VOA 英语点津姗姗编辑)