Chinese Premier Wen Jiabao has been inspecting holiday transportation in Beijing and neighboring Hebei province. He's telling traffic officials to ensure safe, smooth travel during the Spring Festival holiday.
First stop for the premier was the Zhuozhou Rest Area on the Hebei expressway.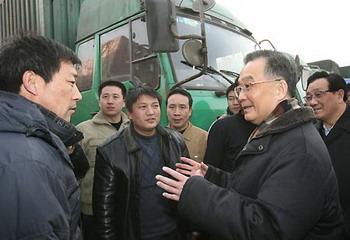 Here, Wen emphasized that fresh farm products should go through the no-charge Green Passage from January 26th to February 5th. He said the policy will help lower the cost of transportation, and this will not only help ensure the supply of farm products during the holiday season, but also stabilize their price.
Wen also extended his regards to officers and workers of the local transportation department.
Wen Jiabao said, "The Spring Festival is around the corner. It's your busiest time of the year. It's on account of your diligent work that everyone can enjoy the Spring Festival and a safe holiday. All of your dedication is greatly appreciated. I would like to thank you for all your hard work."
At the Beijing West Railway station, the premier was satisfied with the measures taken to ease ticket-buying, such as adding more than 170 temporary counters, and selling tickets to migrant workers at construction sites. He expressed the hope that the workers can all get back home safely, on time, with their pay.
Wen Jiabao says there are three tasks that must be dealt with during the Spring Festival. To guarantee the safety of all passengers is the top priority. The second priority is to ensure coal supply to all major areas. The third is to lower the cost of transporting food.
Wen Jiabao also emphasized that comprehensive measures must be adopted to deal with the shortage of coal and power supply. He said residential areas and key institutions such as schools and hospitals should be guaranteed against power shortage.
To ensure adequate supply of coal, the transportation section should do its part, and workplace safety must also be improved to ensure supply would not be disrupted by accidents. Meanwhile, energy conservation must be encouraged nationwide to reduce waste and consumption.
Wen Jiabao added that as severe weather is predicted for the coming days, traffic officials must make emergency plans to eliminate accidents and delays.
workplace safety:工作场所安全
(Source: cctv.com 英语点津姗姗编辑)