Later Monday, President George Bush will deliver what is expected to be his final State of the Union address before Congress. VOA's Michael Bowman reports from the White House, where administration officials say the speech will contain few surprises and little in the way of new initiatives.
Previous State of the Union addresses have seen President Bush unveil urgent and far-reaching proposals, including ways to keep the country safe from terrorism, and make the case for major decisions, such as going to war in Iraq.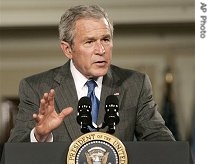 Now, as Mr. Bush enters his final year in office, his closely watched annual speech seems less about charting a new path for the country, and more about tying up the loose ends of his presidency.
The president previewed the speech in his weekly radio address Saturday.
"I will report that, over the last seven years, we have made great progress on important issues at home and abroad," said President Bush. "I will also report that we have unfinished business before us, and we must work together to get it done."
On financial matters, Mr. Bush is expected to urge swift congressional passage of a stimulus package to boost a slowing economy. On the security front, the president is expected to call for prompt adoption of a bipartisan bill that extends and refines the federal government's ability to monitor terrorist suspects.
When it comes to foreign affairs, White House officials say, Mr. Bush will focus on Iraq, Afghanistan and the Middle East peace process. The president is expected to hail security improvements in Iraq since last year's U.S. troop increase, and stress his resolve not to put those gains at risk with a sudden troop withdrawal.
For more than a year, Mr. Bush has fought back congressional attempts to force the administration to accept time-specific goals for pulling American forces out of Iraq. The president says, on both domestic and foreign affairs, he hopes a spirit of bipartisanship will prevail.
"When I go before Congress on Monday I will speak more about how we can keep our economy strong and our people safe," he said. "I am confident that we can work together to meet our responsibilities in these areas, and leave our children a stronger and more prosperous America."
In the Democratic Party response to Mr. Bush's radio address Saturday, Senator Byron Dorgan echoed calls for cooperation, noting that leaders of both parties worked quickly last week to craft an economic stimulus package aimed at boosting consumer spending and business investment.
"The White House's cooperation with Congress in recent days is long, long overdue," said Dorgan. "And it is encouraging. But let us hope it is habit-forming."
Yet bipartisanship is often the exception, not the rule in Washington. That is particularly true in election years.
Friday, House Speaker Nancy Pelosi gave the Democratic leadership's view of the State of the Union ahead of Mr. Bush's remarks, a so-called "pre-buttal". The speaker could not resist a partisan jab.
"Let us hope this is our last Democratic pre-buttal," said Pelosi. "That next year we will have a Democratic president."
Although Mr. Bush has one more year in office, this is expected to be his last State of the Union address. Next year, the incoming president will likely deliver a speech before a joint session of Congress to lay out proposals and set an agenda.
(Source: VOA 英语点津姗姗编辑)