Secretary of State Hillary Clinton says the Obama administration might reconsider plans for a missile defense system in Europe, if Iran stopped what U.S. officials believe is a drive for nuclear weapons. Clinton met with Czech Republic Foreign Minister Karel Schwarzenberg, whose government - along with Poland - has agreed to host the system.
The Obama administration has stopped short of fully embracing the missile defense program that was avidly pursued by the Bush White House, with the Obama team citing concerns about its technical viability.
In her joint press appearance with her Czech Republic counterpart, Secretary Clinton reiterated those concerns, while also suggesting the program could be shelved if Iran halts its pursuit of nuclear weapons.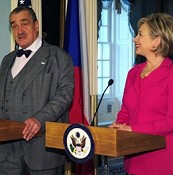 Clinton expressed gratitude to both the Czech Republic and Poland for working with the United States in what she framed as an effort to dissuade and deter Iran from pursuing nuclear weapons and a related long-range missile project.
She said the decisions on timing and deployment of the system are "largely technical matters" and said Iranian behavior would be a key factor in whether the program ultimately goes forward.
"If we're able to see a change of behavior on the part of the Iranians with respect to what we believe to be their pursuit of nuclear weapons, then you know, we will reconsider where we stand. But we are a long, long way from seeing such evidence of any behavior change," she said.
Clinton noted an assertion by Vice President Joe Biden in a policy speech in Munich Saturday that the United States will continue efforts on missile defense provided the technology is proven to work and it is cost effective.
Mr. Biden also said the United States will continue consulting on the matter with NATO and with Russia, which has opposed the program as a threat to its strategic deterrence.
Under questioning here, Clinton reiterated the Obama administration's interest in dialogue with Iran, following an assertion Tuesday by Iranian President Mahmoud Ahmadinejad that his government welcomes talks with Washington based on "mutual respect."
The Secretary said there is an opportunity for Iran's hard-line government to "unclench its fist" and begin a serious and responsible dialogue but also linked that prospect to the Iranian nuclear program.
"We still persist in our view that Iran should not obtain nuclear weapons, that it would be a very unfortunate course for them to pursue. And we hope that there will be opportunities in the future for us to develop a better understanding of one another, and to work out a way of talking that would produce positive results for the people of Iran."
President Obama said at his news conference late Monday he is looking for opportunities to engage with Iran while acknowledging that years of mistrust between the two countries will be hard to overcome.
stop short: not go so far as to do or say something(突然停止)
shelve:to put off or aside from consideration(搁置)
long-range:considering or extending into the future(长期的)
(Source: VOA 英语点津编辑)