President Barack Obama is marking President Abraham Lincoln's 200th birthday anniversary by calling on the nation to follow the example of the 16th president by putting aside differences to work toward a common future. Mr. Obama spoke to members of Congress gathered in the Capitol Rotunda.
President Barack Obama, the first African-American to be elected to the White House, paid tribute to Abraham Lincoln, who presided during the Civil War and signed the Emancipation Proclamation. The document ordered slaves to be freed in most of the southern Confederate States and eventually led to the abolition of slavery throughout the United States.
In a ceremony marked by much symbolism, Mr. Obama expressed his indebtedness to Lincoln.
"As we mark thebicentennial of our 16th president's birth, I cannot claim to know as much about his life and works as many who are also speaking today, but I can say that I feel a special gratitude to this singular figure who in so many ways made my own story possible, and who in so many ways made America's story possible," he said.
Mr. Obama has often drawn inspiration from Mr. Lincoln, who, like the current president, served in the Illinois legislature and a brief time in the U.S. Congress before entering the White House.
Mr. Obama used Thursday's ceremony to renew his call to the nation toput aside differences to work toward common goals.
"As we meet here today, at a moment when we are far less divided than in Lincoln's day, but when we are once again debating the critical issues of our time, and debating them sometimes fiercely, let us remember that we are doing so as servants of the same flag, as representatives of the same people, as stakeholders in a common future. That is the most fitting tribute we can pay -  the most lasting monument we can build - to that most remarkable of men, Abraham Lincoln."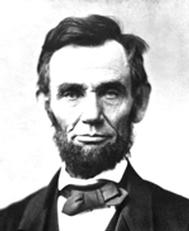 Mr. Obama's comments came as members of Congress are nearing a final vote on a massive economic recovery plan, which received little Republican support.
Congressional leaders offered their own tributes to President Lincoln.
Senate Majority Leader Harry Reid, a Nevada Democrat:"In the darkest hour of our Republic, he showed us that a vigorous pursuit of common ground would always light our path back home,"
Senator Jim Bunning is a Republican from Kentucky, the state where Mr. Lincoln was born.
"He served as a model for achieving the American dream, through honesty, integrity and loyalty. I hope Americans and our elected leaders candraw on these principles as I do, and address the challenges of the 21st century."
On Wednesday night, dignitaries including President Obama attended a ceremony at Ford's Theater in Washington, where Mr. Lincoln was assassinated.
bicentennial: 二百周年纪念
put aside:to put out of the way; place to one side(撇开,放在一边)
draw on: to utilize or make use of(吸取,利用)
(Source:VOA 英语点津编辑)