U.S. President Barack Obama signed into law Tuesday the biggest economic stimulus plan in the nation's history. The almost $800 billion in government spending and tax cuts is designed to get America's economy back on track.
Four weeks after taking office, President Obama has signed the American Reinvestment and Recovery Act - the cornerstone of his effort to stop the U.S economy from collapsing further.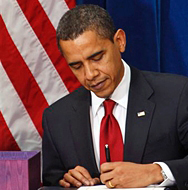 "I do not want to pretend that today marks the end of our economic problems nor does it constitute all of what we are going to have to do to turn our economy around. But today does mark the beginning of the end."
Mr. Obama took the unusual step of holding the bill-signing outside Washington, in the Western city of Denver, Colorado. Denver hosted the 2008 Democratic National Convention, at which Mr. Obama received his party's presidential nomination. And majority of Colorado voters supported Mr. Obama in the November election, after several elections in which Republicans won the state.
Colorado also has a reputation for supporting businesses that produce and support so-called "clean energy".
Before Mr.Obama signed the legislation, Blake Jones, the president of the Colorado-based Namaste Solar company, which makes solar energy equipment, said the stimulus plan will help his company and many others.
"Our trade association - the Solar Energy Industries Association - estimates that as a direct result of this stimulus bill, U.S. solar companies will create 69,000 good-paying jobs this year, and almost double that number over the next two years," said Blake Jones.
Overall, the Obama administration says the plan will create or save 3.5 million  jobs, will cut taxes for 95 percent of working Americans and will inject new money into efforts to reform education, health care, and infrastructure.
"Now what makes this recovery plan so important is not just that it will create or save 3.5 million jobs over the next two years, including 60,000-plus here in Colorado. It is that we are putting Americans to work, doing the work that America needs done."
The initiative passed both houses of Congress, even though almost all  Repubilcans opposed it. Many minority-party lawmakers said the plan is too costly and wasteful, and will not work.
On Wednesday, Mr. Obama will visit the Southwestern state of Arizona to introduce a program to help millions of homeowners avoid mortgage foreclosures. Many economists believe the U.S. financial crisis began with bad loans in the  mortgage industry.
cornerstone: something that is essential, indispensable, or basic(基础,要素)
good-paying:待遇好的
(Source: VOA 英语点津编辑)