The Iraqi journalist who threw his shoes at former U.S. President George W. Bush during a farewell visit to Baghdad has been sentenced by an Iraqi court to three years in prison.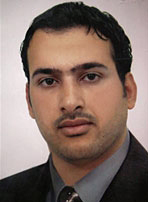 The trial of Iraqi journalist Muntader al-Zaidi, whoshot to fame after flinging his shoes at former President George Bush during a press conference last December in Baghdad, ended with a relatively light 3-year sentence.
Fans of al-Zaidi reportedly swarmed the vicinity of the court-house, shouting slogansin his favor and decrying the Iraqi government. Several close family members called the prosecutors "sons of dogs."
The Iraqi authorities, apparently aware of the publicity the case has drawn in the Arab and international media, gave as little media coverage of the trial as possible.
When asked if he was innocent, the 30-year old journalist for Al Baghdadia satellite channel told Judge Abd al Amir Hassan al-Rubaie that he believed he was, because he reacted "just as any Iraqi would have."
The head of al-Zaidi's defense team, attorney Dhia al-Sa'adi, told al Baghdadiya TV the sentence was harsh and insisted that he would appeal the decision.
The punishment, he says, in accordance with the statute he was charged under was 3 years. The defense team considers that punishment harsh, and feels that it does not really correspond with what Muntader al-Zaidi did. Therefore, he stresses, we will appeal the decision to the appellate court within the appropriate time-frame.
Members of al-Zaidi's 25-member defense team had asked for the charges to be dismissed, arguing President Bush was never in danger.
Al-Zaidi missed Mr. Bush when he threw both shoes on December 15, during a press conference with Prime Minister Nouri al-Maliki.
Hadi al-Marai, who heads Iraq's Press Freedom and Observation center says the outcome could have been worse.
The press and other sources, he notes, speculated that the sentence could have been 7 years or more, so 3 years is not all that bad. But, he says, we cannot accept that an Iraqi reporter be treated like this, especially since we are a fledgling democracy.
Al-Zaidi was jailed after the December shoe-throwing incident. A previous sentencing hearing was postponed. The Arab press has called him as a "hero" and several admirers have even offered tobetroth their daughters to him, as a reward for his "courage."
shoot to fame: 一夜成名
fling:to throw, cast, or hurl with force or violence(投掷)
in one's favor: 对某人有利
appeal:to apply for review of a case or particular issue to a higher tribunal(上诉)
in accordance with:依照,与……一致
time-frame:期限
betroth:to promise to marry(许配)
(Source: VOA 英语点津编辑)