U.S. President Barack Obama has arrived in London for a global summit on the world economic crisis. It is the first stop on an 8-day trip for the president that will include 3 summits, numerous one-on-one meetings with world leaders and Mr. Obama's first visit to a predominantly Muslim country since taking office.
After weeks of focusing on the U.S. economy, President Obama steps onto the world stage in London.
He will join leaders from around the globe at a conference facility not far from London's financial center. Their goal: to find ways to fix the economic crisis and to prevent it from happening again.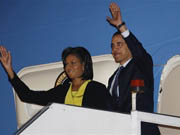 There are differences of opinion on the best medicine for the ailing world economy, although there is consensus that something must be done.
President Obama favors major government spending to spur growth, while many European leaders want more emphasis on regulatory reform. White House officials indicate that they will aim for a meeting of the minds. And they stress that the stakes for the summit are extraordinarily high.
Analysts like Reginald Dale of the Center for Strategic and International Studies in Washington say this is a chance for the new U.S. president to show he can be a world leader in the economic arena. "All around the world, people are suffering from the economic crisis. And so the G-20 meeting, at which leaders representing 80 percent of the world economy will be present, is an extraordinary opportunity for Obama precisely to show the U.S. leadership that he has been talking about," he said.
Before the summit opens, Mr. Obama will hold a series of bilateral meetings on Wednesday in London. He will start the day with a breakfast with British Prime Minister Gordon Brown. And before he sits down to dinner with the other summit participants, he will meet individually with Russian President Dmitri Medvedev and Chinese President Hu Jintao.
There will be more bilateral talks on Thursday, on the sidelines of the economic summit, with the leaders of South Korea, India and Saudi Arabia.
Then Mr. Obama heads to the French-German border for a celebration of the 60th anniversary of the North Atlantic Treaty Organization, or NATO.
The situation in Afghanistan is sure to dominate the NATO summit as alliance members grapple with the evolving security demands of the 21st century.
President Obama already has committed more U.S. troops to Afghanistan and he is calling for more allied support. But there is strong sentiment in Europe against further deployments of combat troops.
Sally McNamara analyzes European affairs for The Heritage Foundation in Washington. She says Mr. Obama could use his personal popularity among Europeans to help convince their leaders to back the war effort in other ways. "A lot will depend on President Obama. President Obama is probably the most popular American president we have ever seen in Europe. It may be the case that he can go to the peoples of Europe and say, 'Hey, this is what we need,'" she said.
Mr. Obama's first overseas trip will also include a brief stay in Prague. While there, he will attend an E.U. summit with Czech leaders and European Union officials. And he will deliver a speech on weapons proliferation.
He will end his European tour in Turkey where he will address the Turkish parliament in Ankara and launch a dialogue with young people in Istanbul.
meeting of minds: complete agreement; accord(意见一致)
grapple with:努力解决
British PM points to coordinated progress before economic summit
Obama faces tough issues on first overseas trip
EU summit focuses on economic stimulus
(Source: VOA 英语点津编辑)