A high-ranking Republican senator says President Barack Obama's nominee for a seat on the Supreme Court should apologize for a comment made years ago about the roles of race and gender in judicial opinions. Meanwhile, Democratic senators are downplaying the remark, and expressing confidence that Sonia Sotomayor will be confirmed the nation's first Hispanic Supreme Court justice.
Since her nomination last week, Sonia Sotomayor has been heavily scrutinized, but not on her possible views concerning abortion, gun control, or any other issue that often divides Americans on political or moral grounds. Rather, the focus has been on a 2001 speech in which Sotomayor said she would hope that "a wise Latina woman with the richness of her experience would more often than not reach a better conclusion than a white male who has not lived that life."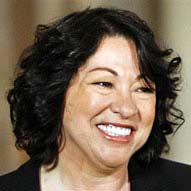 Many Senate Republicans say they are troubled by the remark, as it suggests the federal appeals court judge is inclined to consider race and gender in judicial decisions rather than adhering to an impartial application of the law.
Republican Lindsey Graham, a member of the Senate Judiciary Committee that will vote on Sotomayor's nomination, spoke on Fox News Sunday.
"She thought a Latina woman, someone with her background, would be a better judge than a guy like me, a white guy from South Carolina. And it is troubling, and it is inappropriate. I hope she will apologize."
Democrats say Sotomayor's comment was taken out of context and has been overblown. Senate Judiciary Committee Chairman Patrick Leahy of Vermont appeared on NBC's Meet the Press program.
"It would be absolutely wrong to assume that people's individual experience does not influence their thinking. That does not mean they cannot follow the law."
In announcing her nomination, President Obama highlighted Sotomayor's life story as a child of Puerto Rican parents whose childhood years were spent in public housing in New York. He also stressed the need for judges who can empathize with the concerns and struggles of everyday people.
Alabama Republican Senator Jeff Sessions:
"Everybody should have empathy. Everybody should have feelings and sensitivity to other human beings and show that in their life. But a judge is required, I think, to be neutral. To rule on the law and the facts."
Sessions added, however, that Sotomayor has impeccable academic and judicial credentials. That point was also made by California Democratic Senator Dianne Feinstein on CBS's Face the Nation program.
"This is, in fact, an amazing woman," said Dianne Feinstein. "She is, in fact, the American dream. Out of a housing project in the Bronx [New York City] comes this women who ends up at the top of her class at Princeton [University]. Editor of the Yale Law Review [journal], a distinguished assistant district attorney. She was a corporate attorney, she was a district court judge, and she was an appellate court judge."
If confirmed by the Senate, Sotomayor would replace retiring Supreme Court Justice David Souter, who was nominated by President George H. W. Bush in 1990.
Democrats outnumber Republicans in the Senate, but do not possess a majority large enough to block Republicans from using a procedural motion known as a filibuster to prevent a vote from going forward.
In 2005, then-minority Senate Democrats mounted an unsuccessful effort to filibuster the confirmation of Supreme Court Justice Samuel Alito, who was nominated by former-President George W. Bush. Joining the filibuster at the time was then-Senator Barack Obama.
downplay: to treat or speak of (something) so as to reduce emphasis on its importance, value, strength, etc(不予重视)
public housing:政府为低收入者所建住房
impeccable:faultless; flawless; irreproachable(没有缺点的)
Obama addresses efforts to close Guantanamo
Geithner says US financial system 'starting to heal'
Obama delivers address to Notre Dame graduates
US jobless rate up to 8.9%, highest in 26 years
(Source: VOA 英语点津编辑)