Women workers are faring better than men in the current economic downturn, for a variety of reasons. So much so that they may soon pass men and become the majority gender in the American workplace.
By November of last year, according to the Bureau of Labor Statistics, women had already become just more than 49 percent of the non-farm labor force. And the New York Times reports that in the current economic turndown, men have suffered 82 percent of the job losses. That's true, in part, because struggling industries like automaking and homebuilding employ an overwhelmingly male workforce.
But there are other reasons why job prospects for women are brighter right now than they are for men. Women make less money than men in many comparable jobs. That infuriates women's-rights advocates, but it makes women more attractive to employers who are cutting costs to weather the recession. Many industries have culled their executive and veteran workforce - men, by and large - by paying older workers to retire.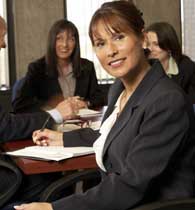 And in some estimations, women have proved they are superior to men in certain job situations.
In her new book, The Female Brand: Using the Female Mindset to Succeed in Business, Catherine Kaputa writes that women are, to use her word, "wired" for career success. They are, she says, more intuitive and empathetic than most men. And they outscore them on oral and written tests that can be critical to job placement and advancement. That's because, Kaputa contends, women listen better than men, ask more and better questions, and put more care into their writing. And because women are, in her view, natural-born networkers and team builders, they make and keep friends who will look out for their interests in the workplace.
If all this is true and is contributing to their job survival during the recession, it would represent a radical change from the days in which it was men, whose no-nonsense, work-comes-first approach gave them the edge over supposedly emotional women on the job.
[The Female Brand: Using the Female Mindset to Succeed in Business, by Catherine Kaputa, is published by Davies-Black.]
by and large:大体上,基本上
wired:very stimulated or excited(极其兴奋的)
(Source: VOA 英语点津编辑)