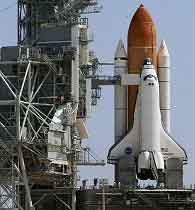 Space shuttle Endeavour is set to launch on a mission to the International Space Station, after a series of weather delays.
The seven-member crew of Endeavour is hoping the weather will clear at Kennedy Space Center for the latest launch attempt.
NASA officials called off the last attempt late Sunday, only minutes before they had hoped to send the shuttle on its way to the International Space Station. A series of lightning strikes near the launch pad forced officials to delay the launch attempt on Saturday as well.
Shuttle weather officer Kathy Winters said officials must monitor conditions very closely around the shuttle facilities.
"Our primary concern on launch day is the thunderstorms and showers that could be in the area, particularly within 20 nautical miles [37 kilometers] of the shuttle landing facility and 10 nautical miles [19 kilometers] of the launch pad," Winters said.
Endeavour is running a month behind schedule, due to a hydrogen leak on the launch pad. NASA officials say they have fixed that problem in the shuttle's external fuel tanks.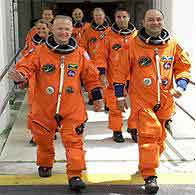 The main objective of the Endeavour mission is to deliver the third and final segment of the Japanese Kibo science laboratory. The Kibo module will expand work space on the station and allow astronauts to expose experiments to the vacuum of space.
The Endeavour crew will spend nearly two weeks at the station to install Kibo and perform other maintenance tasks, such as swapping out batteries in the station. Astronaut Tim Copra will replace Japanese astronaut Koichi Wakata, who has been living aboard the station since March.
While the shuttle is docked to the station, the number of astronauts will rise to 13 - the most in space at one time during the station's history.
After Endeavour returns to Earth, only seven shuttle missions will remain before NASA plans to retire the fleet next year.
launch pad: 发射台
hydrogen: 氢气
module: (航天器的)舱
swap: 交换
In race to space, the winner was a Russian
Project mercury: The US space program begins
Risk grows in increasingly crowded skies and space
NASA's Kepler satellite to seek distant Earth-like planets
Space shuttle Endeavour launch remains on track
(Source: VOA 英语点津编辑)