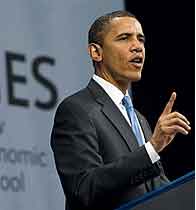 U.S. President Obama framed his two-day visit to Moscow with an interview in the opposition Novaya Gazeta newspaper published the day of his arrival and meetings with representatives of Russian non-governmental organizations and Kremlin critics at the end.
Novaya Gazeta
is a newspaper known for its critical and investigative journalism. It also has the sad distinction of having had four of its journalists murdered for their work in recent years. Their unresolved killings are associated with concerns about the rule of law in Russia.
In response to a question about the
high-profile
case of imprisoned businessman and Kremlin critic Mikhail Khodorkovsky, U.S. President Barack Obama told Novaya Gazeta it is improper for outsiders to interfere in the legal processes of Russia. Instead, he reaffirmed support for what he said was Russian President Dmitry Medvedev's courageous initiative to strengthen the rule of law, which includes the right to a fair trial and making sure courts are not used for political purposes.
As head of the now
defunct
Yukos Oil Company, Mikhail Khodorkovsky was once Russia's wealthiest man. But he is now in the fifth year of an eight-year sentence for tax evasion,
embezzlement
and fraud.
Russian human-rights activists say Russian courts have railroaded Khodorkovsky and associate Platon Lebedev to prevent them from mounting a political challenge to the Kremlin. President Obama told
Novaya Gazeta
it seems odd that new charges have been filed against the two businessmen just as they become eligible for
parole
. Conviction in his new trial could keep Khodorkovsky in prison for an additional 22 years.
Russian opposition leader and former world chess champion Garry Kasparov says Mr. Obama did not talk specifically about the Yukos case during his meeting late Tuesday with Kremlin critics. Nonetheless, Kasparov told VOA he believes Kremlin leaders did not expect Mr. Obama's willingness to deal openly with the opposition.
"Russian-American relations are not only about relations between the White House and Kremlin. But it is about Russian and American people. It is
NGOs
, it is about other elements of the civil society, and he was very much on that message, and he
reiterated
the importance of these contacts during the conversation with members of the opposition," Kasparov said.
Kasparov says Mr. Obama noted he has limited influence on human rights and democracy in Russia, but added that the United States is always engaged in ongoing talks with opposition groups and non-governmental organizations.
President Medvedev last month introduced a bill that would reduce government scrutiny of Russian NGOs. The move follows restrictions enacted in 2006 by former president Putin, who signed a law requiring NGOs to register with the state.
During his meeting in Moscow with members of Russian civil society, President Obama praised its representatives for sustaining the freedom of people to live as they choose; to speak their minds, to organize peacefully and have a say in how they are governed.
"Make no mistake, civil society, civil groups, hold their governments to high standards, and I know, because this audience includes Americans who have been critical of me for not moving fast enough on issues that are of great importance," he said.
In a Washington Post
op-ed
piece last month, a group of Russian opposition activists expressed concern that Mr. Obama could exchange the principles of human rights in Russia for pragmatic political, economic and military concerns. Garry Kasparov says that did not happen.
"Summarizing my impressions about the Obama visit to Moscow, it is less than we wanted, but much more than we expected," he said.
In his public statements during the visit, President Obama underscored the issues that are important to the opposition, including human rights, rule of law, and competitive elections. He also quoted his Russian counterpart as saying the rule of law has practical application for economic development.
Garry Kasparov says Mr. Obama told the opposition he has a duty to solve problems of significance to the United States, including nuclear issues in Iran and North Korea, as well as the sovereignty of Georgia and Ukraine.
Political analyst Masha Lipman, of the Moscow Carnegie Center, told VOA it will be the Kremlin, not the opposition that can help or hinder Mr. Obama. She notes that Russia's state-controlled media adopted a generally positive tone about his visit.
"It will be very interesting to see whether this tone will continue and the visit will be assessed positively and the tone will be that of now we are on the path - maybe a very long path - for improvement and more constructive dialogue, or maybe the tone will be different." Lipman said.
Lipman notes that Russian public opinion is shaped by federal television channels and can be reshaped quite effectively in a way the Kremlin wants. The opposition is denied access to Russian state television.
high-profile: 倍受瞩目的
defunct: 已废止的
embezzlement: 挪用,侵吞,盗用公款
parole: 有条件释放,假释
NGO: non-government organization(非政府组织)
reiterate: 重申,反复讲
op-ed: (报纸的)专栏版,特写稿版(opposite editorial page的缩略)
US, Russia agree on framework for arms deal
US, Russia urged to slash nuclear arsenals
US, Russia to reopen nuclear talks
Gates hopeful of missile defense progress at US-Russia summit
(Source: VOA 英语点津编辑)