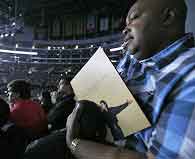 Music fans said goodbye to Michael Jackson Tuesday, as friends and fans in Los Angeles paid tribute to the pop star at private and public memorial services. An emotional event at Staples Center celebrated the singer's life through music and the recollections of friends.
Jackson was remembered as a pop icon who blazed on the scene as a child in 1969, as part of his family musical group, the Jackson 5.  Young Michael stood out from his four brothers and soon became the group's lead singer and dancer.

Mariah Carey and Trey Lorenz did an rendition of the Jackson 5 hit I'll Be There.

The singer and actress Queen Latifah said Jackson, who became a superstar as a solo performer, had fans around the world. She said people around the world are mourning his loss.


"Today in Tokyo, beneath the Eifel Tower, in Ghana's Black Star Square, in Johannesburg and Pittsburgh, in Birmingham, Alabama and Birmingham, England, we are missing Michael Jackson," she said.

The public service mixed emotional eulogies from friends and family members with spirituals and pop songs, some of them written by the singer. Performers included Stevie Wonder, Lionel Richie, Usher, Jennifer Hudson and John Mayer. There were also tributes from sports stars Kobe Bryant and Magic Johnson.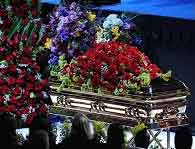 With the singer's golden casket in front of the stage, Pastor Lucious Smith said Jackson was, above all, part of a loving family.

"To millions around the world, Michael Jackson was an idol, a hero, even a king," he said. "But first and foremost, this man before us today was our brother, our son, our father, and our friend."

Jackson had ups and downs in his career, and faced unproven allegations that he had molested children.  There were indirect references to those problems.  Sheila Jackson Lee, a U.S. congresswoman from Texas, reminded mourners that under the law, people are innocent unless proven guilty.

"And I can tell you as a member of the United States Congress, we understand the Constitution," she said. "We understand laws. And we know that people are innocent until proven otherwise. That is what the Constitution stands for."

The congresswoman remembered Jackson as a humanitarian.

"If they needed money for developing countries, Michael gave," she said. "If he was in Namibia, he went to orphanages. Michael never stopped giving."

The Reverend Al Sharpton, a Jackson family friend and political activist, delivered a rousing eulogy that brought the crowd to its feet. He referred to criticisms once directed at the pop star for what some had called erratic behavior.

"But I hope that the love that people have shown will make you know he didn't live in vain," he said. "And I want his three children to know [there] wasn't nothing strange about your daddy. It was strange what your daddy had to deal with. But he dealt with it…."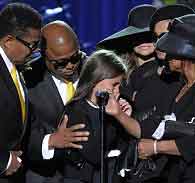 As the family huddled on stage at the end of the service, one of the singer's three children, 11-year-old Paris Michael Katherine, tearfully spoke about how much she loved her father.

"I just wanted to say ever since I was born, daddy has been the best father you could ever imagine, and I just wanted to say I love him so much," she said.

Michael's brother, Marlon, thanked the late singer for the smiles he brought to fans around the world.
stand out: 引人注目,脱颖而出
rendition: 表演,演奏
molest: 调戏(女性),猥亵(小孩)
erratic: 古怪的,乖僻的
Michael Jackson public memorial held in Los Angelels
Obama cites Michael Jackson as entertainment icon
Michael Jackson Remembered 感怀迈克尔•杰克逊
Michael Jackson's funeral the biggest since Princess Diana
African Americans recall Michael Jackson legacy
(Source: VOA 英语点津编辑)