American track and field star Jesse Owens made history at the Berlin Olympics in 1936 by winning an unprecedented four gold medals. Owens' achievement disproved Nazi leader Adolf Hitler's racist theories and continues to serve as an inspiration to American athletes today.
Hitler hoped to use the 1936 Olympics as a showcase for Nazism and his assertion of a superior white Aryan race. But it was an American sharecropper's son, Jesse Owens, who provided the ultimate truth.
Owens dispelled Hitler's theories on the track, winning gold medals in the 100 and 200 meters, 4x100-meter relay and long jump. His accomplishments so angered Hitler that the German leader refused to acknowledge Owens or shake his hand after the competition.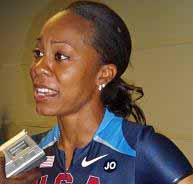 73 years later, American athletes are competing in the same stadium where Owens put on his iconic performance and USA Track & Field is recognizing the occasion by adding the initials "JO" above the heart on the team's uniforms. African-American sprinter Sanya Richards, who won the women's 400-meter gold medal Tuesday night, says she is proud to wear Owens' initials on her chest.
"He has been such a great hero to us in sport and especially for someone like me [an African-American], so I'm excited to represent his spirit," Richards said. "Even though I never had a chance to talk to him, I can imagine when he was here how he had to stay focused against all the odds. And to pull off four gold medals, I mean, that is an amazing accomplishment."
In a strange twist, it was a German athlete, Luz Long, who helped Owens win his long jump gold medal. Owens fouled during his first two qualifying attempts and was facing elimination. But Long, who set an Olympic long jump record during qualifying, gave Owens advice on how to improve his take-off.
Following his suggestions, Owens easily qualified for the final, where he won the gold and Long earned the silver. The friendship between the two men was obvious as they walked from the stadium together, and their families remain in contact to this day.
Jesse Owens died of lung cancer in 1980 and Luz Long was killed in action during World War II. But following the suggestion of the U.S. team, Owens' granddaughter, Marlene Dortch, and Long's son, Kai, will award the medals for the men's long jump final on August 22.
sharecropper: a tenant farmer who gives a share of the crops raised to the landlord in lieu of rent 佃农
sprinter: someone who runs a short distance at top speed 短跑选手
foul: violate the rules of a game or sport(比赛中)犯规(The team that fouls too much often loses. 犯规次数太多的队常输。)
The first black player in modern major league baseball
South Africa prepares for 2010 World Cup
(Source: VOA 英语点津编辑)