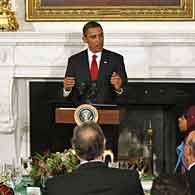 U.S. President Barack Obama hosted an iftar dinner Tuesday evening at the White House - the special meal used to break the daily sunrise to sunset fast during the Muslim holy month of Ramadan. Ambassadors, top administration officials and members of Congress joined him in saluting the contributions of Muslim Americans.
President Obama called the event a celebration of Ramadan and the accomplishments of the American Muslim community.
"Islam, as we know, is part of America," said President Obama. "And like the broader American citizenry, the American Muslim community is one of extraordinary dynamism and diversity - with families that stretch back generations and more recent immigrants; with Muslims of countless races and ethnicities, and with roots in every corner of the world."
The president said the contributions of Muslim Americans to the United States are vast and range from business to science, from the arts to athletics.
The guest list for the dinner provided a sample. Among those seated in the State Dining Room were the first two Muslims elected to the U.S. Congress - Keith Ellison and Andre Carson.
Also attending was the mother of an American Muslim soldier named Kareem Khan who was killed in Iraq, and Nashala Hearn, a young girl who led a successful legal battle for the right to wear a traditional head covering to school.
One special guest was unable to attend. But the president went out of his way to salute Muhammad Ali.
"He has grown from an unmatched fighter in the ring to a man of quiet dignity and grace who continues to fight for what he believes, and that includes the notion that people of all faiths hold things in common," said Mr. Obama.
That notion was reflected in the people congregated in the State Dining Room for the iftar meal. Interspersed among the tables were Americans representing other religions: Christians, Jews and Hindus.
"Together, we have a responsibility to foster engagement grounded in mutual interest and mutual respect," President Obama said. "And that's one of my fundamental commitments as president, both at home and abroad. That is central to the new beginning that I've sought between the United States and Muslims around the world. And that is a commitment that we can renew once again during this holy season."
The president said Ramadan is a time for people of all faiths to recommit themselves to the work of building a better and more hopeful world.
iftar: the evening meal for breaking the daily fast during the Islamic month of Ramadan 开斋
Ramadan: a Muslim religious observance that takes place during the ninth month of the Islamic calendar 伊斯兰教历的九月,斋月(在此月间教徒白天禁食)
congregate: to bring or come together in a group, crowd, or assembly 聚集,集合 (The highbrows usually congregate there. 知识界人士通常都在那里聚会。)
intersperse:to scatter among, between, or on 散布(Bushes were interspersed among trees. 灌木散布于树丛中。)
Bush marks Ramadan at White House
Obama seeks 'new beginning' for US, Muslims
(Source: VOA 英语点津编辑)