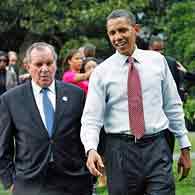 U.S. President Barack Obama is emphasizing his support for the Olympic movement at a crucial time for Chicago's bid to host the 2016 summer games. International Olympic Committee will make its choice on October 2 in Copenhagen.
Four cities are vying to host the 2016 Summer Olympics: Chicago, Madrid, Tokyo and Rio de Janeiro.
The competition is fierce. Leaders from Spain, Japan and Brazil are all expected to go to Copenhagen to make one last appeal to the IOC.
President Obama says he will not be there because of the health care debate in Washington. Instead, he is sending Chicago-native, first lady Michelle Obama to Denmark.
But at an event at the White House with past and present American Olympians, the president made clear his support for Chicago's bid is strong.
"Chicago is ready! The American people are ready! We want these games," said President Obama.
Some members of the U.S. Olympic Committee have indicated Mr. Obama's absence in Copenhagen would be noticed, and could have an impact on the decision making process.
The president said no one should doubt his commitment. Standing on the White House lawn, he delivered a message to the IOC.
"...if you chose Chicago, I will promise you this: Chicago will make America proud and America will make the world proud," said Mr. Obama.
Mr. Obama said he is sending - in his words - a "more compelling superstar" to make America's case in Copenhagen.
The first lady offered a preview, talking about the city where she was born and raised.
"What makes Chicago such a great host is its people! It is truly the people! Nobody loves sports like the people of Chicago," said Michelle Obama.
She said Chicago is an international city; home to people from more than 130 countries, who speak more than 100 languages. She said even athletes who have to travel halfway around the world to compete, will come to Chicago and feel at home.
preview: an introductory or preliminary message, sample, or overview 预展
Olympics lifts country's image among foreigners
(Source: VOA 英语点津编辑)