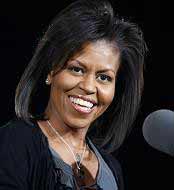 U.S. President Barack Obama's wife Michelle is joining her husband's campaign to reform the nation's health care system. The popular first lady is speaking out for the president's initiative, which has been losing support.
Mrs. Obama says health care reform is a women's issue. "Women play a unique and increasingly significant role in our families. We know the pain, because we are usually the ones dealing with it," she said.
The first lady spoke Friday to a gathering of women near the White House, and said the state of the U.S. health care system is unacceptable.
"For two years on the campaign trail, this was what I heard from women: That they were being crushed, crushed by the current structure of our health care. Crushed," she said.
Friday's speech was Mrs. Obama's most high-profile appearance so far on behalf of her husband's health care plan. While the administration's proposed health insurance overhaul is being criticized by conservatives and some liberals, public opinion polls show that at least two out of every three Americans see Mrs. Obama in a positive way.
Lately, President Obama has been traveling the country, trying to strengthen support for his initiative among union workers and young voters-groups that strongly backed him in last year's election.
Women also voted for Mr. Obama in large numbers, and the first lady is seeking to boost their support for health reform. "Plenty of women have insurance, but it does not cover basic women's health services like maternity care or preventive care like mammograms or pap smears, which we all know we have to have," she said.
Mrs. Obama, a former hospital administrator, picked up her husband's argument that fixing the U.S. health care system would help strengthen the nation's economy. "Under this plan we can save lives and we can save money. It is not just good medicine, but it is good economics as well. So I think this is a pretty reasonable plan. I don't know about you," she said.
Mr. Obama will continue the public relations campaign for his health care plan by appearing on five television talk shows on Sunday. On Monday, he will be the first sitting president to be a guest on David Letterman's late-night entertainment program.
mammogram: the process of using low-dose X-rays to examine the human breast 乳房X光摄影片
pap smear: a medical screening method primarily designed to detect premalignant and malignant processes in the ectocervix; it may also detect infections and abnormalities in the endocervix and endometrium 抹片及乳房检查
sitting president:在任总统
Obama pushes Chicago Olympic bid
Michelle Obama enchants Europe
(Source: VOA 英语点津编辑)