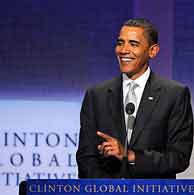 U.S. President Barack Obama is calling on leaders from all sorts of backgrounds to come together to tackle worldwide problems. Mr. Obama says it is time for a new spirit of partnership.
The comments came in a rather philosophical address to the Clinton Global Initiative. It is a forum set up by former President Bill Clinton to encourage leaders from government, business, academia and other fields to join forces to deal with global challenges.
President Obama left no doubt he believes in their cause.
"If you want to bring about change in the world, you can't just be an advocate of somebody else doing it," said President Obama. "You can't just preach lofty goals and wait for somebody else to act. You have to step up. You have to serve."
He said groups like the Clinton Global Initiative are making a difference around the world by working with business to cut dangerous emissions, empowering entrepreneurs with micro-loans, and giving hope to some of the world's poorest children.
"That is the meaning of service," said Mr. Obama. "That is the difference we can make when we remember our common humanity, when we embrace our common responsibilities, when we recognize our common destiny."
President Obama lavished praise on his Democratic Party predecessor at the White House. He said the Clinton Global Initiative has had an impact on more than 200 million people in more than 150 countries.
Mr. Obama said such a contribution is always welcome, but more so now.
"As hard as it may be to sustain during these economic times, your commitments have never been more needed, they have never been more inspiring," he said.
The Clinton Global Initiative also heard from the prime ministers of Turkey, Australia and the Netherlands, and the presidents of Argentina and Chile. The heads of two major international firms - Walmart and Coca-Cola - also took part in the group's annual meeting in New York City.
academia:学术界
lavish: to give or bestow in abundance; shower 慷慨地给予(lavish money and time on pets 在宠物身上滥花金钱和时间)
UN Chief, Bill Clinton promote development in Haiti
Friday's US presidential debate remains in doubt
Clinton Global Initialtive unveiled in New York
Clinton global initiative launched by former president
(Source: VOA 英语点津编辑)