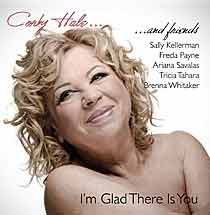 Classic love songs have never gone out of style. Barbra Streisand's new romantic CD, Love is the Answer, became a surprise best seller and Rod Stewart's latest album, called Soulbook, has a generous sprinkling of contemporary love songs. Jazz musician Corky Hale has released her own compilation with a group of musical friends, including the singer-actress Sally Kellerman.
Corky Hale is part of the old school of music. She is a classically trained musician who got started in show business in the 1950s as a harpist on television, with the glittery pianist Liberace.
Since then, she has worked with some of the biggest names in the business, from Streisand to Sinatra. She is also married to composer Mike Stoller, part of the famous song-writing duo Leiber and Stoller, who wrote such classic rock hits as Elvis Presley's Hound Dog.
But she loves American standards, from show tunes and loves songs, as she told people at the release party for her new CD, called I'm Glad There is You.
"I stood up at the mike and I said, 'Hi everybody. Here are some of the lyrics from current top 10 songs: 'I want it, you got it. You want some more, I got it.' And everybody started laughing, of course. And I said, in protest, I decided to do an album that is the exact opposite, something with the most romantic lyrics of all romantic songs," she said.
Hale, who better known for playing jazz piano and harp, sings standards on the album, including The More I See You. She brought together five other vocalists to help her.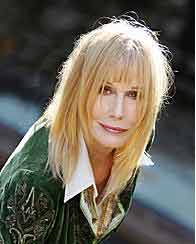 One is better known as an actress. Sally Kellerman earned an Oscar nomination for her role as "Hot Lips" Houlihan in the 1970 Robert Altman film MASH.
Kellerman has tried to pursue both a singing and acting career, but she says it was hard and her acting career suffered. "I turned those movies down and off I went on the road, for three months at a shot. So I have held myself back just by my not realizing that when success comes, you have to go with it and build it," she said.
But she has had a busy career in film and television and doing commercial voice work. Now, she is focusing on her music.
She has put out her own album, called Sally. One of its dozen songs is a classic rock tune, Love Potion #9, co-written by Corky's husband, Mike Stoller. "I am just rocking away, and then I get to sing the beautiful contemporary ballads, which I love so much. So this is great, and then I get to guest on Corky's album, and sing I've Got a Crush on You," she said.
Hale's other collaborators on the CD are jazz singers Tricia Tahara and Brenna Whitaker, and newcomer Ariana Savalas, the daughter of the late Hollywood actor Telly Savalas. They also include long-time recording artist Freda Payne, who rose to fame with the 1970 Detroit-sound hit Band of Gold. Here Payne sings a soft type of music, the title song from the 1966 romantic film, Alfie, written by Burt Bacharach and Hal David.
These are the kind of songs, says musician Corky Hale, to put on late at night, with someone you love.
old school:守旧派
One of the most famous jazz groups in America
Fans await summer North American Jazz Festivals
Enter the world of jazz pianist Dave Brubeck
Jazz world mourns Oscar Peterson
(Source: VOA 英语点津编辑)