This is the VOA Special English Health Report.
Tuesday was World AIDS Day, and the latest report on the epidemic provided some reason to celebrate.
Experts say new H.I.V. infections have fallen by 17 percent since 2001. Estimates for sub-Saharan Africa are down by about 15 percent. In East Asia new infections with the virus that causes AIDS have decreased almost 25 percent.
In Eastern Europe, the epidemic has leveled off. But new infections appear to be rising again in some countries.
The report came last week from the UNAIDS program and the World Health Organization.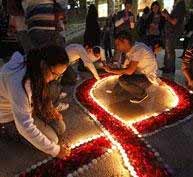 It says H.I.V.-related deaths appear to have reached their highest point in 2004. Since the peak, deaths have fallen by around 10 percent as more people have received treatment.
Experts credit the good news in the report at least in part to prevention programs, not just the natural progress of the epidemic. Yet the report points out that while the AIDS epidemic is changing, prevention programs are not.
Karen Stanecki at UNAIDS says few programs, for example, are designed for people in secure relationships. Or people over 25. Or the newly single.
AIDS is the leading cause of death in women age 15 to 44. Those are the main years for having children.
The W.H.O. is now advising infected women to begin antiretroviral drugs at 14 weeks of pregnancy, instead of 28. Women are also advised to continue treatment through the recommended end of breastfeeding, when the baby is one year old. This reduces the risk of infecting the child.
Treatments and population growth mean more people than ever are living with H.I.V. The latest estimates say almost 33 and a half million have the virus. There were two million AIDS-related deaths last year, and 2,700,000 new infections.
About two-thirds of the people with H.I.V. are in sub-Saharan Africa. Hardest hit is South Africa. On Tuesday, President Jacob Zuma announced an expansion of testing and treatment. By next April, he says, all H.I.V.-infected children less than one year old will receive treatment.
AIDS research continues. On Monday the United States said it will hold the 2012 International AIDS Conference. The event has not taken place here since 1990 because of restrictions against visitors with H.I.V. The travel ban will end January 4th.
And that's the VOA Special English Health Report, written by Caty Weaver. I'm Steve Ember.
level off: to move toward stability or consistency 趋向平稳(Prices leveled off.价格趋于平稳。)
HIV/AIDS hits 740,000 nationwide
US to end HIV travel ban in January
Scientists report progress in tests of a vaccine against the AIDS virus
(来源:VOA 编辑:陈丹妮)