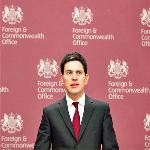 A British hostage has been released alive and well in Iraq after more than two years in captivity. The news was announced by Britain's foreign minister in London.
Thirty-six year old Peter Moore was released by his captors in Baghdad Wednesday morning. He was turned over to the Iraqi authorities and then handed over to the British embassy in the Iraqi capital.
In London, British Foreign Secretary, David Miliband welcomed the release and said he had spoken with Moore.
"Peter is in good health despite many months of captivity, he's undergoing careful medical checks and he is going to be reunited with his family as soon as possible back in the U.K.," he said.
Peter Moore, a computer consultant, was working in Baghdad when he and four bodyguards were seized at the finance ministry in May 2007 by some 40 gunmen disguised as Iraqi police.
Three of the bodyguards were killed and their bodies returned to British authorities earlier this year. The fate of the fourth, Alan McMenemy, is as yet unconfirmed, but British authorities believe he too was killed.
"We have believed for some time that he has been killed. ...I call today again in the strongest terms for the hostage takers to return Alan's body as soon as possible," he said.
Miliband thanked the Iraqi authorities for their efforts in Moore's release and praised the government's process of national reconciliation with armed groups prepared to renounce violence.
"That process of reconciliation has made possible Peter Moore's release today. I hope it will lead also to the end of the scourge of hostage taking and violence in that country," he said.
Numerous foreigners, including Britons and Americans, have been kidnapped in Iraq since the U.S.-led invasion of 2003. Some were released, but many killed. Many Iraqis have also been kidnapped, mostly for ransom, amid the chaos and lawlessness that swept the country in the aftermath of the invasion.
scourge: a means of inflicting severe suffering, vengeance, or punishment 大患;灾祸
PM urged immediate release of 5 British hostages
Afghan TV airs German hostage video
US hostage Jill Carroll released in Iraq
Journalist Freed in Iraq After 5 Months
(来源:VOA 编辑:陈丹妮)