Double-decker Buses 伦敦的双层巴士
They are synonymous with London and have become an iconic feature of the landscape.
Today we take a ride with Andrea Rose and Jean Dong as they find out more about the city's famous red double-decker buses.
The kind of double-decker bus in the picture is called a Routemaster, and these have been on London's roads since the 1950s.
They also appear in many films set in the capital, showing up alongside characters such as James Bond and Harry Potter.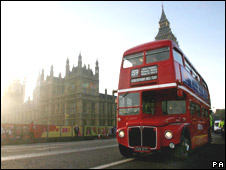 But now the famous Routemasters are much rarer on the streets of London as they have been replaced by more modern buses.
We find out why this is and much more about London's much-loved double-deckers.
Then email us at chinaelt@bbc.co.uk
欢迎你把问题通过电子邮件发给我们:chinaelt@bbc.co.uk
Do you have a question about Britain? 你有没有对英国的疑问?