Dictionaries 字典
Hello, I'm a student in Hangzhou. I have a zest for collecting all kinds of dictionaries. I want to learn what dictionaries British people use and what is the most popular.
A friend of bbcukchina.com
Dictionaries are probably one of the most useful language learning tools you can have.
If you don't know the meaning of a word, look it up in a dictionary. If you can't spell a word, that's where you should look.
If you have a bilingual dictionary you can find out the translation of a word you need and English learners' dictionaries can help you with the grammar of words.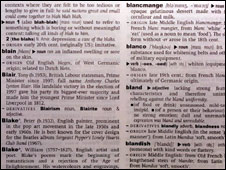 There are many different types of dictionaries available to us. We are spoilt for choice.
In this programme, Helen and Feifei ask English expert Catherine Chapman what kind of dictionaries she uses and why.
We also hear other people's views on online dictionaries. Has the internet made paper dictionaries obsolete?
Listen to the programme and see if you can answer the following questions: