Private and State Schools 公立学校和私立学校
What's the difference between state schools and private schools in the UK?
Robert
For many parents, one of the most important things is to ensure their children have a good education.
Britain's education system is well known around the world. Thousands of students come from overseas to be educated in the UK in many different places including private schools, tutorial colleges, and international schools.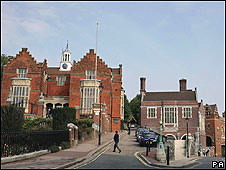 Private schools like Harrow and Eton are expensive to get into but what else makes them different from state schools?
To help answer this week's Ask About Britain question on schools, Helen and Feifei enlisted expert help from Barnaby Lenon, Head Master of Harrow School for boys.
Listen the programme to learn more.