1835年开馆以来,杜莎夫人蜡像馆就成为了伦敦颇受欢迎的旅游景点之一。多年来,杜莎夫人蜡像馆一直不断努力,引进新的看点。最新的变化之一就是重点展出流行歌星、电视明星及电影偶像的蜡像,来代替传统的王室成员、历史人物和政治家的蜡像。当然花费也是相当不菲的。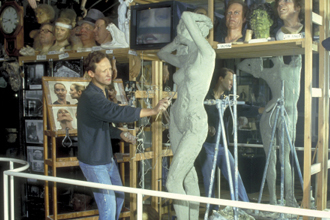 Ringing in the changes
Madame Tussauds has been one of London's popular tourist attractions since it opened in 1835 and has constantly worked to introduce new attractions over the years. One of the most recent changes has seen the prominent displays of pop singers, TV stars and movie icons replacing the traditional royals, historical figures and politicians.
Customer needs
Customer feedback has dictated the recent changes as visitors no longer expressed an interest in seeing men in suits expecting to see instead current celebrities and wanting interactive exhibitions. The royals haven't been replaced completely you can still see the Queen, but instead of seeing her from behind a rope you can have a royal audience escorted by guardsmen.
Popular British culture
You can get up close and personal with celebrities like Simon Cowell, made famous by UK reality TV show 'Pop Idol'. You can try to impress him with your vocal talents and then listen to his comments. The system you sing into tells how in tune you are and dictates his comments, from his trademark put downs to the very rare praise.
The UK's top personality
Sir Elton John has been unveiled as the UK's favourite personality and cast in chocolate! A life size chocolate figure of Sir Elton has been made to celebrate Cadbury's Centenary. People had the chance to vote from a top ten list that consisted of five TV personalities (Cat Deeley, Denise Van Outen, Jonathan Ross, Ricky Gervais and Sharon Osbourne) three sports personalities (David Beckham, Denise Lewis and Paula Radcliffe) and only two singers (Sir Elton John and Will Young). The figure which weighs 126kgs can be viewed in Madame Tussauds until Autumn in a special tent that stops it from melting.
Pop and movie stars
If you want more than TV personalities you can rub shoulders or chests with the cream of Hollywood, Brad Pitt. You can stoke his silicon chest and pinch his squeezable bum - it may be the closest you ever get to doing it. Or, if you would rather, you can pole dance with pop princess Britney Spears and her backing dancers. While Britney is all wax the dancers are real, creating a unique experience.
How much do they cost?
Beyonce Knowles, singer with the girl group Destiny's Child, was immortalised in 2004 at a cost of £52,000 as part of the Diva's exhibition. She is complete in the orange and pink Versace dress she wore in her music video 'Crazy in love'.
The interactive features and celebrity wax works are helping Madame Tussauds remain a world famous tourist attraction that celebrities want to be part of and people want to visit.
(British Council)