为自己的外表、着装和生活方式花费大量时间和金钱的年轻城市男性,被称为都市美型男的,如今已时过境迁、好景不再了,明眼人一看便知。即便没过时,他们也不再魅力如初(尽管倾己所有、花费不菲除去了面部的角质),因为他们已经被名为"来雅士"的新种男性所取代。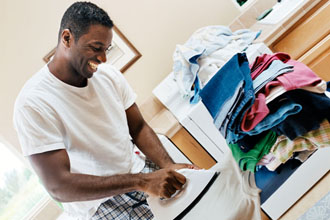 The metrosexual - described as an urban male who spends a great deal of time and money on his appearance, fashion and lifestyle - is dead, apparently. Or most likely isn't that attractive (even having spent all his money on expensive face exfoliants) and has been dumped for a new breed of masculinity, the 'Ladult'.
Who is he?
He is 25-thirtysomething and appears to have re-found his masculinity. He is more bold and butch, than laddish. That is how Future Laboratory is describing the 4.5 million 'Ladults' it says are in the UK. Men with self confidence and a keenness to look, behave and dress like men are the latest group to catch the eye of marketers.
Earning between £25,000-35,000, and still living with parents or other male friends, he has spare cash and can afford to buy 'proper' clothes not fashion, he's quite partial to a game of poker and a visit to a good barber's and despite being always overdrawn, he has all the latest gadgets.
He is his own man, irons his own shirts (because he can do it better than his mum or girlfriend) and he can cook too. He seems to have grown up and got over laddish attitudes. He has no problem with the notion that women are his equals, but secretly thinks they are different and should remain so. We are however assured he isn't a chauvinist.
What does he think?
What would this honest, straight talking man think of being the advertisers' latest squeeze and does he think men are really on the move?
'I suppose I can identify with the description of a 'Ladult'. Nobody really likes to be labelled as part of a group (especially if it has the word "lad" in it) but if they tell me about more of the things I like then I don't really mind.' James, Manchester
We think that the Ladult is probably too busy playing Grand Theft Auto San Andreas, or cooking up a storm in the kitchen before heading out for a few whiskies in the pub with his mates, to really care.