We know the standard of beauty varies from person to person, and from place to place. A psychology professor has offered new evidence in this regard, and in the process infuriated millions of people.
Zhang Jiehai, based at the Shanghai Academy of Social Sciences, has just released a new survey, looking at how male Chinese stars are perceived by Western women. Among his results was the finding that Li Yapeng and Nicolas Tse were "ugly". In China, they are considered cool, although Li used to be hated by fans because he dated several big-name actresses in a row. But he has won many hearts since he married pop singer Faye Wong and started a charity.
I understand why people are upset. But let's look at the reasons cited by the professor. Western men tend to have short hair, he said, which exudes an air of masculinity. But many Chinese male stars prefer long hair, and long hair is often associated with the homeless.
Now, I suspect those Zhang surveyed did not get to see the two stars in person. They were probably shown photos of them instead. As celebrities, the stars release only those photos that show them at their best. I haven't seen the report in its entirety, which is nowhere to be found, but I have great doubts the respondents said they were "ugly". They probably said something like: "These guys are not as handsome as they're touted to be."
When it comes to beauty, we are way out of the realm of science. There is a sensitive topic that concerns interracial marriage - some people ask why Western men like to date and marry "plain" Chinese women.
I feel the question is somewhat offensive. But it is more likely based on ignorance. I would correct them by saying that some Western men date Chinese women whom you consider plain. And how many of these women have you seen? You could be making a sweeping generalization based on only three examples.
Coincidentally, Zhang Jiehai, the Shanghai professor, could be making the same mistake. His study was based on only eleven samples. How representative could that be?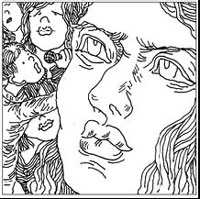 However, not everything he says is as idiotic or simplistic as it appears to be. His analysis of Wong Kar-wai is, in my opinion, spot-on. Wong, the Hong Kong auteur who wears sunglasses even in a dark room, is cool and mysterious to most Chinese, but according to Zhang, Western women feel that, with the lack of eye contact, he may be hiding something. And Wong's chain-smoking habit did not improve his image, either.
What about all those "plain" Chinese women who marry happily offshore? Some experts told me that Western people prefer striking features while Chinese tend to favor delicate ones.
This is such a sensitive topic that, although it warrants bi-cultural study, it could be difficult to survey. Are you going to approach every interracial couple with the question: "Do you think your spouse is beautiful or ugly?" How stupid could that be?
For all the criticism Zhang Jiehai has received, I believe the topic itself is legitimate. It is his approach and some of his conclusions that are dubious. After all, he was the one who started the campaign last year to "kick out" the fictional foreigner who was leading a Don Juan lifestyle in Shanghai. Before that, Zhang made his name by proclaiming that Zhang Ziyi was "underrated a hundred times".
In either case, he sounded like someone who would do anything to attract attention rather than one who conducts scientific research on an academically superficial but innately interesting subject. Maybe he is an entertainer unhappily in the disguise of a scholar.
Email: raymondzhou@chinadaily.com.cn
(China Daily 12/08/2007 page4)